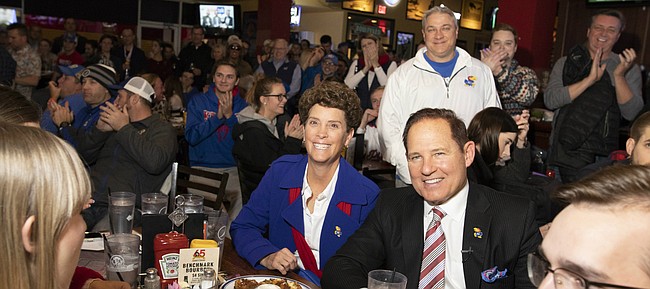 When new University of Kansas football coach Les Miles emerged from the kitchen inside Johnny's Tavern West on Sunday night, approximately 350 fans welcomed him to Lawrence with 30 seconds worth of cheers and applause.
On his first evening on the job, Miles and his family were hustled across town following his introductory press conference so that he could sit down and talk KU football on the team's weekly radio show, "Hawk Talk."
The reception from the crowd, described by Hanni as the largest in the show's history, didn't surprise Miles, though, even though he had only been in the state of Kansas since 10 a.m.
"The following is spectacular," Miles said as he sat in between the show's hosts, Brian Hanni and David Lawrence. "I see it everywhere I go. It's in the buildings. It's when you stop for gas. It's everywhere. It's pretty special."
Photo Gallery
KU football introduces Les Miles as next head coach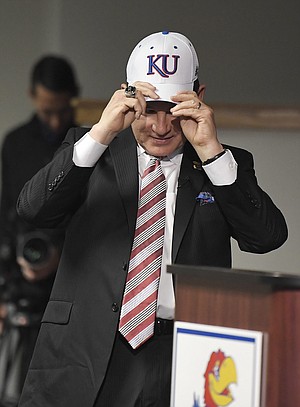 Les Miles was introduced as the next KU football coach Sunday afternoon.
Miles said such enthusiasm for the program will help as he attempts to make a difference and, as KU Athletic Director Jeff Long likes to put it, break the cycle.
"We're going to hire the type of staff," Miles added, "that will make a change."
Miles' first recruiting class
Earlier in the evening, during his press conference with Long, Miles said he would "really get after" assembling his staff on Monday.
The new KU coach will need to do so quickly, too, a month out from college football's early signing period.
As of Sunday, the Jayhawks have just one commitment in place for their 2019 class — a longstanding pledge from two-star running back Cole Mueller (Wentzville, Mo.).
Document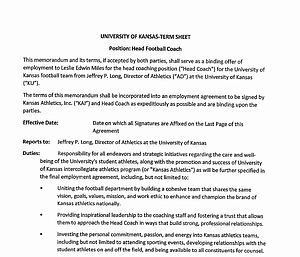 Miles told the Journal-World during a separate interview session that he was aware of KU's situation, not only in terms of the lack of commitments in place, but also the limited number of scholarships he and his staff will have to offer, before signing his five-year contract.
Miles expects KU's 2019 signing class will have about 15 players — 10 shy of the NCAA maximum of 25.
Over the past few years, David Beaty and his staff have utilized blueshirts, athletes who don't sign letters of intent but join the program on scholarship and count toward the following year's recruiting class. That strategy is finally catching up with KU.
When Miles watched the Jayhawks' Saturday loss at Oklahoma, though, he felt encouraged about the future.
"I really think they're close," Miles told the Journal-World. "I think they need a good, quality recruiting class. I mean, really one. If you can put in the style of team, the kind of recruits that you have in specific needs, you're going to be a good football team."
Podcast episode
Moments after Kansas introduced Les Miles as the program's 40th head coach in team history, the KU Sports staff did an emergency podcast at Allen Fieldhouse. KU football reporter Benton Smith is joined by Matt Tait and Shane Jackson to discuss Miles' introductory press conference and where the Jayhawks go ...
Can that be accomplished with only 15 to give?
"Fifteen might do it," Miles said. "It's a decent number."
Assembling staff
While no members of Miles' first staff at Kansas have been announced at this juncture, the coach indicated he had coordinators and assistants in mind. Plus, he plans to interview every member of Beaty's staff to see if any of them would fit into his plans.
Miles didn't offer a specific timeline for completing his staff, but the idea is to make it happen as quickly as possible.
"The reception that we have had as we polled some of the key candidates was very strong," Miles said, adding that he would touch base with coordinators first, shrink the list of candidates and go see them or bring them to Lawrence to start the hiring process.
"As soon as you finish with the coordinators, you take up the assistant coaches really very quickly," he said, adding position coaches will likely come from a pool of candidates who already know the coordinators well and/or have strong reputations in specific recruiting areas.