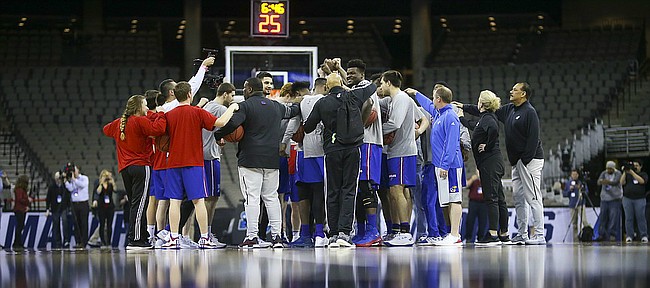 No. 1 seed Kansas Jayhawks (29-7) vs. No. 5 seed Clemson Tigers (25-9)
Time: 6:07 p.m. | Location: CenturyLink Center, Omaha, Nebraska
TV: CBS | Radio: IMG Jayhawk Radio Network
Log on to KUsports.com for our live game blog coverage and follow the KUsports.com staff on Twitter: @KUSports @mctait @TomKeeganLJW @bentonasmith @nightengalejr @chasenscott & @nickkrug
Keys for Kansas
1. Force tempo
Although its offensive attack is known for featuring the guards, Clemson does not do anything it does not want to do.
That includes running.
At just under 66 possessions per game, the Tigers rank 285th in the country in tempo. KU, though not as high-octane as some Kansas teams in the past, ranks nearly 100 spots higher in tempo and, no doubt, will look to run and put pressure on the Tigers whenever possible.
While doing so, it's important for Kansas to remember to value the basketball. If Clemson is able to turn the game into more of a half-court battle, there will be fewer possessions throughout the game and each turnover then would carry added weight.
Kansas ranks 51st nationally at 11.6 turnovers per game, while Clemson ranks 78th at 11.8 per game.
2. Get the crowd into it
For the second weekend in a row, the Jayhawks figure to have a significant crowd advantage during their matchup with the Tigers.
While the butts in the seats don't change the fact that it's still a five-on-five game on the floor, the Jayhawks can — and have on plenty of occasions — use the home crowd to in their favor during portions of the game when they need a lift or are striving to put their opponent away.
Both KU coach Bill Self and Clemson coach Brad Brownell talked about the likely pro-KU contingent expected in Omaha for this one.
"I think it's an advantage," Self said. "I'm not sure it'll be as big an advantage here as what it was (in Wichita). At Wichita, if the place seated 16 (thousand), we had 13 (thousand). It won't be like that here."
Said Brownell: "I think that's a significant advantage," Brownell said. "We think our league is just as good or better than any league in the country. We play great teams every week. And obviously we've had some success against those teams. So in terms of just playing in an important game, I hope that our guys are ready to play. If somehow we don't play well, I think it would be easy to say that it was the stage, but it would probably be Kansas."
3. Defensive rebounding
Nearly a week after watching Seton Hall storm its way to 15 offensive rebounds in the second round in Wichita — nine of them coming from a single player — the Jayhawks will welcome a matchup with a team that ranks 246 spots below the Pirates in offensive rebounding.
At 282nd in the country in offensive rebounding, Clemson poses next to no threat of being the type of team that can steal extra possessions and second-chance points by getting on the glass.
But because the Jayhawks rank just 138th in the country in defensive rebounding, every team is a threat to give KU fits on the offensive glass.
A fully healthy Udoka Azubuike and locked-in Kansas backcourt should help stave off Clemson's attempts to hit the glass. Beyond that, the Tigers, who are forever aware of trying to control the pace of play, are just as likely to send players back on defense as they are to crash the offensive glass once a shot goes up.
Mega Matchup
Kansas 3-point shooting vs. Clemson 3-point defense
If there's one clear area where the Jayhawks have an advantage in this one, it's behind the 3-point line.
The Jayhawks, who demolished the KU school record for 3-pointers in a single season — with 361 and counting — enter this ranked ninth in the nation at 40 percent shooting from 3-point range for the season.
Contrast that with Clemson's 180th-ranked 3-point defense and it's clear that, if they can move the ball well and attack open spaces, the Jayhawks have a real chance at hurting the Tigers from behind the arc in this one.
"They've got four guards," Clemson coach Brad Brownell said Thursday. "They spread you out, play with great pace, make 10 3s a game, have some unique action in their dribble drive, with a lot of cutting, to make it a little bit more difficult to guard. So we'll have to play extremely well."
Overall, even though both teams feature their deep and talented backcourts, this matchup is a clash of styles.
Kansas is ranked as the fifth most efficient offense in the country while Clemson ranks 42nd. And Clemson's defense is ranked as the country's seventh most efficient, while the KU defense ranks 46th.
Jayhawk Pulse
It's the NCAA Tournament. From this point on, if you still have a pulse, you're doing well.
Probable Starters
No. 1 Kansas
G – Devonte' Graham, 6-2, 185, Sr.
G – Malik Newman, 6-3, 190, Soph.
G – Svi Mykhailiuk, 6-8, 205, Sr.
G – Lagerald Vick, 6-5, 175, Jr.
C – Udoka Azubuike, 7-0, 280, Soph.
No. 5 Clemson
G – Gabe DeVoe, 6-3, 207, Sr.
G – Marcquise Reed, 6-3, 189, Jr.
G – Shelton Mitchell, 6-3, 194, Jr.
F – Amir Simms, 6-7, 237, Fr.
F – Elijah Thomas, 6-9, 237, Jr.