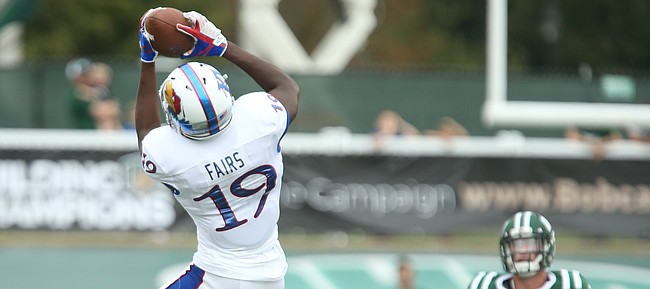 Expected to become a more integral part of the offense this coming fall, University of Kansas receiver Evan Fairs discovered this past spring a painless way to maximize his development.
A junior, Fairs experienced the epiphany after first diagnosing a flaw.
"If I had a good practice on Monday, I'd have a bad one on Tuesday, a bad one on Wednesday and then a good one on Thursday," Fairs said of the inconsistencies that plagued him as an underclassman, during a recent appearance on 1320 KLWN's Rock Chalk Sports Talk with Nick Schwerdt.
According to Fairs, a 6-foot-3, 210-pound passing target, KU head coach David Beaty helped him notice the irregularities in his preparation habits.
"He just told me to be more consistent, and that's pretty much what I trained myself to do this spring," Fairs related. "Every day I had that same energy and I brought it to the team."
It wasn't a new focus or mantra that steered him toward stability. It turned out Fairs, who caught his first career touchdown in the Jayhawks' 2017 finale atOklahoma State, just needed to stay loose and be true to his personality.
"My energy is talking smack," Fairs revealed. "I like to get in people's ear. That's really what motivates me, because I know if I'm talking to you, (you're) getting mad."
As Fairs, who caught 24 passes for 335 yards as a sophomore, sees it, he isn't the only one benefiting from his in-practice trash-talking.
"I'm always trying to get the best out of my defense," he said. "I promise you that."
Friendly competition
Playing a position where everyone else in a KU uniform trails Steven Sims Jr.'s productivity — team-best 59 receptions, 839 yards and six touchdowns in 2017 — Fairs said the Jayhawks' receivers try to help each other improve in any way possible during the off-season.
Providing a few examples of how they make sure to stay ambitious, Fairs said the Jayhawks track:
— the number of receptions made each day
— runs after practice
— results from the speed monitors they wear to see who is running fastest
— who drops the least balls
"Everything's a competition in our room. You're never safe, and that's what I like about it," he said. "It pushes everybody to get better."
Sims' approach
Outside of senior standout Sims, no KU receiver currently on the roster finished with more catches than Fairs (24) this past year. Only three others — Jeremiah Booker (22), Ryan Schadler (21) and Quan Hampton (21) — completed 2017 with double-digit receptions.
Considering the distance between Sims' experience and results compared to his teammates, redshirt senior Tyler Patrick said it would be easy for the most recognizable face on KU's offense to walk around acting like he is better than his fellow receivers.
"But he doesn't," Patrick said, praising Sims for never flaunting his abilities. "He's one of the hardest workers in the room. You can get him on the board and he can do chalk talk. He understands the offense. He's by far one of the hardest workers on our team and the most talented."