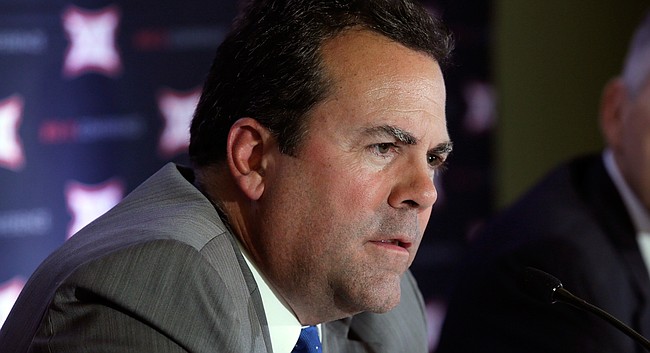 Former University of Kansas athletic director Sheahon Zenger won't be leaving Lawrence anytime soon.
On Friday, Zenger told the Lawrence Journal-World that he plans to join the coaching staff for the Free State football team. Zenger will serve as a linebackers coach for the Firebirds, who made it to the 6A quarterfinals last fall.
"I didn't make this decision lightly," Zenger said. "The main variables were that I got the opportunity to work with coach (Bob) Lisher and I get the opportunity to work with young guys that I have seen grow up over the last eight years. I get the opportunity to be around for my son's senior season. I just can't imagine a better way to spend the next four months."
Zenger was fired on May 21 after spending seven years as the program's athletic director. KU has yet to announce a replacement.
But Zenger's new gig appears to be an opportunity he couldn't pass up. He will be one of nine assistants under Free State head coach Bob Lisher. Zenger, who officially made the decision this week, plans to coach at FSHS for just one season.
Zenger will also get to witness his son's final preps campaign from the sideline. Jake Zenger plays tight end and slot receiver for the Firebirds, and he also pitches for the baseball team in the spring.
"Nothing is more important than your family," Zenger said. "I obviously won't be coaching his position, nor would I want to. To be in the locker room with him, and the other guys and coaches, is just really special. To be present for that is something that gives me chills."
Zenger began his career in coaching, serving as an assistant for the Manhattan High football team in 1987. Zenger, who graduated from Kansas State in 1988, joined Bill Snyder's staff in 1989. He eventually moved up to director of football operations and served in that capacity until May 1992.
In addition, he was an assistant football coach at the University of Wyoming for three years where he held multiple roles as an assistant head coach, recruiting coordinator and running back coach.
"I'm extremely excited for him," Lisher said. "He's a very good football coach; he's coached high school football and college football. It's an opportunity for him to get out of the high-pressure job in college athletics a little bit and enjoy his son's senior year. I think it is a win-win situation for everybody."
Yet Lisher still has bragging rights on his new assistant, as the two of them squared off in 1987. At the time, Lisher was an assistant at Lawrence High when LHS bested Manhattan with a 17-16 victory and captured the 6A state title.
"He will be very valuable," Lisher said. "The thing I can always hang over his head, though, is beating him in the state championship game. I'll always have that power over him."