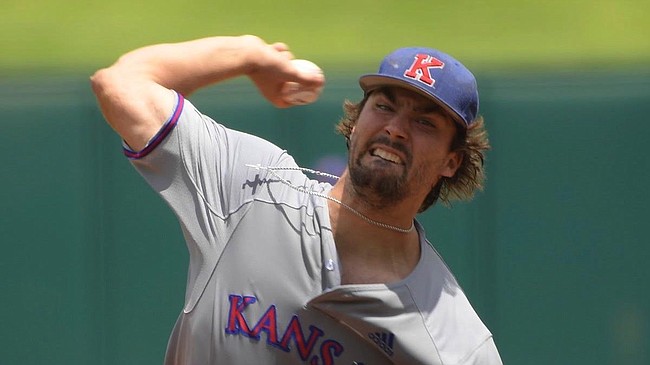 For college baseball players, it's not the first impression that lasts the longest, it's the last one.
That reality can only benefit right-hander Jackson Goddard, who finished his University of Kansas baseball career in dominant fashion.
Goddard missed six weeks of his junior season, exhibited some rust upon his return, knocked it off after a few starts and returned to sending hitters back to the dugout shaking their heads.
His final three starts came against Kansas State, Oklahoma and Texas.
In 19 2/3 innings in those three starts, Goddard allowed 13 hits, walked six, struck out 27 and posted a 1.37 ERA.
His stuff translates to elite competition. He's durable (no arm injuries at KU), big (6-foot-3, 229 pounds) and illustrates a competitive fire by consistently delivering his best stuff in tight spots.
Goddard complements a mid-90s fastball with a sharp slider and an emerging changeup.
Beyond his pitch repertoire, there is plenty to like about Goddard's chances of one day reaching the big leagues.
He's projected to go as high as the third round of the Major League draft, which gets underway Monday and extends through Wednesday.
Clubs thinking about drafting Goddard need not worry that he thinks he has all the answers and won't listen to instruction on his way through the minor leagues. He had that knocked out of him early in his KU career after consistently dominating for Holland Hall High in Tulsa.
"My freshman year, I learned that I wasn't as good as I thought I was, and it was going to take a lot more hard work to get where I wanted to be," Goddard said. "My biggest step was from my freshman to sophomore year, and then coming into this year I refined some things to take another step forward."
MLB.com projects Goddard to go early in the fourth round with the 108th pick, a slot that has an assigned value (the maximum figure a club can spend without being taxed) of $517,800.
Other draft prospects of local interest (projected pick, per MLB.com, and assigned value of that pick):
Texas high school shortstop Jordan Groshans (31st, $2,224,400), who committed to KU to play with his brother, starting KU catcher Jaxx Groshans.
Lawrence-born Wichita State left-handed hitting first baseman/right fielder Greyson Jenista, who has spent the majority of his life as a Eudora resident (58th, $1,168,300). Jenista was MVP of the prestigious Cape Cob League last summer.
Missouri right-hander and Lawrence High grad Bryce Montes de Oca (138, $386,800).