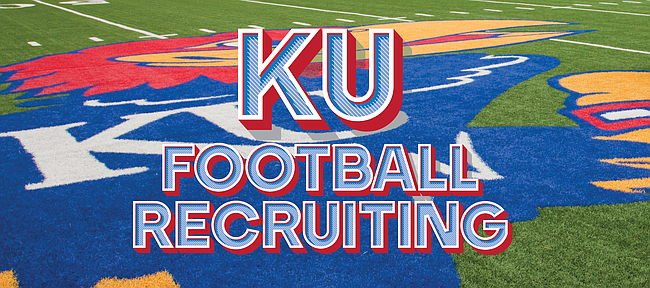 It seems just about everywhere Turner Corcoran goes these days he's met with some variation of the same question.
"Where are you gonna go?"
The 6-foot-6 Free State High offensive lineman's college recruitment exploded over the past couple of months, as he began receiving scholarship offers from such celebrated programs as Notre Dame, Nebraska, Michigan and Clemson, making his future a popular topic.
"I do not know yet," Corcoran, a four-star prospect according to Rivals, will inevitably respond, with a smile. "I've still gotta think about that some more."
In light of the fact Corcoran just completed his sophomore year of high school, there is no reason for him to rush.
"I'm kind of just playing it day by day. Just worrying about (Free State football) and not trying to get too caught up in my own recruitment," Corcoran said. "But I've got time."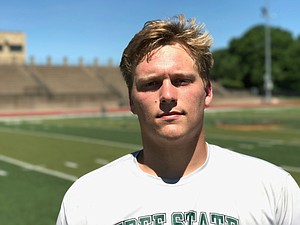 Just this past week, Oklahoma State became the latest on a long list of Power Five programs to reach out to Corcoran, an offensive tackle whose current measurements read: 6-foot-6, 285 pounds.
"It was pretty crazy," the popular prospect said of his spring, which began trending this direction once Kansas State and Iowa State both extended an offer in March. The next month he visited Notre Dame for the Irish's spring game and picked up another.
"It kind of just blew up from there," Corcoran outlined. "Everybody just started calling, asking (FSHS coach Bob Lisher) if I could call them. I didn't know what to do. I was kind of shocked at some of the schools that wanted to talk. But I've just gotta keep focusing on football and everything and not get too caught up into it."
The wow moment that made Corcoran realize the whole affair had reached another level came when he learned of Ohio State's interest.
"I was like, 'What?'" he recalled.
Offers from Nebraska, Missouri, Wisconsin, Michigan, Clemson and Oklahoma State would follow.
But Corcoran isn't ruling out the one that came from Kansas in late April, even if the Jayhawks are far less acclaimed than the other programs in pursuit of the offensive tackle.
With six Free State graduates expected to be on KU's roster this coming fall, Corcoran said it makes him think longer about joining the Jayhawks.
"Yeah. It's my hometown. I grew up watching KU football," he said. "I grew up watching that (2008) Orange Bowl team. It'd be amazing to go and play for my hometown university."
Corcoran knows incoming KU freshmen offensive linemen Jalan Robinson and Spencer Roe well from their time as teammates at FSHS, and has spoken with junior KU safety and former Firebird Bryce Torneden here and there, as well.
As he continues to ponder his future as a college O-lineman, Corcoran is just happy to have so many options.
"I never would've thought this would've came during my sophomore year," he said, "or through my entire recruitment to be honest with you."