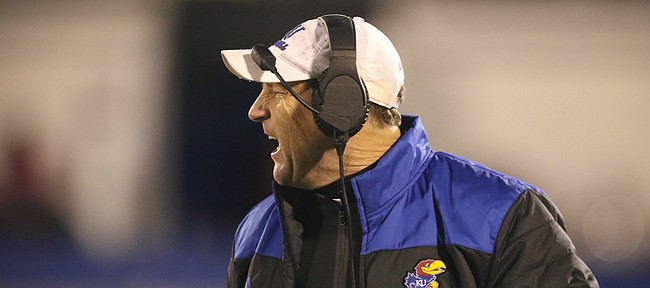 Frisco, Texas — Over the past year, David Beaty often has asserted he deals in "reality" when it comes to the onerous business of reversing the University of Kansas football program's fortunes.
Currently, just ahead of his fourth season leading the Jayhawks, Beaty said his vantage point remains unskewed. And he understands that, because of the team's 3-33 record under his watch and the arrival of new athletic director Jeff Long, his existence currently involves much outside speculation about his job security.
"I mean, I get it, man. Come on," Beaty said Monday afternoon at Big 12 Football Media Days. "Guys that run from that, I'm not going to run from it. Listen, it is what it is. It is what it is. This is a production business. I have a lot of pride as a man, but I have even more love for our team and this university. Our mission has not changed. It will not change. Our methods, we'll tweak and adapt to make sure we're giving ourselves the best chance. But when it comes to the situation, we understand the urgency, we understand the pressure that comes along with it and we welcome it."
Without verbalizing specifically the possibility that another year lacking in the victory department could cost him his job, Beaty acknowledged as much. He also repeated a concept referenced over the past couple of seasons that he enters each game on the schedule "expecting" to win, because of his confidence in the team's planning.
"If you're on my staff and you don't expect to win every game because you've prepared yourself as such, then I don't want you here," he said.
While Beaty insists his preliminary discussions with Long have encouraged him due to the "unbelievably supportive" nature of his new boss, the coach also said, "I deal in reality," and he doesn't want to hide from the notion that others think his job performance will be even more scrutinized publicly given the current state of affairs.
"We're not afraid of it," he said. "It's there. It's true."
The public perception of Beaty entering the quickly approaching season on the hot seat, he thinks, will spur not only him, but potentially some KU players, as well.
"People tell us we're not going to do anything and it motivates us," Beaty said. "I motivate some of the guys on my team because I know they operate that way."
Junior defensive end Najee Stevens-McKenzie, Beaty gave as an example, responded to the coach's challenge to add 20 pounds to his 6-foot-3 frame by gaining 26.
Even so, Beaty also admitted such challenges work for some players, not all.
"But, I absolutely think it's going to help us with regard to the underdog role," he added of those who follow the Big 12 disregarding KU's chances of becoming competitive this fall. "It's something where we don't know how long we'll be able to live in that role. We hope there's a day where we're not in that role."
Long 'love'
Early in Beaty's opening remarks during his press conference portion of media days, the coach brought up his excitement surrounding Long's arrival even before fielding any questions.
"We're eager to see the positive impact that he is going to bring to our athletic department," Beaty said of the former Arkansas and Pitt athletic director. "We think that he is going to fall in love with the University of Kansas, just like we have. In fact, in my talks with him, it looks like him and his wife, Fanny, are already on the way. So that's really a good thing."
Once Long officially starts Aug. 1 at KU, Beaty said he looks forward to inviting the AD to visit the football facilities so Long can get to know the program, the players and KU's coaching staff.
"I firmly believe he's going to fall in love with the culture that these men have created," Beaty said. "And we're excited for him to be a part of this with us."
OU handshake fiasco revisited
The Jayhawks' trip to media days didn't go by without some rehashing of KU's infamous snubbing of former Oklahoma quarterback Baker Mayfield during pregame handshakes this past November.
The resulting fallout included Beaty stripping his team captains of that status for the following week's finale.
Asked nearly eight months later what he and his players learned from the ordeal, KU's coach referenced some lessons in unintended consequences.
"It's about representing your university, your fans, your stakeholders and when you make decisions, that those decisions have got to be based on more than just ourselves," Beaty said. "The young men (Daniel Wise, Dorance Armstrong Jr., Joe Dineen and Jeremiah Booker) that were involved in that, there is a couple of them here (at media days), and I can assure you, they're unbelievable young men," the coach added in reference to Wise and Dineen, now redshirt seniors.
"They stood up and did what they needed to do to be able to face the criticism that came along with that. So we learned a lot, not just what happened, but how you face the criticism when it comes along with it," Beaty said. "We as a team believe there is no place for that in college athletics. We've got a good thing going and we want to be a positive part of it, not a negative part of it. We have a terrific platform, terrific platform. But it can only be terrific when we use it. We've got to use it in the right ways."
KU veterans on watch list
As Dineen and Wise began their Monday morning at Big 12 Football Media Days, they learned they are among the dozens up for a major award.
The Maxwell Football Club announced its preseason watch list for the Chuck Bednarik Award and both Dineen and Wise made the initial cut.
A linebacker, Dineen led the Big 12 in total tackles (137), tackles-for-loss (25.0) and solo tackles (93) in 2017. His 7.8 solo tackles per game also led the FBS, while his 2.1 TFLs per contest ranked third among FBS players. His 25.0 TFLs set a new KU single-season record.
A defensive tackle, Wise recorded 16.0 tackles for loss and 7.0 sacks, as well as 53 total tackles in 2017.
The Bednarik Award has been presented to the College Defensive Player of the Year since 1995. Chuck Bednarik, former standout at Penn and with the Philadelphia Eagles, is a member of both the College Football Hall of Fame's Class of '69 and the NFL Hall of Fame's Class of '67.