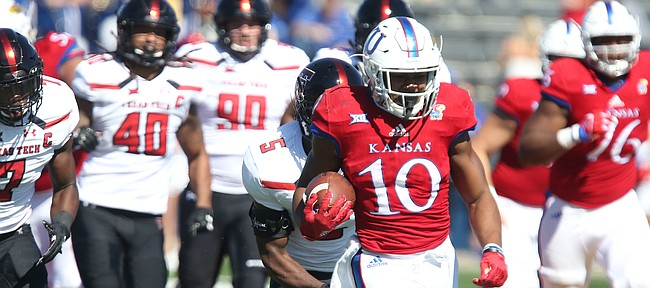 Frisco, Texas — Big 12 football players take being selected to represent their universities at Media Day as an honor. They dress like business executives and genuinely seem to enjoy the experience.
But it's not all smiles all the time.
Kansas junior running back Khalil Herbert dealt with intermittent sadness during his hour of fielding questions from reporters Monday. He was asked to talk about a loss more painful than any that could be experienced on a football field.
Herbert played three football seasons at Marjory Stoneman Douglas High School, site of the Feb. 14 school shooting, in Parkland, Fla. Aaron Feis, among the 17 killed in the shooting, was one of Herbert's assistant coaches.
Feis, according to eyewitness accounts, ran toward the gunfire and used his body to shield three female students from the bullets.
Herbert's expressions shifted from cringes in anticipation of another question about the tragedy to smiles at memories of his former coach's sense of humor. Herbert handled the questions well and politely let reporters know when he didn't want to answer one.
"It's still a touchy subject," Herbert said. "Still can't really put the words together."
But he did, and in so doing, paid a nice tribute to a man who made a difference in his life.
"I had just finished a workout," Herbert said of when he first heard the news. "I ended up going back home for his funeral. It's kind of hard to talk about. It's a touchy subject."
A moment later, when asked what Feis was like, the tension left Herbert's face, replaced by a smile.
"He was a funny dude every day," Herbert said. "Every day he would come in and crack a joke. He always made you laugh, made you smile."
And during practice?
"On the field, he taught you to believe in yourself and be confident in the work you put in throughout the week," Herbert said. "You practice to get perfection and at the end of the day, be confident in that work you do in practice."
Feis died at the age of 37.
"He always put you first, always put the players first," Herbert said. "He had coached me and my older brothers. He always looked out for us. He made me focus on football and made me realize I had the chance to go to the Division I level."
Herbert, who spent his senior season at American Heritage High, arrived at Kansas more ready than most for Big 12 competition. Halfway into his career, Herbert's averaging 5.7 yards per carry and has a 291-yard rushing effort vs. West Virginia to his name. He's making everyone who ever coached him proud.