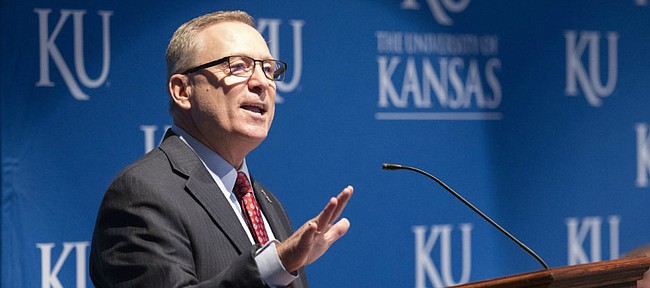 Jeff Long, the University of Kansas' newly hired athletic director, made it clear at his formal introduction on Wednesday that he was determined to tackle two of the biggest challenges facing the department: rebuilding the ailing football program and dealing with an ongoing scandal in the college basketball world to which a current and former Jayhawk have been linked.
At the ceremony, which was held at the Lied Center and presided over by KU Chancellor Douglas Girod, Long did not wait until he was asked questions to address the state of KU football. He said he would not tolerate the status quo from the program, which has the worst eight-year record among the 130 schools that compete in the Football Bowl Subdivision.
"I'd like to make, state, one message to the KU family, specifically about our football team," Long said during his opening remarks. "It's time to break the cycle. Coach (David) Beaty is our coach, and we all need to support this program, and we need to support the young men who play the game."
Long then asked for support from the fan base: "Become a season-ticket holder, buy a single-game ticket, join the Williams Fund. Do whatever you can do to help us be successful. It's time to break the cycle."
Long said that Beaty offered to return from a family vacation for Long's introduction but Long "insisted" that the coach stay with his family. Long also said he instructed all of KU's coaches not to alter their recruiting schedules and family vacations, saying, "They don't need to be here for this little piece of Kansas history."
Basketball coach Bill Self, volleyball coach Ray Bechard and tennis coach Todd Chapman, three of the department's successful coaches, were all in the room, as were Self assistants Jerrance Howard and Kurtis Townsend.
The new athletic director didn't answer what he considers to be the length of a fair evaluation period for a struggling coach, but did make it clear when the evaluating will start.
"We will really start to know the progress of the program on September 1, when the season begins," Long said of the football opener against Nicholls State.
Shortly after it was announced last week that he would replace the recently fired Sheahon Zenger as leader of the program, Long said he set about making phone calls to every head coach of KU's 18 sports programs.
That includes Beaty, who has gone 3-33 in his three seasons at KU.
"I know he's a coach. I know he's a good person," Long said of Beaty. "I know he works hard."
A native of Kettering, Ohio, Long spent almost 10 years as athletic director at the University of Arkansas and was fired in mid-November via a letter from Arkansas Chancellor Joe Steinmetz to Long in which he thanked him for leading the department with "character and integrity."
In announcing the termination in a release, Steinmetz wrote that over the course of 2017 Long had "lost the support of many of our fans, alumni, key supporters and members of the university leadership, support that I believe is critical in our pursuit of excellence."
The failure of Long's second permanent football hire, Bret Bielema, to maintain the on-field success of Long's first Arkansas football hire, Bobby Petrino — coupled with Long's decision to extend Bielema's contract after the coach compiled a 10-15 record in his first two seasons — contributed to Long's decline in popularity in Fayetteville.
Long's first athletic director job came at Pittsburgh, and before that he worked as an assistant athletic director at Eastern Kentucky and Oklahoma.
Long, 58, was still being paid under his contract with Arkansas through June 30, 2022, and would have received $1 million a year until the end of that contract had he not taken another job. Kansas enticed Long back to work with a five-year contract that pays him an annual salary of $1.5 million. The university will foot $200,000 a year, and Kansas Athletics Inc. will pick up the rest. If Kansas receives any NCAA penalties in men's basketball, football, volleyball or women's basketball for "matters occurring prior to" Long's tenure, the contract also includes an automatic extension equal to the length of the penalties.
Current Kansas basketball player Silvio De Sousa and former player Billy Preston have been linked to federal indictments relating to the ongoing scandal in college basketball involving apparel companies. Long said he was aware of the challenges the scandal would pose.
"I think that was something I certainly considered as I decided to take the job, so you know, I'm very confident that we're going to work through this," Long said.
Girod added: "That language was ours, in discussion with our consultant, and knowing, of course, that the story is out there, that the conversation continues, we wanted to demonstrate our confidence in where we were with this and our ability to work through this, and our belief that we are not at risk in this. And so that was really our doing, to put that language out there. That was not at his request. It was a way to reassure him that we are confident, as well, about where we are."
Long didn't try to pass himself off as a lifelong lover of Lawrence and only dropped one "Rock Chalk," at the very end.
"When the job opened, I jumped in my car and drove up here to Lawrence, Kansas," Long said. "You know, I had been here with Oklahoma and I had been here with Arkansas, but when you come in and out for an athletic event, you really don't get to know the town. So I told my wife I was going to take a ride."
Upon arrival in Lawrence, Long said he "spent a day driving around, walking around anonymously, going down (Mass. Street) and having a cup of coffee."
The Longs' older daughter, Stephanie, is a graduate student at Arkansas studying cognitive neuroscience. Their younger daughter, Christina, Long said, "is an undergraduate journalism student. Now she attends a university in a bordering state, and that's where I'll leave it."
By that, he meant that Christina is a student at Missouri, the other half of KU's No. 1 dormant rivalry.
Nobody asked at the press conference whether Long had any thoughts of rekindling that rivalry. He'll field those questions after he starts the job.
---
More from Jeff Long's introduction as the new KU athletic director
---