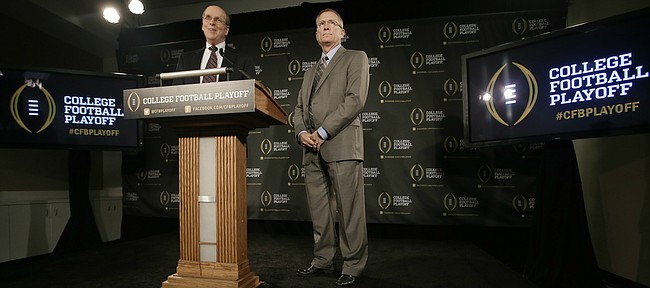 It was important to Kansas Chancellor Douglas Girod to land an athletic director who has a national profile.
First, Kansas utility man Drue Jennings, the first person Girod turned to when he knew it was time to find a new AD, said so at Jeff Long's introductory press conference Wednesday.
Then, later, in the question-and-answer session, Girod referenced the same thing.
Why was that important?
"First of all, one of my aspirations for KU is to continue to elevate the national profile of the university," Girod said. "That's important as an AAU institution. It's important as a top-tier research institution. It's (important) from a recruiting perspective, for our students, for our scholars and, as you bring leaders in, the opportunity to bring in people who have that national exposure really does help elevate our stature."
He listed another reason.
"It also brings a different perspective," Girod said. "It brings a national perspective to your program, which is obviously a local and regional program, but we do play on a national front in everything that we do. And so, having that national expertise, that national profile, I think, just really elevates all of us through the process."
I wondered as I listened to the chancellor make those valid points about another possible motivation.
Could it be that the chancellor wanted an AD with the requisite juice to attract a football coach with a national profile when a change is deemed necessary?
Long proved he knows how to land big fish by reeling in Bobby Petrino and then Bret Bielema to head the Arkansas football program.
Two big names. Petrino was a big hit until he crashed on a motorcycle, didn't come clean initially about his relationship with the young woman riding with him and was fired despite an impressive record on the field. Bielema didn't win and wasn't the right fit, which ultimately cost Long his job.
Still, Long's ability to hire big names is a good thing because it doesn't limit KU's pool of candidates to coaches with lesser profiles.
It's only a good thing, though, if a big name isn't hired for the sake of his high profile. Kansas tried that with Charlie Weis, a whale of a big football name. It didn't work.
If Long thinks the best name to turn around KU football is a big one, then it's comforting to know he has experience in making that happen. If he thinks a lesser-known leader would make for a better fit, then that's who he needs to hire without giving a second of consideration to winning or losing the press conference.
By the way, did anyone else find it interesting that Long didn't use an adjective to modify the word "coach" when he shared what he knew about Beaty?
"I know he's a coach," Long said. "I know he's a good person. I know he works hard."
Long also knows Beaty's a 3-33 coach, so it's not like he could have said, "I know he's a good coach," without losing credibility, so give the man credit for valuing his word enough not to say things with his fingers crossed behind his back.
Long didn't hesitate to put importance on the outcome of the season-opener against Nicholls State and made it clear he'll consider that a barometer of how much progress the program has made.
That doesn't mean he'll fire Beaty if he loses that game to an FCS school that was 0-11 as recently as 2014. And it doesn't mean he won't, although nothing Long said Wednesday suggested that's the plan.
Put yourself in Long's shoes. Wouldn't you want to make the change at a time when the most generous donors would be at their most highly motivated (livid) state so that they would be willing to ante up for the biggest pot possible for the next coach?
I think you would. I'm not smart enough to know when the donors would be in their most giving state of mind. I'm guessing Long is smart enough to make that calculation and will strike when he deems the donors are ready to dig the deepest.
The timing of the inevitable coaching change is just one twist that makes Kansas football, in its own, unconventional way, such a fascinating story to watch unfold.
---
More from Jeff Long's introduction as the new KU athletic director
---