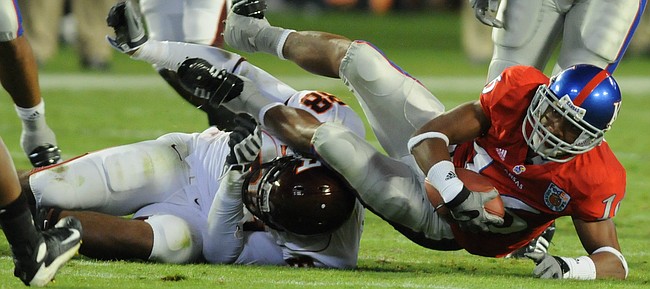 Two of the most popular and impactful Kansas football players in recent history, as well as a crucial member of the program's first Orange Bowl team a half-century ago, will see their names added to the Ring of Honor inside David Booth Kansas Memorial Stadium this coming fall.
Chris Harris Jr., Todd Reesing and Larry Brown all will become permanent fixtures inside the team's nearly century-old home, KU announced on Monday.
Now one of the NFL's standout cornerbacks, with the Denver Broncos, Harris will experience the distinction first, while joining the entire 2008 team, which won the Insight Bowl, for a celebration of that achievement during KU's season opener against Nicholls State, on Sept. 1.
A standout corner for the Jayhawks from 2007-10, Harris played in 50 games, totaling 290 tackles, including 198 solo stops, and recorded three interceptions. Harris helped the Jayhawks to an 8-5 record in 2008 and a 42-21 win over Minnesota in the Insight Bowl.
Harris is a three-time Pro Bowl selection (2014-16), was First-Team All-Pro in 2016, and helped the Broncos win Super Bowl 50. He is set to begin his eighth season with the franchise.
Reesing, one of the most successful quarterbacks in program history, owns 14 school records. His name will join the Ring of Honor on Sept. 15, when the Jayhawks take on Rutgers.
During a remarkable sophomore season, he led the 2007 KU team to a 12-1 season and a 24-21 win over Virginia Tech in the 2008 Orange Bowl.
Reesing amassed 11,194 career passing yards from 2006-09, which is nearly 5,000 more yards than the next-closest Jayhawk in history, Frank Seurer (6,410 from 1980-83).
Reesing also holds KU records for career completions (932), attempts (1,461), touchdown passes (90), completion percentage (63.3), passing yards per game (273), consecutive games with a touchdown pass (24), total offensive yards (11,840) and touchdowns (105), among others.
In a video posted to KU head coach David Beaty's Twitter account on Monday, Beaty informed Reesing of the honor via video conference.
"Wow. That's unbelievable," Reesing responded. "I appreciate that, coach. That's amazing news. Couldn't make me happier."
A tight end for the Jayhawks from 1967-70, Brown helped the 1968 team to a 9-2 finish, a tie for first in the Big Eight standings and an appearance in the 1969 Orange Bowl, where the Jayhawks lost to Penn State, 15-14.
Brown will join the Ring of Honor at the TCU game on Oct. 27. He played 13 seasons in the NFL for the Pittsburgh Steelers as a tight end and tackle, becoming a three-time Pro Bowl selection (1977-78, 1984) and four-time Super Bowl Champion (IX, X, XIII, XIV). The Steelers selected Brown as a tackle on the franchise's All-Time team during the Steelers' 75th season celebration in 2007.
KU will honor the entire 1968 Kansas football team, marking the 50-year anniversary of its appearance in the Orange Bowl, during the TCU game.
Harris, Reesing and Brown join Gilbert Brown, Anthony Collins, Nolan Cromwell, Bobby Douglass, Ray Evans, John Hadl, David Jaynes, Bruce Kallmeyer, Curtis McClinton, Mike McCormack, George Mrkonic, Willie Pless, Gil Reich, Gale Sayers, Otto Schnellbacher, Oliver Spencer, Aqib Talib, John Riggins and John Zook in Kansas football's Ring of Honor.