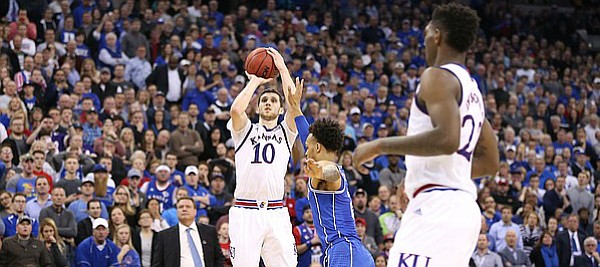 Svi Mykhailiuk's prospects for success as an NBA rookie just took a gigantic leap forward with Sunday night's news that LeBron James decided to sign a four-year, $154-million deal with the Los Angeles Lakers, who drafted Svi in the second round last month.
This is how it works for LeBron's teammates, no matter where he plays: Defense collapses on LeBron, shooters spot up, LeBron feeds the open shooter.
And we all know what Svi does with open shots. He buries them. He made 44.4 percent of his 3-pointers as a 20-year-old senior who didn't turn 21 until last month.
NBA rookies immediately work on expanding their range. They get stronger with age and they have more time to put up shots because they aren't student-athletes, they're professional athletes.
The Lakers used the 47th overall selection of the NBA draft on Svi because they had a shortage of spot-up shooters. Their need for long-distance marksmen just increased with the addition of James, a shooter's dream teammate. James also is a defensive liability's dream teammate. He can guard anybody, be used in any way and help to camouflage any weakness.
Few things are more demoralizing for great basketball players than to set up a teammate for an open shot and then watch it clank off the rim. Svi doesn't clank, he swishes.
Last month, shortly after the Lakers selected Svi in the second round, KU coach Bill Self even referenced the idea of James and Svi teaming up.
"Who knows what will happen," Self began. "But if the rumors are true, he'll be a nice piece. Having a corner jump shooter when maybe one of the best players ever has the ball in his hands, that could be a great situation for him."
LeBron will love playing with Svi, even if the latest Lakers Hall of Famer will holler at him for losing his man on defense. LeBron will like knowing his passes won't be wasted on Svi, whose skill is needed by the Lakers. Josh Hart, tied for 38th in the NBA with a .396 percentage, was the Lakers top 3-point shooter last season.
As many NBA 3-point shots as Svi will put up in preparation for his rookie season, he'll become a candidate to shoot 40 percent right off the bat, even though the NBA line is 3 feet deeper.
As a teammate of the planet's best basketball player, Mykhailiuk instantly will have a higher profile than he would with any other team. The whole world watches LeBron.
LeBron's move serves as a reminder that no franchise has quite as exciting a history as the Lakers. Even though the Boston Celtics still have one more NBA championship than the Lakers, no NBA franchise has had as many stars: Elgin Baylor, Jerry West and Wilt Chamberlain gave way to Magic Johnson and Kareem Abdul-Jabbar, who retired and watched Kobe Bryant and Shaquille O'Neal.
Los Angeles loves its stars, but has a soft spot for supporting actors as well. "Svi for 3" could become as well received a phrase at the Staples Center as it was at Allen Fieldhouse. NBA crowds love players who come off the bench with a shoot-first, ask-questions-later mentality.
Svi's jersey won't ever hang from such crowded rafters, but his chances of earning championship rings just improved.