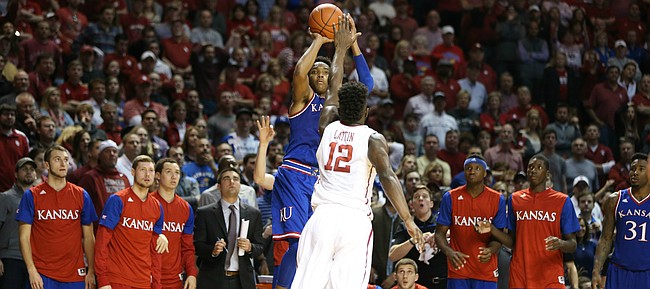 No. 5 Kansas Jayhawks (16-3 overall, 6-1 Big 12) vs. No. 12 Oklahoma Sooners (14-4 overall, 4-3 Big 12)
Time: 6 p.m. | Location: Lloyd Noble Center, Norman, Okla.
TV: ESPN2 | Radio: IMG Jayhawk Radio Network
Log on to KUsports.com for our live game blog coverage and follow the KUsports.com staff on Twitter: @KUSports @mctait @TomKeeganLJW @bentonasmith @nightengalejr @chasenscott & @nickkrug
Keys for Kansas
1. Don't forget the other guys
While the obvious focus in this one will be for Kansas to find a way to slow down Oklahoma freshman Trae Young, who leads the nation in both points (30.5) and assists (9.7) per game, there's much more to it than that.
While Young has been sensational so far this season, it's his supporting cast — and his ability to use them when necessary — that has vaulted the Sooners into the Top 15 in the country.
Stopping Young altogether is likely a losing proposition. He's too good, too quick, too creative and, frankly, has enough freedom to be able to shoot whenever and wherever he wants for Kansas to think it is going to take him out of the game altogether. So the goal for Kansas will be to make Young earn everything he gets, to make him shoot a whole bunch of shots to get to 20, or even 30, points.
The Sooners feature three other players averaging nine points per game or better (Christian James 12.1, Brady Manek 11.3 and Kam McGusty 8.6), and also three other players not named Young who are shooting 39 percent or better from 3-point range (James, Manek and Matt Freeman).
"He's unbelievable with the ball," KU coach Bill Self said of Young. "He has unbelievable vision. You could take away his shot and they'd still come away with two or three points so easily (because he's such a good passer), which has happened several times. The challenge is how do you guard everybody else — because they can all score — and still not let him have huge numbers?"
2. Help for Graham
There's no doubt that KU senior Devonte' Graham is going to take it as a personal challenge to go toe-to-toe with Young the way he did with Buddy Hield a couple of years ago in Norman, Okla., in a Kansas victory.
And that competitive drive that is a part of every bone in Graham's body certainly is admirable.
But, even if he has some success slowing down OU's fab freshman, there's no way that Graham will be able to lock Young up alone. Asking him to do so is putting way too much pressure on the KU leader and, in turn, would also put the Jayhawks in a tough position on offense and in terms of depth.
Graham already is playing nearly 40 minutes every night. And he's also KU's leading scorer and assist man. While he no doubt will be up for the challenge of trying to tackle Young, asking him to do it for 40 minutes likely will wear him down way too much.
So someone else in KU blue is going to have to take a few turns on Young. Perhaps even several someones. The most obvious options there are freshman guard Marcus Garrett and junior guard Lagerald Vick. Both have the kind of quickness and length that could — stressing the word "could" — make life tough for Young. And both are much better options than KU's other backcourt options Malik Newman and Svi Mykhailiuk.
The way OU plays, though, and with Young's ability to hurt teams all over the floor, it's entirely possible that all five of KU's perimeter players will be staring into Young's eyes for a few trips here and there.
Regardless of who they are or how they do during their turn on Young, somebody — perhaps even Bill Self with his game plan — is going to have to help Graham out.
3. Keep an eye on tempo
Although Kansas typically is the type of team that likes to get out and run and play in transition, doing so in this matchup might not be in the Jayhawks' best interest.
Oklahoma leads the Big 12 in tempo — as measured by a KenPom.com calculation that shows pace of play and number of possessions per game — and ranks fifth in the nation in that same category.
In short, the Sooners, led by Young, want to get up and down as fast as possible to allow their freewheeling point guard to both get off his own shot and create shot opportunities for others.
In last weekend's overtime loss to Oklahoma State, Young scored 48 points, but needed 39 shots to get them. That included 20 3-point attempts. And that was just fine with the Sooners, who know that's their best chance to win games and certainly have backed that up to this point.
The Jayhawks are not exactly a slow and deliberate team. In fact, KU ranks near the top of the Big 12 in tempo and also is getting the highest percentage of its points from 3-point attempts and the lowest percentage of its points from 2-point attempts among all Big 12 teams (OU is second in both categories).
But in the interest of slowing down Young and the Sooners, don't be surprised if KU really tries to control tempo and play through Udoka Azubuike as much as possible.
Mega Matchup
Azubuike vs. Oklahoma bigs
A week ago, when Kansas knocked off then-No. 6 West Virginia in Morgantown, the Jayhawks were helped tremendously when Azubuike was on the floor. Silly fouls and a lack of focus kept him out of half of the game, but in the 20 minutes that he was on the court, the Mountaineers, who feature a heck of a big man themselves in Sagaba Konate, had absolutely no answer for Azubuike.
History could repeat itself in this one if Azubuike is able to stay on the floor. And that objective becomes even more crucial given the fact that the Sooners have not just one, but two, big men they can throw at the sophomore center.
Khadeem Lattin, 6-foot-9, 220 pounds, and junior Jamuni McNeace, 6-10, 222, both have the height, athleticism, instincts and experience to give Azubuike trouble. But if the KU big man is able to post up as deep as he has during the past week or so, even these two will stand no chance of slowing him down when he gets in close.
The fact that there are two OU big men who can take turns trying to corral Azubuike certainly helps OU's cause. And Azubuike's suspect free throw shooting — 4 of 11 last Saturday vs. Baylor and .411 for the season — also becomes an option here, provided the OU guards can dive down to steal a couple of fouls away from the Sooners big men.
Jayhawk Pulse
A little more than a week ago, this one looked like it could be for a spot on top. Now, after back-to-back losses by Oklahoma, it appears as if this one means a lot more for the Sooners' chances of staying in the Big 12 race than it does for KU's hopes of adding a 14th consecutive title to its haul.
A win tonight would give Kansas a three-game lead over Oklahoma, with 10 games to play in the Big 12 race. While West Virginia and Texas Tech still loom as contenders, it would be tough to see the Sooners making up that kind of gap in that kind of time.
But don't think for a second that's how the Jayhawks are looking at this game. To them, it's merely another opportunity, against a highly ranked team, to test themselves, improve upon their weaknesses and build some momentum for February and March.
Las Vegas put this a 50-50 toss-up for each team, and the Jayhawks have won four straight in the series and 17 of the last 19 dating back to 2006. But a decent chunk of those, including two games last year and the famous Buddy Hield, triple-overtime game from two seasons ago, have been the types of games that easily could have gone either way.
Although those games from the past, along with so many down-to-the-wire battles this season have gone KU's way, Self was quick to point out the bottom line for how and why KU came out on top.
"The biggest reason we have (won the close ones) is we've had some guys make individual plays," Self said. "I know our guys like to compete and play pretty well at game point. Our guys have been pretty good in those situations, and it's primarily due to guys just making individual plays within team situations."
Probable Starters
No. 5 Kansas
G – Devonte' Graham, 6-2, 185, Sr.
G – Malik Newman, 6-3, 190, Soph.
G – Svi Mykhailiuk, 6-8, 205, Sr.
G – Lagerald Vick, 6-5, 175, Jr.
C – Udoka Azubuike, 7-0, 280, Soph.
No. 12 Oklahoma
G – Trae Young, 6-2, 180, Fr.
G – Rashard Odomes, 6-6, 217, Jr.
G – Christian James, 6-4, 211, Jr.
F – Brady Manek, 6-9, 210, Fr.
F – Khadeem Lattin., 6-9, 220, Sr.