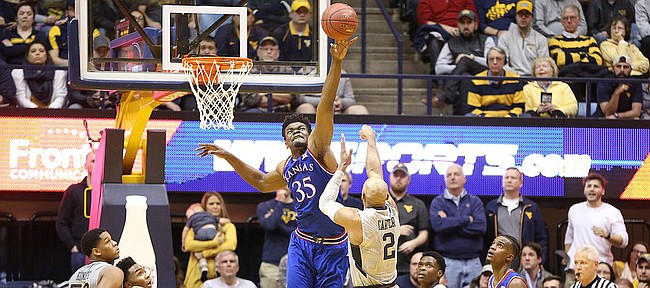 Morgantown, W.V. — In the wake of another fall-from-ahead loss to Kansas, veteran West Virginia basketball coach Bob Huggins talked about more than the lack of productive passing and waning defensive pressure that were factors in allowing it to happen.
As usual, Huggins probed deeper while talking about his team and, in the process, without mentioning Kansas, shined a light on one advantage the Jayhawks bring in pursuit of a 14th consecutive Big 12 regular-season title.
"I think this," Huggins said. "You ever heard the story of the guy playing golf and he's a guy who shoots 90 most of the time? So he goes out and shoots 37 on the front. What does he say? He says, 'This isn't like me. I don't know what this is, but this ain't like me.' And he shoots a 59 on the back and he says, 'See, I told you. This is more like me.' He's comfortable shooting a 59. He's not comfortable shooting a 37."
Been there, done that, with splits of 40-55.
West Virginia entered last week ranked No. 2 in the nation, survived a home game against Baylor, 57-54, lost by a point at Texas Tech, dropped to No. 6 and then blew a 12-point lead in the final eight and a half minutes Monday in losing to KU, 71-66.
"We probably weren't very comfortable being No. 2 in the country," Huggins said. "I told them in practice just the other day, 'Look up at that crow's nest up there. What do you think of that?' They said, 'That's pretty high.' I said, 'Well, that's kind of where you are. You're one rung away from the top. It's not so hard to climb up there. Boy, that fall's a (bear). That fall is hard.' I told them that's about what we're getting ready to do. Our preparation wasn't what it needed to be."
Good coaches can always see it coming.
All basketball teams whose fortunes ride on men ranging in age from 18 to 23 will have stretches, good and bad, throughout a five-month season.
But unlike what Huggins articulated what has happened with his team, for Kansas, the view from the top never will bring on vertigo. The Jayhawks' comfort zone can be found in the penthouse because it's were they spend most of their time. They don't feel comfortable elsewhere, so when they slip, they scramble with urgency to return to comfort.
Tangible flaws could undo Kansas, but intangibles such as self-doubt won't slay the Jayhawks. They can't relate in any way to Groucho Marx, who famously said, "I don't want to belong to any club that would have me as a member."
They always feel they belong in the champions club.
---
More news and notes from Kansas vs. West Virginia
---