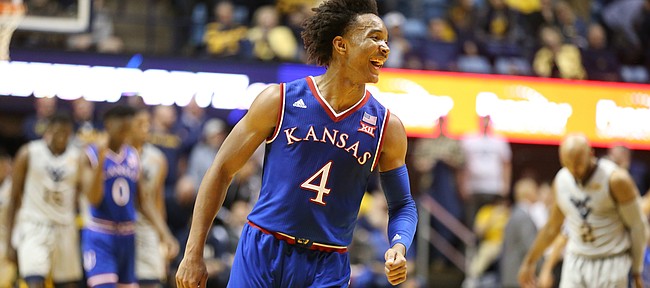 Even if you watched the replay three or four times after it was over, it's hard to pinpoint exactly how the 10th-ranked Kansas men's basketball team flipped the script on an otherwise sluggish performance and played some of its best basketball of the season down the stretch to steal a victory in Morgantown over West Virginia on Monday night.
Sure, there was the steal and three-point play by Devonte' Graham that kick-started the comeback, from down 10 with 8:30 to play to down seven at the 7:53 mark.
And, yeah, Svi Mykhailiuk's clutch catch-and-shoot performance in the game's final minutes from the corner right in front of the Kansas bench also played a huge role.
But those plays — and a few others like them from Graham and Mykhailiuk down the stretch— were the "what" of the KU comeback.
The "how" was more abstract. And an elated Graham was happy to discuss it before leaving WVU Coliseum with his first victory there in his last try.
"We're seniors," Graham said. "We're vets. We know what it takes to win in that situation."
Sometimes, it really is as simple as that. That's not to say West Virginia did not have its own veterans and seniors and playmakers. But on this night, those wearing blue got the better of the team in gray and Kansas coach Bill Self believed his top two leaders had as much to do with that as anything.
"Well, seniors," Self said of Graham and Mykhailiuk. "They have to step up. They scored 20 of 22 in one stretch. That's huge. We have to make shots to play well offensively, and we didn't, but we did there late. I thought Devonte' made a couple of great drives and I thought Svi made an unbelievable drive and, of course, they combined for three 3's late.
"It was impressive watching them out there. They both wanted it bad and competed like they did."
The Graham-Mykhailiuk best-friend duo combined for 33 points on 10-of-21 shooting (6 of 12 from 3-point range, 7 of 9 from the free throw line) and added 11 assists, seven rebounds and four steals in 77 minutes, while doing most of the heavy lifting, but Kansas probably would not have survived if not for a few timely plays from another veteran — junior Lagerald Vick.
After starting the game on the bench for the first time all season, Vick played 36 minutes and scored nine points and swiped two steals and dished two crucial assists late in the game.
One was an extra pass to Mykhailiuk in the corner in a moment when, had he been feeling greedy, Vick definitely could have pulled the trigger himself. The other was another perfectly placed dime to a wide open Graham in the opposite corner. Both players drilled the open jumpers and both jumpers deflated the Mountaineers.
Asked after the game why he elected to start freshman Marcus Garrett in Vick's place on Monday, Self pointed to the mental side of the game.
"I didn't think that Lagerald was as focused in practice (Sunday) as what we needed everybody to be so I made a rash decision," Self said. "I'm not saying it's the best decision. I said, 'Hey, if you can't get with it right now, we only have 30 minutes and everybody needs to be into it,' and I didn't think he was so I said, 'So, you're not starting.'"
Monday's performance was not Vick's best by any stretch of the imagination. He still took plays off, disappeared at times and missed an assignment here and there, things Self does not tolerate nor expect from a third-year player.
But the benching was never an issue and Vick showed, through his willingness to simply compete for most of the night, that he quickly dialed his focus back to where it needed to be following Sunday's practice.
"I'll say this about him," Self began. "In times past, that (benching) would've affected him. But I think it affected him in a positive way. I thought he was really, really good, attitude-wise."
While the wild victory left a couple of KU seniors finally feeling good on their way out of WVU Coliseum, the Jayhawks' deep crop of underclassmen and newcomers weren't far behind in the feel-good department. And it was not just the victory that had them smiling, rather getting the victory for their veterans.
"Oh yeah. That means a lot," sophomore center Udoka Azubuike said after the win. "Right before the game, Devonte' said something about it, too, and we were like, 'OK. We're going to go out there (and win for you guys).'"