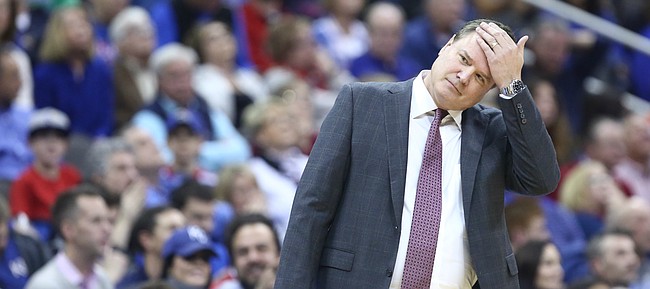 Monday marked another day in the ongoing saga that is the quest for the Kansas basketball program to gain information about the status of withheld Kansas freshmen Silvio De Sousa and Billy Preston.
And the Jayhawks have heard nothing concrete for the NCAA about either case.
Kansas coach Bill Self, who told the Journal-World on Sunday night that he expected to know more by Monday afternoon, said at a regularly scheduled meeting with the media before Monday's practice that he had received no news in either case, "as of lunch today."
"But I am confident that we'll have some news soon," said Self, repeating a popular line from recent weeks. "I'm not saying today positively, but I think we'll have a better idea of where everything is today."
As for whether he had any kind of feel for which way either case might be leaning, Self sounded supremely confident about De Sousa's prospects and not quite there on Preston.
"I think it could play out very favorably for Silvio," he said. "And, with Billy, I know how we feel as a university but we haven't been given any more information from anyone else to confirm that feeling."
Asked if it would do no good to try to lean on the powers that be at the NCAA for some kind of answers, good or bad, Self explained that KU officials had done just that.
"We're pushing buttons," Self said. "Our people have done a lot and have been about as aggressive as can be without literally upsetting everyone in Indianapolis. I think our people have been good. On Billy's situation, I think it's just a little bit more complicated than your normal things, but you still have to give a decision. So we're expecting it soon."
If and when the Kansas basketball program does, in fact, learn of some kind of resolution on the future status of De Sousa and/or Preston — good news or bad — it would mark the end of a long and drawn-out waiting period that dates back weeks and has left the players, KU's coaching staff and, of course, the KU fan base experiencing varying levels of frustration.
Preston's situation dates back to the night of KU's second game of the season, when he learned, just a few hours before tip-off against Kentucky in the Champions Classic in Chicago, that he would be held out of the game while the university looked into details of a vehicle he was driving during a single-car, non-injury accident a few days earlier.
Self said that night after the win over the Wildcats that KU officials had "spent all day trying to figure out if there was a way we could get it done where he could play" against Kentucky, adding, "I am confident it'll get cleared up. But I don't know the time frame and they haven't clued me in."
That obviously did not happen and Preston has not played in any of KU's 13 games in the nearly eight weeks since.
Almost no one could have foreseen that type of delay when the issue first surfaced.
As for De Sousa, his case actually has been in limbo a few days longer, though many of the steps needed to reach the point of awaiting NCAA approval were up to him.
After graduating from IMG Academy and receiving a qualifying score on his final ACT attempt, De Sousa was cleared to join the Jayhawks in time for the second semester in late December.
The 6-foot-9, 245-pound Angola native now is simply waiting for the NCAA to certify his amateur status, something Self said has taken a little more time because De Sousa is from a foreign country.
Even still, waiting for that issue to be addressed is now nearing the end of its second full week of waiting.
Kansas is set to face Iowa State at 8 p.m. Tuesday at Allen Fieldhouse and, at this point, it looks as if De Sousa and Preston will remain in warm-up gear instead of their KU uniforms.