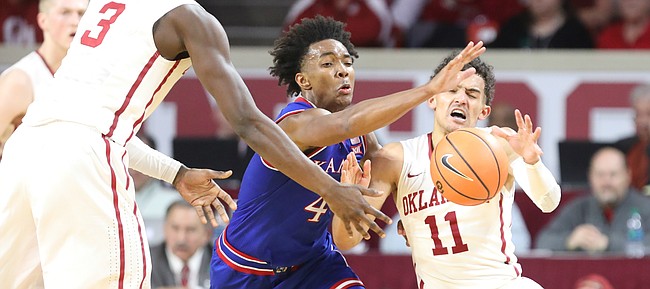 No. 8 Kansas Jayhawks (21-6 overall, 10-4 Big 12) vs. Oklahoma Sooners (16-10 overall, 6-8 Big 12)
Time: 8 p.m. | Location: Allen Fieldhouse
TV: ESPN | Radio: IMG Jayhawk Radio Network
Log on to KUsports.com for our live game blog coverage and follow the KUsports.com staff on Twitter: @KUSports @mctait @TomKeeganLJW @bentonasmith @nightengalejr @chasenscott & @nickkrug
Keys for Kansas
1. Make life harder for Trae Young
In KU's first meeting with the Sooners this season — an 85-80 loss on Jan. 23 in Norman, Okla. — fabulous OU freshman Trae Young turned in a wildly efficient night, scoring a game-high 26 points on just nine shots while also dishing nine assists and making 10 of 12 free throw attempts.
Since then, Young has hit a slump of sorts and the Sooners have paid for it dearly, losing five in a row and eight of their last 10.
Although he stopped short of discussing Young specifically, Kansas coach Bill Self said he believed that the freshman wall was a real thing and that he has seen it have an impact on some incredibly talented players — both on his team and others — in the past.
"I think it does happen," Self said. "I'm not saying it's happened with anybody in particular, but it does happen. It's a long year and, even with guys that don't play a ton of minutes, it's a different grind than what you get in high school. I can't speak to that about Trae, but it's not unusual for guys, even upperclassmen, to hit the wall this time of year."
Wall or no wall, the Jayhawks' goal going into this one surely will be to make it harder for Young to get those 26 points this time around.
And Monday's guest of honor — former KU great Sherron Collins, who will have his jersey retired at halftime — offered his strategy for how to guard Young in the days leading up to the Big Monday battle.
"I think you just have to be physical with him," Collins said. "I'd hit him every time I get a chance to. No easy layups. He has to hit the floor and you've got to attack him."
2. The Azubuike free-throw factor
When Udoka Azubuike took the floor for the first meeting with Oklahoma — which now and forever will be known as the Hack-a-Dok game — he did so as a 41 percent free-throw shooter and the Sooners made him pay, taking advantage of a 1-of-8 shooting night at the free-throw line to knock off Kansas.
Since that late January day, Azubuike has been a changed man at the free-throw line, rendering the strategy employed by OU coach Lon Kruger useless for the rest of the conference and improving his free-throw percentage by almost 5 percent.
That might not sound like much. And, yeah, Azubuike still is a sub-50-percent free-throw shooter for the season. But his 60-percent clip in the seven games since that Oklahoma loss have him much more confident and actually has helped KU win a couple of games.
That includes Saturday's 77-69 win over West Virginia, during which Azubuike made seven of 10 from the free-throw line to help KU top the Mountaineers.
Asked if he would say anything to Azubuike before the OU rematch about focusing in on his free throws this time around, Self dismissed the idea and praised his center's work ethic in the weeks since.
"Maybe. I don't know," Self said. "I think sometimes we can talk too much. He knows. So why bring it up? That wasn't him. That was me in Norman. So he shouldn't feel anything but incentive to go out and try to play well, not because of what happened in Norman, just because of what we have an opportunity to play for."
Added Azubuike: "I'm confident with my free throws, taking them one at a time. I'm just going to go out there and concentrate, just like I did (vs. West Virginia)."
3. Be rested and ready to run
As has been the case all season, Oklahoma is one of the fastest-playing, highest-scoring teams in the country.
The Sooners' 87.5 points per game rank second nationally only to Duke (88.2) and OU leads the Big 12 in adjusted tempo and is third in the nation.
So what does all of that mean? The Sooners like to get up and down the floor and prefer to play games with a lot of possessions, both hoping to capitalize on having an incredibly efficient offensive player like Young on their side and also hoping to neutralize some of Young's free-wheeling mistakes and turnovers by giving him more chances to make good things happen as a response.
While all of those realities were true the first time around, the Jayhawks had one extra day of rest before that one. So one thing to really keep an eye on in this one is KU's conditioning.
After his 31 minutes against West Virginia on Saturday, Azubuike said he was "exhausted." And Graham now has played all 40 minutes in 10 consecutive games, a streak that was at just three the last time he faced OU.
Mega Matchup
KU's supporting cast vs. OU's supporting cast
The marquee outside of Allen Fieldhouse and on ESPN all day long no doubt would read Devonte' Graham vs. Trae Young. And in those two terrific point guards, you're probably looking at the Big 12 player of the year and runner-up when the season is finished.
But, as was the case in the first meeting, this one could be as much about the players on both teams not named Graham and Young that make a monster difference.
In particular, that means OU wings Brady Manek and Christian James, who combined for 7-of-15 shooting from 3-point range in the first meeting to help OU pull out the victory.
That's 12 more 3-point attempts than Young took all game. And that was by design. With defenses so keyed in on slowing down Young and the OU freshman so talented with the ball in his hands, OU's "other guys" often get wide open looks and simply have to knock them down.
So, while it's important for Graham — and whichever other Jayhawks get their turn — to give Young trouble, being aware of where OU's shooters are and being able to help on Young and still recover will be a massive challenge.
Jayhawk Pulse
Thanks to its comeback win on Saturday and Texas Tech's loss at Baylor, Kansas now is tied for first in the Big 12 Conference with four games to play in what has become a two-team race.
The Jayhawks know that. And they know even more that in order for next Saturday's game against Texas Tech in Lubbock to matter to its fullest, they have to take care of business against the Sooners in this one.
Getting up for the game should not be hard. KU is facing the front-runner for national player of the year on yet another ESPN Big Monday broadcast, and is coming off of a victory in which both the team and the Allen Fieldhouse crowd delivered as much raw emotion as we have seen all season.
Add to those elements the fact that the Jayhawks are kicking off a stretch of three games in their last four against teams that have a chance to do something no Big 12 team has done in the history of the league — sweep Self's Jayhawks — and it's easy to see how and why Kansas believes it has plenty to play for down the stretch.
Oklahoma, Texas Tech (Feb. 24) and Oklahoma State (March 3) all won the first meeting with Kansas this year, putting each in a position to be the first to achieve the feat.
Despite that trio looming, Self said his team was prepared to take the one game at a time approach into the rest of the season.
"We are going to play a team that obviously beat us the first time we played them, and we need to figure out a way to guard their guys," Self said after Saturday's victory. "If we do that, we'll set up a big game Saturday. But we need to focus in on OU and have our fans just like they were (against West Virginia)."
Probable Starters
No. 8 Kansas
G – Devonte' Graham, 6-2, 185, Sr.
G – Malik Newman, 6-3, 190, Soph.
G – Svi Mykhailiuk, 6-8, 205, Sr.
G – Lagerald Vick, 6-5, 175, Jr.
C – Udoka Azubuike, 7-0, 280, Soph.
Oklahoma
G – Trae Young, 6-2, 180, Fr.
G – Rashard Odomes, 6-6, 217, Jr.
G – Christian James, 6-4, 211, Jr.
F – Brady Manek, 6-9, 210, Fr.
F – Khadeem Lattin., 6-9, 220, Sr.