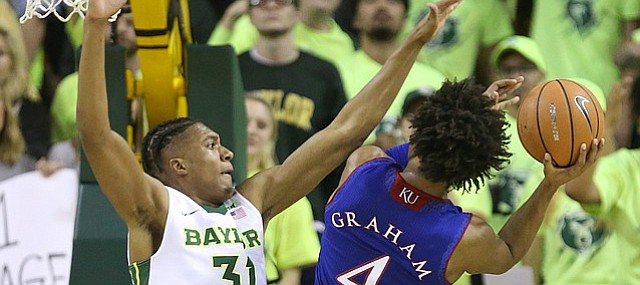 Waco, Texas — A quick glance up and down the box score following Saturday's 80-64 victory by Baylor over 10th-ranked Kansas at Ferrell Center revealed a fact that was probably obvious to anyone who watched the game.
Outside of senior point guard Devonte' Graham, who played all 40 minutes for the eighth game in a row and 11th time this season, the Jayhawks did not get much in the way of offense from the seven other players who checked into the game.
Sure, Malik Newman scored 14 points. And, yeah, Lagerald Vick and Udoka Azubuike scored nine and eight, respectively.
But that trio — KU's third through fifth leading scorers on the season — needed 29 shots to score 31 points on a night when the Jayhawks (19-6 overall, 8-4 Big 12) tallied a season low for points.
Photo Gallery
Kansas basketball v. Baylor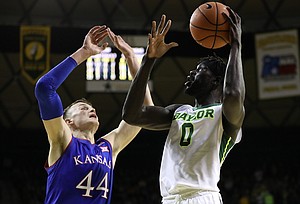 View a gallery of images from Saturday's game between the Jayhawks and Bears in Waco, Texas.
And then there was second-leading scorer Svi Mykhailiuk, who shot 1 of 8 for two points, only slightly worse than Mitch Lightfoot's 1-of-6 night.
It wasn't just the offensive load that Graham was forced to carry on Saturday. Despite not getting a rest, he played with by far the most energy and urgency, from start to finish, and also directed the show on defense, at times appearing to play two or two-and-a-half positions on the same possession.
"He's just literally doing everything for us," Mykhailiuk said of Graham. "And we just really have to help him. Because, by himself, he can't win."
Another short stint for Silvio
With Lightfoot and Azubuike plagued with four fouls apiece with more than 11 minutes still to play, KU coach Bill Self plugged freshman forward Silvio De Sousa into the lineup at the 11:29, hoping to steal a few minutes with his primary big men on the bench.
It didn't work.
After a positive play — the 6-foot-9 forward slapped away an attempted inbounds pass under the Baylor basket — during his initial seconds on the floor, De Sousa made a couple of costly mistakes that inspired Self to go back to Azubuike just 28 seconds after checking into the lineup.
His first miscue came on defense, when he lost sight of the ball and allowed an easy floater in the paint. And on the ensuing Kansas possession, he was whistled for a charging foul after posting up hard and turning too aggressively toward the basket.
"I put Silvio in for 15 seconds, or 30 seconds, and that didn't turn out very well," Self said. "In that situation, we were behind and we were just going to play them until they both fouled out. And then at that point go small."
Added Graham: "We definitely need Dok and/or Mitch in there. That's what we're used to playing with."
Amazing Manu
After being held to just 10 points in Lawrence in a Baylor loss, BU point guard Manu Lecomte made his presence felt in this one, taking over down the stretch to ensure a Baylor victory.
Lecomte finished with 18 points and six assists in 37 minutes and hit two extremely deep 3-pointers late in the game that helped turn a 60-56 Baylor lead into a 10-point cushion with 4:21 to play.
"He actually made two bad shots," said Self before praising the point guard. "I mean, let's call it like it is. He's just a good player and stepped up and made a couple of big time shots. Those were hard shots. Those were just clutch plays."
GameDay's coming
ESPN's "College GameDay" announced Saturday morning that the popular college basketball broadcast was headed to Lawrence next weekend for the Jayhawks' home game against West Virginia.
The game will tip off at 5 p.m. and the GameDay festivities will begin at 10 a.m., with doors opening at 8 a.m. for fans who want to participate. Both broadcasts will appear on ESPN.
The game will mark the 18th time the Jayhawks will be featured on GameDay, with 14 regular-season appearances and three at neutral locations. The Jayhawks are 9-5 in their previous regular-season appearances (12-5 overall).
This and that...
The Jayhawks' loss on Saturday dropped them to 8-4 in Big 12 play for the first time since the 2003-04 season... Baylor's win snapped an 11-game losing skid against Kansas and also ended a streak of four straight KU victories in Waco... Kansas now leads the all-time series with Baylor, 30-5, including a 12-3 mark on the Bears' home floor... The Jayhawks are now 5-2 in true road games this season and 8-3 in games played away from Allen Fieldhouse.
---
More news and notes from Kansas vs. TCU
---