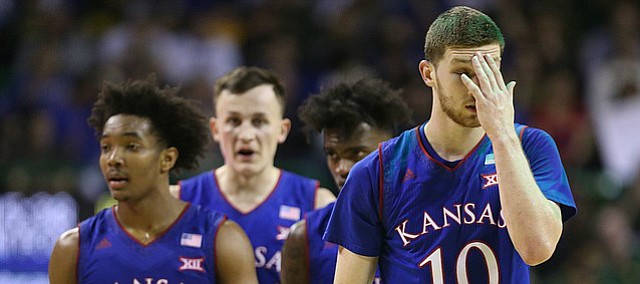 Waco, Texas — You know it's not your day when you can't escape pregame warmups without an injury to a key player.
It was not Sviatoslav Mykhailiuk's day. Ditto for the Kansas basketball team, which lost at Baylor, 80-64, Saturday during an afternoon in which the Jayhawks couldn't put the ball in the basket in the first half and couldn't prevent Baylor from scoring in the second.
Warmups didn't go any better for Kansas.
Mykhailiuk arrived at Ferrell Center eyes wide open and well aware that a strong team effort is needed to win in any Big 12 venue.
Photo Gallery
Kansas basketball v. Baylor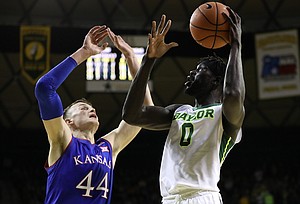 View a gallery of images from Saturday's game between the Jayhawks and Bears in Waco, Texas.
He just didn't have a clue that his troubles would start well before the center jump.
During that early phase in which the players take the court to shoot and get loose without falling into organized layup lines, freshman Marcus Garrett went up for a dunk and missed, a harbinger of KU's lid-on-the-hoop shooting performance.
As Garrett's arm swung back in the aftermath of the miss, his hand accidentally smacked Mykhailiuk in the face, his right eye taking the brunt of it.
By game time, ice had played a part in Svi's eye looking much better than it did when he it was swollen partially shut in the layup line.
From tipoff all eyes were on Svi's shooting eye, seeking clues as to how the shiner would impact him. His first shot, a 3-point attempt from left of the circle, which clanked off the backboard, right of the rim, indicated the flukey accident probably had done a number on him. Nothing about how he shot the rest of the day suggested otherwise.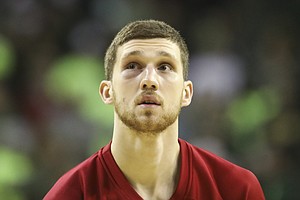 In 35 minutes, Svi made 1 of 8 shots and missed all six 3-point attempts. His only field goal of the week came on a putback.
Even before he took shot to the eye, his shooting eye had cooled a bit. He made just 2 of 9 3-pointers a week earlier in a loss to Oklahoma State in Allen Fieldhouse. He missed his only two shots in a grind-it-out victory Tuesday at home against TCU.
"Everybody goes through those little shooting slumps," fellow senior Devonte' Graham said of Svi. "But Svi, he's a good shooter. So who knows, next game he might go 7 for 7. Right now, he's just in a little shooting slump."
The issue isn't whether Svi will break out of it. He will. The bigger issue is how KU can survive his off days better than it did in scoring 20 points for the entire first half. The solution, of course, lies in getting more consistent production from Malik Newman and Lagerald Vick. The mysterious duo combined for three points in the first half, 20 in KU's 44-point second half, most of them coming on drives.
For the day, Kansas made 6 of 31 from beyond the arc.
Svi didn't blame his Saturday shooting woes on his shiner, but nobody else bought that.
"It didn't really affect my vision," he said. "I was good."
He also blamed himself for the accident, saying, "I was just too close and he missed a dunk."
Graham said he thought it "could have," thrown off Svi's shot.
"It's hard when you have a black eye," Graham said. "You can't really see."
Kansas coach Bill Self agreed with his best player.
"Oh yeah," Self said. "He was messed up. He was messed up. He was icing it the whole time."
Rough timing.
"Svi didn't miss (Friday) when we were scrimmaging," Self said. "I think he made eight 3s in a row. I thought he may come out and be on fire, and then he really never was able to get on track."
Other than Graham, Svi had plenty of company in that regard and Kansas (19-6 overall, 8-4 in Big 12 play) suffered through its lowest-scoring game of the season.
---
More news and notes from Kansas vs. TCU
---