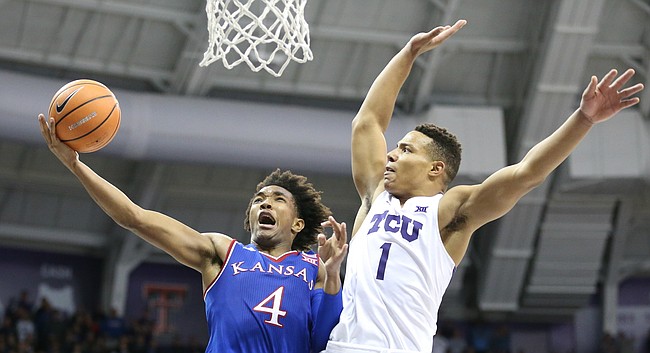 No. 10 Kansas Jayhawks (18-5 overall, 7-3 Big 12) vs. TCU Horned Frogs (16-7 overall, 4-6 Big 12)
Time: 8 p.m. | Location: Allen Fieldhouse, Lawrence, Kansas
TV: ESPN2 | Radio: IMG Jayhawk Radio Network
Log on to KUsports.com for our live game blog coverage and follow the KUsports.com staff on Twitter: @KUSports @mctait @TomKeeganLJW @bentonasmith @nightengalejr @chasenscott & @nickkrug
Keys for Kansas
1. Azubuike the animal
While Mitch Lightfoot's addition to KU's starting lineup was certainly an indictment on the recent play of Lagerald Vick, it also could prove to be a wake-up call for sophomore center Udoka Azubuike.
KU coach Bill Self said Azubuike needed to bring more tenacity and fire to the floor, particularly on the glass, and said he put Lightfoot into the lineup in part because it might inspire Azubuike to try to match Lightfoot's effort.
Azubuike has only played more than 30 minutes twice in Big 12 play (34 against Baylor and 32 in Game 1 against Kansas State) and only topped 30 minutes once in non-conference play (34 minutes against Kentucky).
In the first meeting with the Horned Frogs, Azubuike played just 13 minutes and finished with 14 points — 10 in the first five minutes of the game — and one rebound while fouling out.
Foul trouble — and more to the point, committing silly fouls — still plagues Azubuike and the Jayhawks are looking for that one game where he can avoid fouls being a factor and can just play with the kind of reckless abandon the Jayhawks need from their biggest player and best enforcer.
No better time to get going than after the team's worst rebounding game of the season.

2. 3-point showdown
This one seems foolish to even point out given the fact that 38 percent of KU's points — and 42 percent of KU's shot attempts — have come from 3-point range this season.
But it is particularly big in this one given how these two teams rely on and defend the outside shot differently.
TCU enters tonight's game with the best 3-point percentage in the conference (.419) but will be facing a Kansas team that ranks first in the Big 12 in 3-point percentage defense (.308).
Meanwhile, KU ranks third in the Big 12 in 3-point percentage (.392) and will be facing a TCU squad that is dead last among Big 12 teams in defending the 3-point shot, giving up .431 percent shooting to opponents.
What makes that last stat most interesting is the fact that this is a matchup of the Big 12 team that shoots the most 3-pointers per game (Kansas at 26 per game) against the team (TCU) that gives up the third fewest 3-point attempts per game (21).
In the first meeting, KU knocked in 11 of 20 from downtown (55 percent) while TCU made just 9 of 29 (31 percent).
3. Make life miserable for Vlad
A gifted and creative scorer from all spots on the floor, 6-foot-10 forward Vlad Brodziansky figures to be a focal point for the Kansas defense and Azubuike in this one.
The 6-foot-11, 230-pound senior leads the Frogs in scoring (15.2 points per game), is second in rebounding (4.9) and also leads the team in blocks (40) and field goal percentage (.588).
In last season's upset of KU in the Big 12 tournament, Brodziansky led TCU with 20 points and so often got whatever he wanted whenever he wanted.
Forcing him to score in areas he is uncomfortable and out of the flow of TCU's offense is key with Brodziansky and doing that can knock the entire Horned Frogs' offense out of rhythm.

Mega Matchup
TCU senior Kenrich Williams vs. the KU defense
In the first meeting, Williams had a quiet first half before putting his finger prints all over the second half to finish with 11 points, 11 rebounds and five assists in 32 minutes.
KU coach Bill Self called him the best player in the game, whom the Jayhawks could not guard, and Williams a big reason that TCU stormed back from multiple double-digit deficits and nearly knocked off the Jayhawks.
Look for Williams, who is as talented as any individual player in the conference, to make a point of finding his rhythm much earlier in this one. If the Jayhawks are not up to the task of matching his effort and intensity, the TCU senior could put up big numbers and deliver another long day for the home day.
It's hard to know exactly how Kansas will guard him, but Mykhailiuk, Marcus Garrett, Vick, when he's in, and even Lightfoot for a handful of possessions, all are likely to get a turn.
Jayhawk Pulse
You can look at all of the stats and matchups you want, but very few games feature such a clear and obvious key as this one.
The bottom line is this: If Kansas does not bring better effort, energy, intensity, tenacity, hunger, fire, anger, etc. — basically, all of the traits Self called into question during Monday's meeting with the media — it's hard to imagine this one going well or anyone on the home team emerging from the game with much to smile about.
Self said after the loss to Oklahoma State last week that part of this team's struggles were his fault because he had allowed the team to be "so soft."
Shaking up the lineup, publicly calling out a couple of starters and key players and pushing all kinds of buttons in the ensuing days — and that's just what we know about — certainly seems like Self doing his part to change the tone. The rest is up to his players to respond.
TCU, though certainly talented enough to give Kansas a serious run, is searching for its first road win over a ranked team since the 1998 season and enters this one as a 7.5-point underdog in the eyes of Las Vegas.
Probable Starters
No. 10 Kansas
G – Devonte' Graham, 6-2, 185, Sr.
G – Malik Newman, 6-3, 190, Soph.
G – Svi Mykhailiuk, 6-8, 205, Sr.
F – Mitch Lightfoot, 6-8, 210, Soph.
C – Udoka Azubuike, 7-0, 280, Soph.
TCU
G – Alex Robinson, 6-1, 174, Jr.
G – Desmond Bane, 6-5, 215, Soph.
G – Kenrich Williams, 6-7, 210, Sr.
F – JD Miller, 6-8, 235, Jr.
C – Vlad Brodziansky, 6-11, 230, Sr.