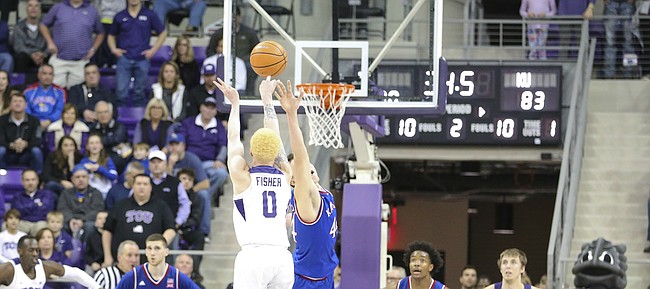 Well-run plays and clutch shots from thrilling games tend to echo the longest and loudest. Yet, as Kansas has shown in winning most of its cliffhangers this season, sound defense plays just as big a role.
"We all understand it comes down to stops," reserve center Mitch Lightfoot said Thursday. "If you can't stop the other team, you're most likely not going to win. We all want to win here, so defense is our main focus."
It is now, but it didn't look to be the case earlier in the season, when Kansas went through a 4-3 streak that included a pair of double-digit losses in Allen Fieldhouse.
The source of improvement?
"I think it's just in practice, we're taking every possession seriously and realizing that defense is what's going to help us win more and more games," Lightfoot said. "We've really bought into it now."
Kansas started to look like a tough defensive team down the stretch of close games.
In the final 5:53 of the tighter-than-expected 83-78 victory against Iowa State in Allen Fieldhouse, the Cyclones made 2 of 7 shots and committed three turnovers.
In the last 2:50 of a 70-67 home escape versus Baylor, KU scored the last nine points and the Bears shot 0-5, with four of the attempts by Manu Lecomte.
In coming from behind to defeat West Virginia in Morgantown, Kansas finished 20-6 in the final 5:53, as the Mountaineers hoisted seven 3-pointers, making one.
Coach Bill Self surprised Kansas State in Manhattan by playing a 2-3 zone for much of the game, and the Wildcats shot .323 overall and .222 on 3-point attempts.
"Like coach always says, 'Defense travels,' " shooting guard Malik Newman said. "That's another reason we've been great on the road."
Lightfoot's improvement has enabled Udoka Azubuike to play with less of an eye toward foul trouble. Lightfoot has blocked 16 shots in 113 minutes in Big 12 play and still knows he can improve defensively in multiple areas.
"Ball screens are certainly something that's harder to defend, but I'd have to say, when we're running a 2-3 (zone), rebounding out of a 2-3 is something we really need to work on, because you don't really have a man to box out," Lightfoot said. "There are a couple of offensive players running in there to get rebounds, so you have to pick and choose who you're going to box out, know the tendencies, know who's going to crash, know who's not, know who's a better rebounder, know who's not."
That requires homework, something these basketball students don't seem to mind doing.