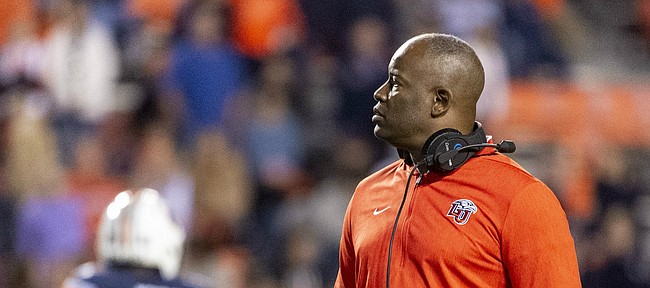 Former Kansas football coach Turner Gill announced Monday he is retiring from his position as head coach at Liberty University, effective immediately.
Gill, 56, stated in a press release his decision to step away from the profession was tied to his wife Gayle's heart condition, something she was diagnosed with in 2016.
"Both Gayle and I wanted to be here to help Liberty through their transition," Gill stated, "and we are so glad to have done so."
Fired at KU in 2011, after two unsuccessful seasons and a 5-19 record, Gill fared much better at Liberty, where his seventh season ended this past weekend. He retires with a 47-35 record at the private university in Lynchburg, Va., which transitioned from the FCS level to an FBS independent ahead of the 2018 season.
The Flames went 6-6 in Gill's final year, giving him a 31-55 mark as a head coach at the FBS level, between his four seasons at Buffalo, two at KU and one at Liberty. Including his six FCS years at Liberty, his overall record stands at 72-84.
A Heisman Trophy finalist as a player at Nebraska, in 1983, Gill was a three-time All-Big Eight performer with the Cornhuskers.