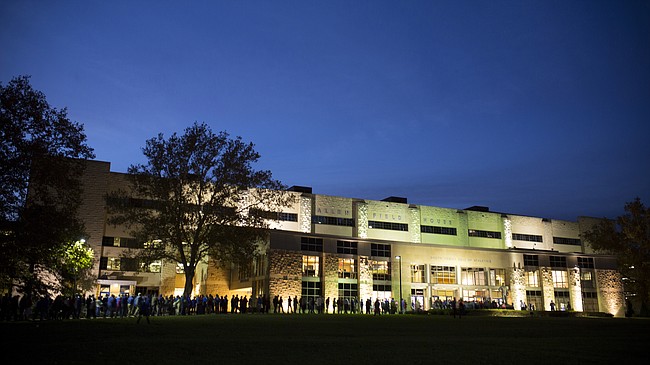 Fundraising was up — including a historic $50 million pledge — but Kansas Athletics still posted a more than $5 million loss as department spending again exceeded athletic revenues during the 2018 fiscal year.
KU alumnus and billionaire investor David Booth made history in September 2017 by pledging $50 million over a five-year period to the athletic department. That pledge showed up for the first time on Kansas Athletics' financial statements this year.
But because most of the pledge comes with the condition that it be used to improve athletic facilities, the $50 million doesn't appear in the key part of Kansas Athletics' finances that show how much money the department has to run its day-to-day operations.
The amount of unrestricted assets Kansas Athletics has to run its operations declined by $5.4 million for the year, according to the recently completed audited financial statements of the corporation.
This year marks the second in a row that Kansas Athletics — which is its own nonprofit corporation but is wholly owned by the university — posted a loss. In what has become a multiyear trend, the department is seeing expenses grow faster than revenues.
Athletic department spending for the fiscal year that ended June 30 totaled a little more than $110 million, up about 9.5 percent from last year's spending. Revenues, however, totaled about $105 million and grew at a rate of about 5 percent. As part of a series earlier this year, the Journal-World reported that from 2006 to 2017, athletic department spending grew by 93 percent while its revenues grew by 68 percent.
During the time period, increases in athletic department salaries have been a big driver. That was the case in 2018 also. The financial statements show 2018 athletic department salaries increased by $4 million — or 13 percent — to hit the $40 million mark.
A spokesman for the athletic department did not respond to a request seeking an interview with Athletic Director Jeff Long, nor did the spokesman respond to questions that were emailed to the department on Monday.
Booth's gift, the largest ever to KU Athletics, was supposed to spark a major fundraising campaign to build about $350 million worth of athletic facility improvements, with about $300 million of them devoted to the football stadium.
Instead, then-Athletic Director Sheahon Zenger got fired in May after Chancellor Douglas Girod cited a general lack of progress in the department. Long, Zenger's replacement, fired football coach David Beaty last month. Long hired former national championship coach Les Miles and has stated that he wants to focus on building on-field success with the football program before undertaking facility upgrades, although work is underway on a new indoor practice facility.
The new set of financial statements show that beyond Booth's $50 million pledge, KU did not get much further in its efforts to raise the $350 million for improvements. The financial statements list that KU has $58.6 million in "contributions restricted for capital projects."
Another part of the report shows how reliant the department has become on Booth, who grew up in Lawrence but now runs an Austin-based investment fund. The financial statements note that in fiscal year 2018, 58 percent of all contributions — both those for building projects and operations — came from one donor, presumably Booth. Looking forward at contributions the department is scheduled to receive, 71 percent were scheduled to come from one donor, according to the financial statements.
Other items shown on the financial statements include:
• Despite struggles on the football field, overall ticket revenue increased for the department. The statements listed $20.5 million in ticket sales for all KU sports. The statements don't break out the dollar amount sold for football versus basketball. The $20.5 million amount is up about 4 percent from $19.7 million in fiscal year 2017.
• General contributions also were up compared with a year ago. The department collected $21.5 million in unrestricted contributions, which often include premiums paid to the Williams Fund in order to qualify for certain ticket plans. The $21.5 million is up about 17 percent from $18.4 million in fiscal year 2017.
• Sponsorship and royalty payments took a big jump in the fiscal year, even though a multimillion-dollar contract extension with Adidas still remains unsigned as the company has been drawn into a college basketball recruiting scandal. Sponsorship and royalty revenue grew to $16.5 million, up from $11.8 million the previous fiscal year. Pat Kaufman, the chief financial officer for Kansas Athletics, previously has said KU received about $1.5 million in extra royalty payments from Adidas based on the pending contract extension. When the Journal-World questioned the department about that extra money, it declined to answer questions about the new Adidas funds. It is possible those funds haven't actually been received, but rather are showing up as an accounts receivable — in other words, money Kansas Athletics expects to receive. The athletic department's accounts receivable line item is about $3.4 million larger than it was a year ago. The Journal-World has asked the department where the extra Adidas money is shown on the statements, but hasn't yet received a response.
• Salaries in the department — which has about 215 full-time equivalent employees — totaled $40.8 million, up from $36.1 million in fiscal year 2017. The increase does include severance payments to Zenger upon his termination, but it doesn't include any severance cost related to the firing of Beaty or new costs related to the hiring of Miles and his football staff. Those costs will show up in the fiscal year 2019 statements.
• The statements detail how much Kansas Athletics paid the university for certain services. Those include: $7.5 million for tuition, up about 5 percent from a year ago; $1.7 million for meals, down about 19 percent from a year ago; and $1.6 million for housing, up about 1.8 percent from a year ago.
• The athletic corporation ended the year with $9.4 million in its primary bank account, which is up from $8 million in fiscal year 2017. A big difference, however, is that the corporation had a larger than normal amount of unpaid bills — called accounts payable — at the time the financial statements were completed at the end of June. KU Athletics was carrying $9.1 million in accounts payable on it books at the end of the fiscal year, compared with $4.1 million at the end of the previous fiscal year.
• KU Athletics has about $30.2 million in cash, investments and other financial assets that it could use immediately, if needed. The financial statements measure the department's liquidity, which is defined as money that could be used within a year or less. In total, KU Athletics has $137 million in cash, investments and pledges, but most of it has donor restrictions or other issues that prevent it from being used immediately by the corporation.
• Kansas Athletics again received $1.5 million in money from the University of Kansas' general operational fund. That amount is consistent with what KU provided in fiscal year 2017. Faculty leaders at KU have asked the chancellor's office to discontinue the general funding to the athletic department, as the Lawrence campus undergoes about $20 million in budget cuts. Thus far, the chancellor has not committed to end the funding but has said it will be reduced by about 6 percent.