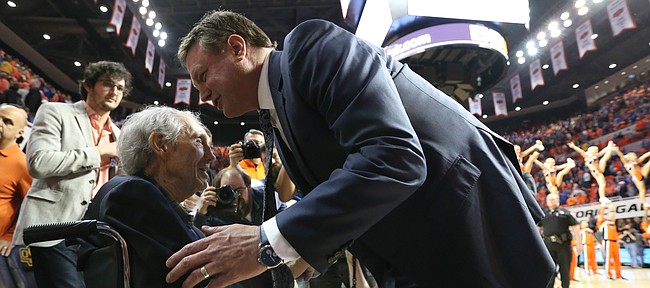 His goal, these days, is to emerge victorious at least twice a year in his matchups with his alma mater.
But that did not stop Oklahoma State University's Alumni Association from honoring Bill Self as Distinguished Alumni Award recipients for 2018.
Self, along with six other OSU alums, will be recognized at a public reception at the ConocoPhillips OSU Alumni Center on Sept. 14 and again during an on-field ceremony at the Boise State-OSU football game on Sept. 15 at Boone Pickens Stadium.
Self, who is set to begin his 16th season in charge of the Kansas men's basketball program, graduated from Oklahoma State in 1985 with a bachelor's degree in organization administration. Four years later, he received a master's degree from OSU in athletic administration.
During his time at Oklahoma State, Self was a four-year basketball letter winner and played on the Cowboys team that won the Big Eight Conference tournament title in 1983. After graduation, the current KU coach, who also made stops at Oral Roberts, Tulsa and Illinois before landing at Kansas in 2003, served as a graduate assistant at KU, under Larry Brown, and as a full-time assistant at Oklahoma State in 1986 under Leonard Hamilton.
Self carries a 654-201 career coaching record into the fast-approaching 2018-19 season, with 17 of those victories coming by his KU teams against his alma mater. Oklahoma State owns a conference-best 10-17 mark against Self since he took over at Kansas.
And while the KU coach often has talked fondly of his time at OSU and the people he knew there, his stance during the past several years has remained the same.
"When we came back here (in 2004), people made a big deal of going back and that was emotional to me," Self said before a recent KU-OSU meeting."It's not emotional anymore."
Kansas and Oklahoma State will face each other at least twice during the 2018-19 season. Dates and game times for the Big 12 Conference portion of KU's schedule have not yet been released.