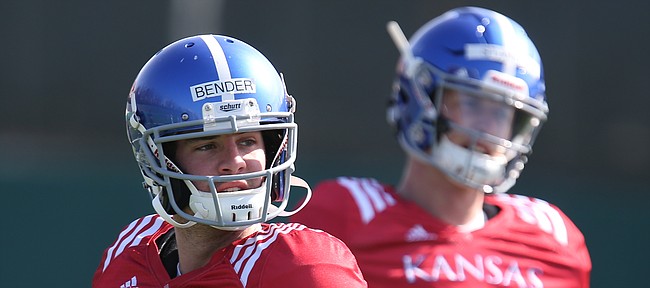 Every time Kansas quarterbacks arrive at Anderson Family Football Complex for their position group meeting the day following a spring practice, they are greeted with a sheet of paper.
On it they find all pertinent statistics from the preceding day's session, compiled and easy to digest, along with updated total numbers that have been tracked since spring practices began.
While each displayed digit carries significance regarding a QB's play, the figures that grab head coach David Beaty's attention quickest deal with completion percentages.
This past week, before the Jayhawks' 10th of 15 practices, Beaty made known sophomore Miles Kendrick led the group with an overall accuracy rate — taking into account throws made during both seven-on-seven and full team periods — of 73 percent. Senior Peyton Bender (completing 72 percent) the coach noted, barely trailed Kendrick.
Although their overall percentages nearly mirrored each other, Kendrick described the accuracy race as more of a subplot.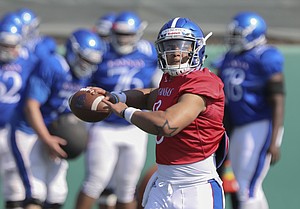 "I wouldn't say it's the number-one thing, but it's definitely something that factors into … if we're making the right read, if we're putting the ball in the right spot," Kendrick said. "I definitely think it's important, but I wouldn't say it's a make-or-break thing."
Bender cited the neck and neck completion numbers as the source of a little friendly competition, though.
"You just want to go out there and obviously try to have the best stats, because the coaches are making an opinion and evaluation off that," Bender said. "It's just nice to have that and see how you did the day before, because sometimes you'll go and you'll think you had a good day and the stats aren't as good as you thought. It kind of allows you to go back and really reevaluate how you did the previous day."
Of course, Kendrick and Bender aren't the only KU quarterbacks examining those stat sheets closely. Redshirt junior Carter Stanley does, too. Beaty didn't mention Stanley while discussing individual completion percentages, but the third QB in the ongoing competition for the starting job labeled his numbers in the category as "a little bit below" those of Kendrick and Bender.
"I think the last time I checked I was like, I forget where in the 60s, but I was in the 60s," Stanley said of his completion rate. "I think a lot of it was maybe me in the beginning of spring trying to do too much, and now I'm just taking what's given to me. A lot of it, again is definitely mechanics, some missed throws in there, but it's something I'll work on."
In 2017, Bender completed 54.2 percent of his 273 passes, with 10 interceptions, while appearing in 10 games. Stanley finished with a 54.6 completion percentage, on 185 throws, with seven picks, while playing in nine games. At San Mateo, as a true freshman, Kendrick connected on 57.9 percent of his 178 attempts, with nine interceptions.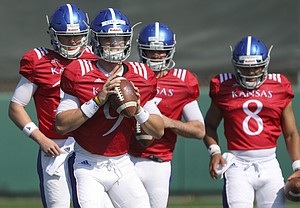 Per Beaty's numbers through nine spring practices, Bender completed right around 72 percent of his passes in both 11-on-11 and seven-on-seven situations. The fourth-year KU coach said Kendrick connected on close to 80 percent of his seven-on-seven throws, while the sophomore transfer from College of San Mateo (Calif.) hit on about 61 percent during full-team repetitions.
According to Beaty, it's up to the coaches to identify what led to the discrepancy in Kendrick's percentages. Beaty said it could be because the newest QB on campus is still adapting to reading structured blitzes.
As KU's quarterbacks continue working with their position coach and offensive coordinator Doug Meacham during the final days of spring practices ahead, they will keep going back to that sheet of paper and the statistics on display as an easy reference point while they aim to refine their skill sets and learn from past mistakes.
Stanley said it's helpful to look over the numbers in front of him and remind himself of how close or far away he is from ideal performances.
"Right now it's lower than what I want it at," Stanley said of his percentage, "but I think a lot of it is just stuff that I'm gonna continue to work on, just mechanics, footwork, stuff that will help me out with making more completions."
Ultimately, though, spring percentages will only serve as one component in picking a starting QB.
"We don't just go by those numbers," Beaty said. "You've got to go back to how they're handling the whole package."