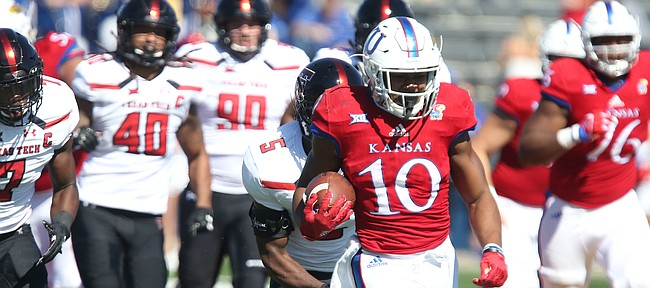 Kansas football coach David Beaty has been known to talk up his players in a way that leaves the audience looking forward to impending better times, even bowl contention.
A 3-33 record translates to nobody buying that pitch anymore, so Beaty seems to have toned down his act, at least based on his first press conference of spring football, which came Thursday before the fifth of 15 practices.
During the same session in which he avoided to the best of his ability hyperbolic compliments, Beaty actually uttered a 17-word sentence that I found more encouraging than any words I ever have heard him speak.
"You've got to run the football, and there is certainly going to be a commitment to that," Beaty said.
Hallelujah!
It makes so much sense in so many ways: Keep the clock moving. Snap the ball with the play clock almost expired. Shorten the game. Give the defense a chance to catch its breath. Know who you are: The underdog. Play to the strengths of your roster. Sure, Doug Meacham has a history of coaching offenses that broke passing-yardage records, but those numbers were compiled by teams with big, fast receivers and big, long-armed, quick-afoot offensive tackles who knew how to keep edge rushers out of quarterbacks' faces.
At one point last season, Meacham conceded that the things that worked for him elsewhere, including a quick-tempo offense, weren't working for him here.
To assume that, because Meacham knows how to coordinate a prolific passing game, given the right athletes, means he doesn't know how to direct a run-oriented offense is an insult to the man's football intelligence and background.
Don't forget, Meacham blocked for two Hall of Fame running backs during his playing days at Oklahoma State. He doesn't look like a lineman now, but Barry Sanders and Thurman Thomas can attest to his blocking ability.
Kansas doesn't have a Sanders or a Thomas, or for that matter maybe not even a blocker as good as Meacham was for the Cowboys. But the Jayhawks do seem to have more talent at running back than any other position.
"We certainly feel strongly about the stable of backs that we have right now," Beaty said.
Those feelings are justified and it's encouraging to hear Beaty express a commitment to the running game.
Kansas rushed the ball more than 35 times in a game just once last season, against West Virginia, when the team had 50 rushing attempts. It also happened to be KU's highest-scoring game of the 11 played against FBS competition.
In consecutive games, Khalil Herbert rushed for 137 yards at Ohio and 291 yards vs. West Virginia. In the next game, he suffered a hamstring strain on a 45-yard run that would have gone longer if the injury didn't slow him down.
Herbert's as loud a talent as KU has on its entire roster. He rushed for 663 yards last season, averaging 5.5 yards a carry. If the blocks are there for him and he stays healthy, a 1,200-yard season isn't out of the question.
Dom Williams, who missed time with a shoulder injury during his freshman season, was the next-most impressive back and has added 10 pounds of muscle, and according to Beaty, a great deal of football knowledge, as compared to a year ago, when he averaged 3.5 yards per rush.
Recruit Pooka Williams, of Hahnville, La., gives Kansas three running backs with big-time talent.
Pooka turned down scholarship offers from LSU and Nebraska to honor his verbal commitment to Kansas assistant coach Tony Hull. Pooka rushed for 3,118 yards and 37 touchdowns, leading his team to the Class 5A state title game, where the Tigers lost, 34-14, to Zachary, despite 210 rushing yards and a touchdown from the incoming Kansas freshman.
Thanks to bigger, faster defensive players and more sophisticated detection of concussions, it's more difficult than ever to keep running backs healthy. But with three front-line backs, KU should be able to go into every week with at least one, usually two, sometimes three healthy ones.
The roster is rife with speedy backs in reserve, as well. Seniors Taylor Martin and Deron Thompson and junior Kendall Morris, an Austin Peay transfer, all have the sort of speed that could be utilized on special teams, and if needed, on offense.
A transfer from North Dakota State College of Science, Kezelee Flomo is listed at 5-foot-10 and 215 pounds, but is bigger than that, according to Beaty.
"The dude's about 230 pounds and he's a big back," Beaty said. "Gives us a different dimension that we're also really excited about."
Listening to Beaty talk about Flomo, I wondered if he could fill the fullback role the way Winston Dimel has for Kansas State.
"He absolutely could do that," Beaty said. "He's a put-together cat now. He's thick. He's about 230 pounds, and he's hard to bring down. I mean, it's hard to tackle him. He's a guy that I think could definitely specialize in short-yardage and goal-line stuff, but he could also be a guy who can play some fullback, and bring a load in there … and do some of the other things they have to do. He catches the ball well out of the backfield as well, so I'm excited about some things he can do."
Relax, I hear you screaming as you're reading this. You're right. What you say certainly has merit: It doesn't matter who's carrying the football if the opposing defense loads the box and you don't have the blockers to create forward surge.
True, but run-blocking doesn't require the same wide array of physical gifts as pass-blocking. Plus, ask any offensive lineman and he'll tell you that when a team commits to the run, blockers get in a rhythm and do a better job of opening holes as the game progresses.
Plus, two of the three quarterbacks competing for the starting job, Miles Kendrick and Carter Stanley, can execute designed running plays, which gives the defense an extra helmet to track.
Committing to the run is worth a try and if it doesn't work initially, it's worth a try, try again.