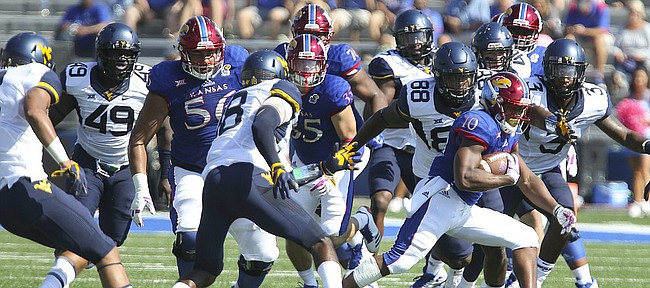 Despite little playing time in the first two games of the season, Kansas football players and coaches were aware of the talent of sophomore running back Khalil Herbert.
Look no further than his dominant performance in a 56-34 home loss to West Virginia last weekend, rushing for 291 yards and two touchdowns. It was the most yards by a running back across the country this season and third-most yards in program history for a single game.
It was the second straight 100-yard game by Herbert, and his teammates believe the biggest difference is his confidence. He struggled at times in fall camp and early-season practices.
"We talked and I challenged him a little bit to not let the game come to him, but take it to the game," Kansas coach David Beaty said Monday on the Big 12 teleconference. "He made the adjustments in practice and the byproduct has been exactly what we thought he could do, which has been great."
Despite only three combined carries in the first two games, Herbert is 15th in the country with 438 rushing yards, which ranks second in the Big 12 behind WVU senior Justin Crawford (451 yards).
KU sophomore left tackle Hakeem Adeniji thought Herbert's performance against Ohio (19 rushes for 137 yards, two touchdowns) was a big turning point.
"I think he just got his confidence back. I think that's a big part," Adeniji said. "I know, me personally, that's a big part of me playing good. He has it in him. Last week when he got going, he started to get loose, I feel like it's back in his mind now. Now he knows he's Khalil, he's back to running like he usually does."
Of course, the Jayhawks hope to turn Herbert's last two games — 428 yards, four touchdowns — into something that they can build upon throughout their slate of Big 12 games.
Against West Virginia's defense, the Jayhawks ran for a season-high 367 yards (7.3 yards per attempt).
"For us, being able to establish the run as we move through this league is going to be extremely important," Beaty said. "Having one like him is obviously something that gives you an advantage as you move forward."
Adeniji added: "You've got to love Khalil because he comes to work every day with a positive attitude and has a lot of talent. ... We all believed in him."
Louisiana recruits make unofficial visit
Two of the biggest targets in KU's 2018 recruiting class, Louisiana natives Corione Harris and Devonta Jason, made unofficial visits to watch the Jayhawks last weekend, according to Jon Kirby of Jayhawk Slant.
Both Harris and Jason, who have previously verbally committed to KU, are star players for Landry-Walker High in New Orleans, the same school that produced KU sophomore safety Mike Lee. Harris, 6-1, 170 pounds, is a four-star cornerback, ranked No. 86 in the nation by Rivals.com. Jason, a 6-3, 187-pound receiver, is a five-star prospect and ranked No. 24 in the country.
"It felt great to be back," Harris told Kirby. "I got to hang out with everybody. One of the things that stood out to me was how the team is coming together. … Coach Beaty talked about the process and how much he is looking forward to the future."
According to Kirby, both players are expected to return later in the fall for their official visits.
Another 11 a.m. start
When the Jayhawks return from their upcoming bye week, they will receive another early home game.
The Big 12 announced Monday that KU will face Texas Tech at 11 a.m. on Oct. 7, which will air on FS1.