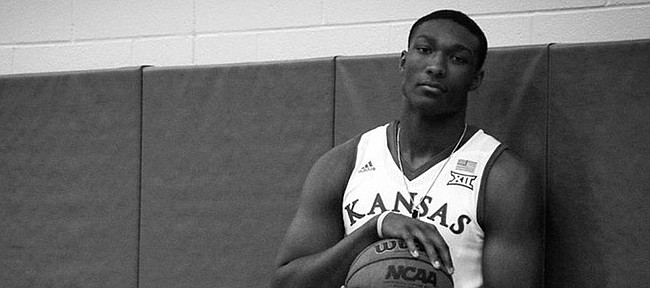 Known as a player's coach who isn't afraid to clown around, talk some trash and jump into the middle of a circle to show off his dance moves and free spirit, Kansas basketball assistant coach Jerrance Howard needed none of that to land four-star center David McCormack, who orally committed to Kansas on Sunday.
Head coach Bill Self, of course, played a huge role in convincing McCormack to join the Jayhawks, and the 6-foot-10, 260-pound center from Oak Hill Academy made that crystal clear during his live announcement Sunday evening on a Norfolk, Virginia, news broadcast.
But it was Howard who laid the foundation for the bond between McCormack and Kansas and he did it the old-fashioned way. No gimmicks. No flash. No fancy pitch. Just a dose of genuine interest and the strength of a real relationship.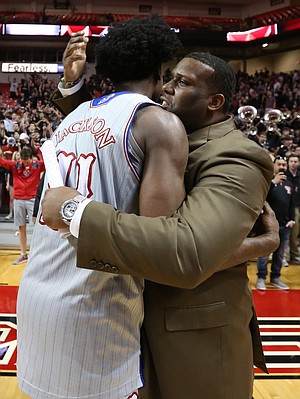 "Coach Howard just kept an open line of communication," McCormack told the Journal-World on Monday. "I spoke to him often. Any questions I asked he always answered straight-forward and, if he wasn't able to, he found a way to get the information and did the best he could to get me the best answer possible. He just built a great relationship where I felt I could put trust in him, he could put trust in me and it was just a great two-way street."
That path was built on the tradition that is Kansas basketball and McCormack said Howard sold it so hard that one might think he was a KU alum.
"Definitely," said McCormack when asked if he could sense Howard's passion for KU throughout the process. "He always talks about the heart, the tradition, the legacy, the championships, the winning program. I know he didn't play at Kansas, but he did play for Coach Self and he has so much pride in that."
As for whether Howard utilized any extra measures in his recruitment of McCormack, such as freestyle raps or social media tricks, the Oak Hill big man said Howard played it pretty straight.
"No, no, no," said McCormack, laughing. "He is a guy who likes to joke around, but he didn't do anything too crazy. He just showed his personality, which I was able to connect with immediately."
McCormack's bond with Howard carried through the entire recruiting process and left the 26th-ranked player in the Class of 2018 easily convince that Kansas was the place for him.
It helped that former Oak Hill teammate Billy Preston was already on campus and could share with him what it meant to be a Jayhawk. And it was an added bonus that Frank Mason III, who played for the same Team Loaded AAU program that produced McCormack, had already proven that a player from Virginia can become a star at Kansas.
"Billy's my boy, you know," McCormack said. "We played at Oak Hill together and have a good relationship. Billy's a completely different player than I am so I wouldn't say he really tied too much into my decision, but knowing somebody I know that's there now and getting to talk to him and see how he's doing really helps. I never really got a chance to talk to Frank, but it was very reassuring to know that somebody from the same program as me went there and is successful now. It really helped."
With his decision now behind him and nothing but his senior season at Oak Hill and the countdown to Kansas in front of him, McCormack said his trip to KU this weekend, for Late Night in the Phog, would be an added bonus of the process.
McCormack did not purposely plan to announce the decision before his official visit to KU, but said simply, "It just kind of worked out that way. I found out it was the right place for me, I went ahead and made the decision and can come celebrate it now."