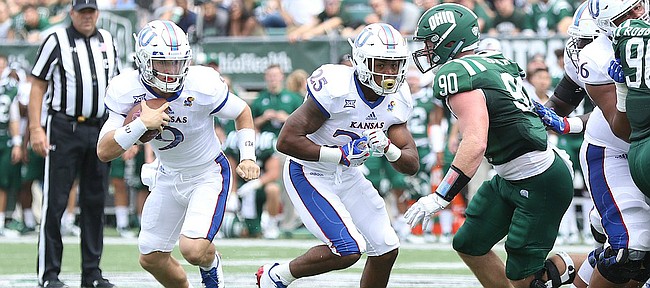 Athens, Ohio — As so often has been the case during his two-plus seasons on the job, Kansas football coach David Beaty left a loss with more problems than solutions Saturday. Still, a potential fix for some of the Jayhawks' woes up front might have been discovered with a change to the lineup.
Sophomore offensive lineman Andru Tovi made the first start of his KU career in a 42-30 loss at Ohio. And though sophomore Antione Frazier started his third consecutive game at right tackle, he soon gave way to graduate transfer Zach Hannon.
"Tovi is a guy who has been standing out to us for a while," Beaty said of the 6-foot-3, 310-pound former Pima Community College (Ariz.) lineman. "Jayson (Rhodes, senior left guard) has been — he wasn't unavailable, but he wasn't fully healthy. So it was good to see Tovi step in there and get his first play."
While Beaty admitted he will have to watch the game footage to tell for sure, he didn't recall Tovi giving up much as the left guard, working in between regular starters Hakeem Adeniji and Mesa Ribordy on the line. "He played a bunch of snaps today, too, which I was worried about him toward the end, but he kept going," Beaty said.
Hannon, a 6-4, 315-pound Kansas City, Mo., native who graduated from Nebraska earlier this year, made KU better up front, too, according to Beaty.
"I think he helped us a bunch because of his experience. He kept himself out of trouble a couple times. I thought that was good to be able to get some balance there between him and Antione," Beaty added. "And Zach went in and wound up playing most of the rest of the game, which was good. The good news is we, like we said, we feel like we've got a lot of guys that can play up front and we utilized quite a few today. We're going to have to continue to do that, and that's a luxury we just didn't have in the past."
Photo Gallery
Kansas football v. Ohio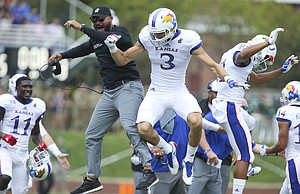 View a gallery of images from Saturday's game between the Jayhawks and Bobcats in Athens, Ohio.
Although junior quarterback Peyton Bender suffered five sacks at the hands of Ohio (2-1), he admitted he held the ball too long on most of those instances.
Bender said Tovi and Hannon brought some stability to the Jayhawks' O-line.
"Definitely. I thought in the second half they blocked pretty good. I don't remember getting heated up that much in the second half," Bender said. "So that was good to see. That was encouraging. Hopefully we can keep that up moving on into week."
After sophomore Khalil Herbert rushed for a career-best 137 yards and his first two touchdowns of the season, the running back explained why he felt confident in his big blockers.
"I think our O-line is really plug-and-play. So anybody that gets in, they're going to do a good job," Herbert said. "And I'm proud of those boys. They did good today."
First-time starters
True freshman running back Dom Williams and junior linebacker-turned-fullback Hudson Hall joined Tovi as first-time KU starters against Ohio.
Williams, who a week earlier versus Central Michigan led KU's ground attack, didn't feature as much into the plans after a slow start.
"We slipped a couple times on open-field situations," Beaty said of Williams, who only had four runs for five yards. "We've just got to do a better job of cutting on the outside foot and not stepping on the inside cleats."
The coach said Hall, a junior from Austin, Texas, "continues to build himself into someone we can use in packages at the fullback spot."
Stanley cameo
Backup Kansas quarterback Carter Stanley checked into a game for the first time this fall.
The redshirt sophomore who entered the season with a hand injury relieved Bender briefly in short-yardage situations. Stanley did not attempt a pass but handed the ball off to Herbert on one option-read and converted a fourth-and-one as a rusher on another.
Afterward, asked whether Stanley can throw the ball in a game, too, Beaty replied: "Oh, yeah. He can pass. He's available. He's available."
Onside kick opens second half
Down 25-14 at intermission, KU attempted an onside kick to open the third quarter. Ohio, though, benefited when freshman Liam Jones' kick was downed after traveling only eight yards.
"We had something planned all week. We saw some things on video that it played out exactly like we thought," Beaty said. "We just didn't execute the kick well. We knew we were going to have to steal a possession in the second half, just the way the defensive series were going."
The third-year KU coach said the hope was to shift the momentum out of the third-quarter gates.
"We felt like we had a great opportunity. Liam played all week really, really good. He just didn't hit it great on that one," Beaty said. "We had Kyle Mayberry right in place exactly like we wanted. Just didn't execute it well. You don't get two shots at it. You've got to get it the first time."
Hurt 'Hawks
Both junior running back Taylor Martin and senior defensive tackle Isi Holani missed the road loss due to unspecified injuries.
This and that …
Junior receiver Jeremiah Booker caught his first career touchdown, on a one-yard throw from Bender in the fourth quarter. … Junior defensive tackle J.J. Holmes made the first sack of his KU career. … Sophomore safety Mike Lee recorded his second interception as a Jayhawk. … Junior linebacker Joe Dineen again led KU in tackles, with 11 total. The Free State High graduate has three straight outings with double-digit stops. … Junior defensive end Dorance Armstrong Jr. made two tackles for loss and a season-best nine total tackles.
— See what people were saying about the game during KUsports.com's live coverage.
---
More news and notes from Kansas vs. Ohio