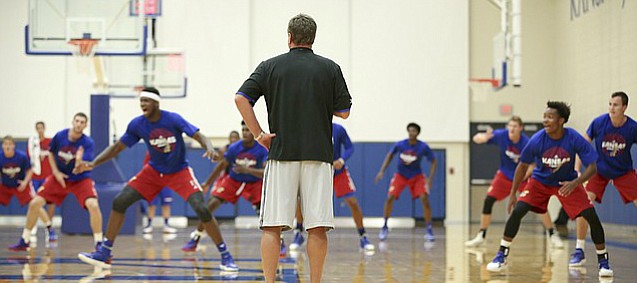 Boot camp is back and set to begin bright and early Monday morning.
In the eyes of most Kansas basketball fans, it's Late Night that marks the beginning of each new KU season. But for the Jayhawks themselves, it all starts for real a couple of weeks before that.
With this year's Late Night scheduled earlier than ever — 6:30 p.m., Sept. 30 at Allen Fieldhouse — the annual exhaustion known as boot camp will begin earlier, as well, at 6:15 a.m. Monday, when Bill Self and his team meet before the sun rises to put in a full day's work before many people get out of bed.
A staple of the KU program under Self, and a scene that most newcomers fear, boot camp is designed to push the players past their limits and closer together.
"It's kind of a mental thing that we put our guys through," Self told ESPN's Seth Greenberg earlier this summer. "For two weeks, anything goes basically. And anything could go, whether it be 5 a.m. wake-up calls to workouts to afternoon type things to if you're a minute late to tutoring to if you're a minute late to class, anything goes. Whatever we say, that's two weeks that they can't argue with us."
While that definition might sound a little intense, Self explained that the bonding that takes place during the two weeks of treachery extends from teammate to teammate and players to coaches.
Beyond that, Self said boot camp takes on a little different feel every year.
"The drill work and getting their bodies in shape, getting their feet in shape and everything else, it's probably more than most have gone through," Self admitted. "Of course, it's not anything that they can't get through. But they have a sense of pride when they do it together as a team and I think it's been a great team-building experience for us."
While KU's best-known names have all been through it multiple times, the whole experience will be brand new for exactly half of KU's roster.
Sam Cunliffe, Marcus Garrett, Dedric and K.J. Lawson, Charlie Moore, Billy Preston and Chris Teahan all will be going through boot camp, Kansas basketball style, for the first time in their lives.
With that in mind, let's take a quick look back at what some familiar names from KU basketball past had to say about boot camp back in their days.
• "By far, overall, it was the hardest thing I've done." — Current KU senior Devonte' Graham, after his first boot camp in 2014.
• "I remember guys throwing up, being tired. There's not too many funny things about boot camp. That's what is good about it. It's so serious. You know you've got to come in and do your work. Just listen and pay attention to coach, don't try to do your own thing, make sure you can follow directions." — Former KU guard, Xavier Henry, who only "enjoyed" one boot camp, back in 2009.
• "Boot camp is bad. It's terrible. But I think it's more so the time that it's at. That's the worst thing. If it was at 3 in the afternoon, it'd be a hard workout, but it wouldn't be something we dreaded. It's getting up every morning (Monday-Friday for two weeks), still having to go to class right after, still having to do individual workouts, lifting, still having to go to tutoring and then wake up and do it all over again." — Former KU point guard, Tyshawn Taylor, who went through four boot camps from 2008-2011.
• "I mean it's one of the hardest things I've ever done in my life as far as conditioning and getting into shape. Just getting up at 5:30 in the morning for running, doing defensive slides and backboard touches. The hardest part is getting up. It's what all the upperclassmen told us was the hardest. They were right." — Former KU guard Ben McLemore, who survived two boot camps in 2011 and 2012.
• "Boot camp is way harder than anything else I've ever had to do. It's very tough mentally as well as physically. It's one of the best ways to train yourself to become a tougher person in life." — Former Kansas center Sasha Kaun, who is now retired from basketball.