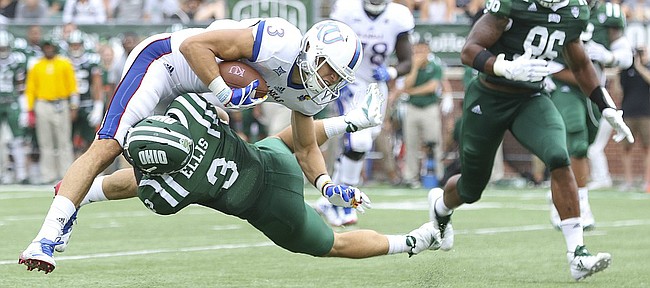 Athens, Ohio — Well, this was a new look: The seats began trending toward empty at halftime and the home team was winning easily.
Even the boosters of the victors couldn't stay interested in watching Kansas football, which lost by double digits to a MAC school for the second week in a row Saturday, this time by a misleading 42-30 score to Ohio University at Peden Stadium.
The tame crowd, numbering 22,056 and urged throughout the afternoon by the public address announcer to "get agitated," had nothing to do with the Kansas road losing streak swelling to an unfathomable 42 games.
Even careless turnovers from a Kansas offense that led the nation in them a year ago could not be blamed. The Jayhawks turned it over just once and edged OU in total yards, 451-450. Yet, more of the same in terms of genuinely making a game of it. A touchdown on the final play made the score more respectable than the mismatch felt.
Kansas hasn't won a road football game since Barack Obama's first year in the White House, back when Sheahon Zenger headed the Illinois State athletic department, Donald Trump was firing celebrities on "The Apprentice" and Kansas was coming off back-to-back bowl victories. Kansas 34, UTEP 7 on Sept. 12, 2009, feels like a thousand lifetimes ago.
Photo Gallery
Kansas football v. Ohio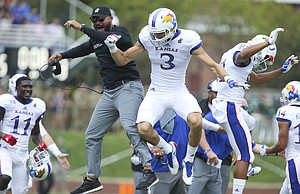 View a gallery of images from Saturday's game between the Jayhawks and Bobcats in Athens, Ohio.
Way back when Zenger talked and Rock Chalked his way through his introductory press conference by breaking his life and career into chapters, nobody's wildest nightmares could have imagined what the man with the best intentions would do to the Kansas football program.
After all, this was a football-first administrator who had worked as recruiting coordinator for humble, understated football genius Bill Snyder, mastermind of college football's most improbable turnaround.
So what does Zenger do after firing Turner Gill? After June Jones turns him down, he hires Charlie Weis, an NFL coach who had failed at fabled Notre Dame and as offensive coordinator for speed-rich Florida. If that's not a formula for success at Kansas, gee, I don't know what is. Zenger addressed his mistake — without ever publicly confessing to it, by the way — by canning Weis and promoting Clint Bowen to interim head coach. Zenger, shall we say, strongly suggested to Bowen (and later to the next head coach) that he would remain as defensive coordinator if only he would do his alma mater a solid by coaching the final eight games of the 2014 season.
Bowen breathed life into the team and even snagged an inspiring Big 12 victory over Iowa State, at which point many began calling for the removal of the interim tag. Zenger seemed to resent those opinions. He was the one with the power to make the hire and he wasn't about to let anyone tell him what he should or shouldn't do. The Bowen backers were easy to squash once the Jayhawks took back-to-back beatings to end the season and Zenger sprinted as far away from Weis' profile as possible and hired David Beaty, the energetic Texas A & M recruiting coordinator/receivers coach who had been a KU receivers coach for Mark Mangino and Gill. Zenger thought about hiring Air Force coach Troy Calhoun, who would have made Kansas into, by far, the Big 12's most run-heavy football program. Zenger found Beaty's potential for luring Texas recruits to Kansas too attractive to resist. So far, KU has received 10 verbal commitments from the Class of 2018. Quarterback Clayton Tune is the only one from the state of Texas.
Beaty inherited a mess, particularly at offensive line, a unit best built with high school players who redshirt a year and ideally don't break into the starting lineup until their fourth and fifth years in a program. Kansas didn't have the option to withhold playing time until the weight room does its magic and has thrown many scholarships at the problem that in some cases could have been used for a safety or two.
It takes five years to build a college football program and real progress should start showing midway through that period. Beaty has eight games remaining in his third season and has a 3-24 record. Gill, who inherited Mangino's program and was hired by Lew Perkins, was fired at 5-19. Weis, who inherited a mixture Mangino and Gill recruits, was fired at 6-22.
The poor academic standing of too many of Gill's players accelerated his firing, and Weis' attitude — it didn't seem as if he was that into the job at Kansas — and quick-fix recruiting approach hastened his departure. Beaty is ahead of both of his predecessors in those areas and deserves to show what he can do with the rest of this season.
Typically, fans turn on a coordinator before the head coach. Beaty already has used up his Mulligans on assistant hires, so even though many fans emotionally are turning on Bowen because his defense has been putrid the past two weeks, that's not the place to turn.
It was Zenger who hired Bowen as DC for Beaty and Zenger has had six seasons worth of football hires to show that he's a strong football AD. Zenger's hires have a 10-53 record, a .159 winning percentage.
At this point, Zenger's not capable of evaluating the football program objectively because he knows that firing the coach is not an option because no AD gets three chances to get it right.

So, as uncomfortable as this is to write about a nice guy who leads with a down-to-earth personality, I have no choice but to reach the conclusion that new chancellor, Dr. Doug Girod, would be wise to hold a press conference on Monday to announce that he is relieving Mr. Zenger of his duties, effective immediately, and that a replacement for Zenger will be in place before the end of the football season. Then Girod could refer all questions regarding the status of the football coach to the as-yet-named next AD, get out of Beaty's way, and let him coach his football team. Girod's not the one who gave Zenger a raise to $700,000 and extended him through 2021 with a maximum buyout of $1.4 million. His predecessor did.
Based on how much progress KU shows in the nine-game Big 12 season, the new AD might decide he wants to see what Beaty could accomplish with a fourth year. Or she or he might want to act sooner.
What do I think the chances are that Dr. Girod will hold an emergency news conference to cut ties so quickly with his friend, Mr. Zenger? Zero. Zilch. Zip. Nada. Instead, I think a fresh twist on an age-old philosophical question will come out of next Saturday's game vs. West Virginia at Memorial Stadium.
If the lopsided scoreboard shows the home team in arrears and the video screen shows members of the home team's football program dancing on the sideline as noise pollution billows out the loudspeakers and nobody is there to see it, does it create an image?
— See what people were saying about the game during KUsports.com's live coverage.
---
More news and notes from Kansas vs. Ohio