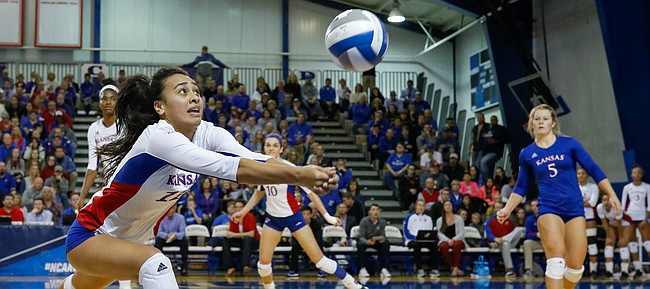 Ever since arriving on the University of Kansas campus as a freshman, senior setter Ainise Havili has never let her grade level determine how she would utilize her leadership skills on the volleyball court.
Havili was selected as the Big 12 Setter of the Year in her sophomore and junior campaigns, and has taken her game to another level to start off her senior season. The standout setter surpassed the 60-assist plateau for just the second time in her career when she dished out 63 dimes in KU's five-set win over NC State on Aug. 26, and has guided the seventh-ranked Jayhawks to a 7-0 record.
"I try not to think about it so much. I've been the starting setter since I've got here as a freshman, so I've been kind of adapting to the role from the jump since I got here," Havili said at KU fall sports media days. "I've just tried to ease into it. Now that I'm a senior, (there is) just more fire from me and this is my last chance, so that's pretty much what I focus on."
Along with looking forward to what the rest of her senior season has in store, Havili expressed her excitement about the rest of KU's fall sports teams getting back into the swing of things. When Havili records assist after assist to propel the Jayhawks, the football-crazed Fort Worth, Texas native feels like she is a quarterback of an Air Raid offense, just like the one KU offensive coordinator Doug Meacham is engineering for David Beaty's squad.
"I liked being called the quarterback because I love football," Havili said. "I love watching it. My brother has played, so being called the quarterback is cool to me."
Kansas coach Ray Bechard said that Havili and fellow seniors Kelsie Payne and Madison Rigdon are the three cornerstones that he'll plan to build around as he mixes up his starting lineups at the beginning of the season.
"We're excited about the fact this year that we have a lot of depth in a lot of places," Bechard said. "Obviously at the setter position when you have a setter like Ainise Havili back, that's a good place to start. Annika Carlson's coming in and backed up and done a nice job as a freshman (in practice)."
Carlson comes to Kansas after earning all-Sunflower League first-team honors at Olathe South in her senior season. The former Falcon is following in the footsteps of KU alumnae Cassie Wait and Tayler Soucie as an in-state product who played club for Mid-America Volleyball (MAVS). Carlson has not appeared in a match since KU's exhibition tilt against UMKC and realizes that her time will likely be limited as a freshman, but Carlson is eager to pick the brain of Havili so that she'll be ready contribute when the opportunities present themselves.
"I'm really excited just to learn from her and to just grow under her," said Carlson of Havili.
The Olathe native was the lone freshman in Bechard's latest recruiting class, joining transfers Gabby Simpson, Taylor Alexander and Mmachi Nwoke. Havili has made sure to take Carlson under her wing so that the Jayhawks will be strong at the setter position for years to come.
"I know it's intimidating on a team with eight seniors. So I try to include her a little bit, let her know that you've got to be loud and you've got to be more vocal," said Havili of Carlson. "It's going to take a lot more. It's really important because I want this program to be successful even after I leave, so for her to kind of step up faster would be tremendous."
Havili's calm, cool and collected court presence was pivotal to the Jayhawks reaching the Final Four in 2015 and winning the Big 12 in 2016, but the three-time all-American setter has some bigger goals in mind for her senior campaign. In order for the Jayhawks to be in a good position for a high overall seed in the NCAA tournament, Havili discussed the importance of upending ranked teams in the Jayhawks' non-conference schedule.
Kansas notched its first win of the season over a ranked team after sweeping No. 13 Kentucky in three sets on Monday. The schedule won't get any easier for the Jayhawks, though, as they take on Belmont, No. 17 Purdue and No. 9 Creighton in the Kansas Invitational on Friday and Saturday at the Horejsi Family Athletics Center.
The Jayhawks will take on Belmont at noon Friday before returning to the court at 7 p.m. to square off against Purdue. The tournament will conclude with a clash against Creighton at 7:30 p.m. Saturday. Kansas edged Creighton in five sets last year in the Bluejay Invitational, but CU turned the tables on the Jayhawks by knocking them out of the NCAA tournament in the second round at Horejsi.
"I know we're all pumped for that Creighton and Purdue tournament," Havili said. "We like playing good teams — teams that challenge us that make us better. And I'm really excited for the fans to kind of see us battle teams that are also really good."