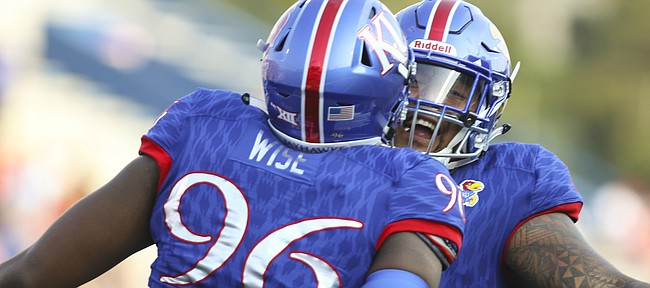 Coordinator Clint Bowen doesn't have anything against the Kansas football team using a traditional defensive front, with two edge rushers bookending a pair of big tackles. But upon seeing what the Jayhawks could accomplish with a super-sized D-line, Bowen sees incentive to go big up front this season.
In KU's season-opening victory over Southeast Missouri State, the defense limited its FCS foe to 3.4 yards a snap, the program's lowest mark in a game since 2010, against North Dakota State. Much of the credit went to the defensive line, which Bowen said did a better job at the point of attack than it had in the past.
Bowen and D-line coach Jesse Williams accomplished that by sliding redshirt junior defensive tackle Daniel Wise out to an end position on numerous occasions, and teaming the 6-foot-3, 290-pound Wise with jumbo tackles J.J. Holmes (6-3, 335) and Isi Holani (6-3, 325), and D-end Dorance Armstrong Jr., the 6-4, 246-pound Big 12 Preseason Defensive Player of the Year.
"I thought they held the point," Bowen said of KU's defensive linemen. "We got some knock-back and played on (SEMO's) side of the line of scrimmage more than ours."
Podcast episode
On this episode of the KU Sports Hour, KU football beat writer Benton Smith is joined by Bobby Nightengale and Scott Chasen to recap KU football's opener, a 38-16 win over Southeast Missouri State. Topics include key takeaways from the game (1:05-15:45), player(s) of the week (15:45-26:15), play of of ...
That mixture of girth and athleticism from KU's linemen, Bowen thought, contributed to a difficult night for the visitors' rushing game, as well, as the Redhawks averaged 2.8 yards a carry. KU's assistant head coach pointed out a mistake on one fourth-quarter play allowed SEMO to add 41 rushing yards to its total of 94, so had "a young guy" not made a mistake there, it would have been one of KU's best run-stopping days.
The amount of bigger looks up front, with Wise at D-end, was partially inspired by SEMO using two tight ends, a scenario that Bowen said popped up on a few occasions a year ago, such as games against West Virginia and Ohio.
"A few of those teams that wanted to play bigger ball, it allows us to put (Wise) over the tight end and obviously he's going to be a tough matchup for a lot of tight ends," Bowen explained.
Mixing Wise (five total tackles, three for loss, one sack) in at defensive end isn't a new concept for Kansas, but the coaches now have more confidence in that alignment, because the staff considers itself "fortunate" to have Holani and Holmes as interior linemen who can be trusted to hold their own with the defense's stars, Armstrong and Wise.
"They're big bodies. They're getting in better shape," Bowen said of the hulking duo. "Obviously those kids are never going to play 80 plays a game, but they're playing harder longer than they had in the past, and that's been their biggest thing. Both of them have talent and ability. It's just 'How many plays can they play?' before the fatigue sets in and they get winded."
Senior tackle Jacky Dezir, Bowen added, played well for KU in the middle vs. SEMO, showing up with a few smart plays. He said senior DeeIsaac Davis, a 10-game starter a year ago, is still in the mix "a little," up front.
"Those other guys (Holani and Holmes) are playing well enough," Bowen made clear, "that there's some competition going on there."
What's more, KU has starting defensive end Josh Ehambe as an option when Bowen wants a smaller, speedier lineup. A 6-3, 247-pound junior, Ehambe made three total tackles and recovered a fumble on a high snap in the opener.
Moving forward, Bowen said Kansas could look to incorporate its mammoth D-line of Armstrong, Holani, Holmes and Wise more often, rather than just saving it for specific opponents or matchups.
"We can jump back and forth between that. Sometimes it's not necessarily that they're big and we have to go big," Bowen said. "Sometimes just to keep the middle plugged up and know where it's not going, even when they have their faster people on the field, is good to know."