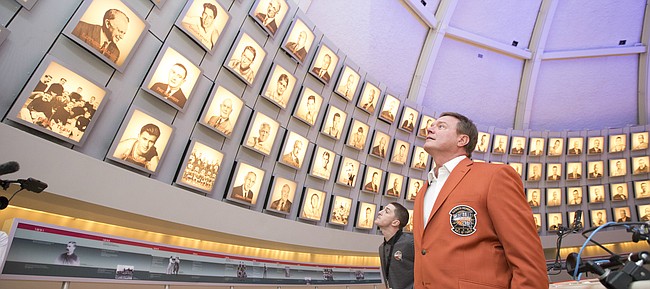 SPRINGFIELD, MASS. — The night before first fitting into his Hall of Fame jacket — Naismith Orange in color and ultra-exclusive in terms of its wearers — Kansas basketball coach Bill Self received a phone call from a friend who offered some heartfelt advice.
"He said, 'Hey, just so you know, people have weddings and they worry about everybody else having a good time rather than enjoying it themselves," Self explained after Thursday's Hall of Fame jacket presentation. "And he said, 'Don't let this be one of those deals for you. Enjoy your family. They've done more for you than anybody else. Let all us other knuckleheads figure it out. We'll find a way to have a good time. You don't owe that to us. You owe it to your family and your mother and father to kind of cherish this moment with them.'"
In just about every way, Self began to do that on Thursday, one day before he, along with the 10 other members of the 2017 class, is officially inducted into the Naismith Memorial Basketball Hall of Fame.
From the moment Hall of Fame president John Doleva helped Self into his new jacket — more Texas orange than Oklahoma State orange, designed to look like the color of a basketball — to the few minutes he took to himself in the Hall's distinguished dome to look at the photographs of every member in the exclusive club or with the James Naismith statue out front, which now includes a quote from Bill Self Sr. carved in stone at the base, it was evident that Self was beginning to understand the reality of what was upon him.
"I actually looked up there and saw it," Self said of his Hall of Fame portrait. "I'm going, 'God, they've already got me up there.' I'm right between Rebecca Lobo and Phog Allen. That's a pretty good group."
At the bottom of Self's row was none other than Naismith himself, a placement that was not lost on Self.
"The only thought I'd given to this up until this point was my speech," Self said of the eight-minute address he will give tonight at his official induction. "Other than that, my assistants have handled most of the accommodations for everybody and I've been kind of removed from it. But getting here and walking into the Hall and seeing all of the portraits up top and you look around and you see everybody, people you tried to emulate and copy, it's pretty cool. It's humbling to be a part of that group."
Thursday's jacket presentation and ensuing meeting with local and national media merely marked the beginning of Self's memorable weekend. With former players, from all four schools he coached, and friends and family members pouring in throughout Wednesday and Thursday, Self is expecting roughly 120 people in his section at the induction. According to a Hall of Fame official, that is by far the largest group accompanying any member of this year's class.
"And I think there might be more coming," marveled Self, noting that severe storms in the Southeast would keep some supporters from making the trip.
Regardless of what the final count actually reads, Self said his father being able to make the trip was "special," and added to the whole experience. And it almost did not happen. Self Sr. has battled health issues for the past few months and, even as recently as early August, it was unclear whether he would be able to attend this week's festivities.
"He's struggled health-wise of late and is going through a lot of life changes right now," Self said. "So to have him and my mom both here and, basically, my entire immediate family here, that's pretty special."
Asked about the reaction his children would have to their father's big moment, Self predicted tears from his daughter, Lauren Browning, who soon will make him a grandfather, and added that his son, Tyler, would take it all in stride.
"We don't talk about that kind of stuff," Self said. "But I know they're proud of dad and that's all that matters."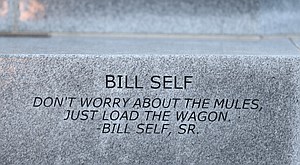 Another proud dad moment from Thursday came when Self made his way out to the front entrance of the Hall of Fame to see the quote from his father. There on the east side of the statue, at the base, next to Jim Valvano's famous "Don't give up, don't ever give up," message and around the corner from similar inspirational words picked by Tom Izzo and Mike Krzyzewski, is a quote from Bill Self Sr. that reads, "Don't worry about the mules, just load the wagon."
The quote, from a man Self affectionately referred to as an old Okie, speaks to the no-nonsense, hard-working upbringing Self received from his parents. And it may have been the most enjoyable part of all of this for Self, who visibly gets a kick out of the idea of his dad's words of wisdom being on the same statue as those spoken by Ralph Waldo Emerson and Martin Luther King Jr.
"(When) his quote went out there, I sent him a picture of it on my phone," said Self, who saw it in person for the first time on Thursday. "Of course, he had one of those flip phones, so he couldn't get it, so I sent it to Mom, and he responds, 'What is this?' And I said, 'Well, this is your quote.' And he says, 'Well, where is it?' And I said, 'It's in the Hall.' And he said, 'The Hall of Fame at KU?' I said, 'No.' He said, 'The Hall of Fame at the Basketball Experience in Kansas City?' I said, 'No.' And, you know, he gets frustrated and he says, 'Well, where is it then?' And I said, 'It's in the Hall of Fame. The Naismith Memorial Basketball Hall of Fame.' And he was just blown away by that.
"'Hey, Bill Self Sr. from Hitchita, Oklahoma, you got your quote out there just like everybody else did.' I think it meant something to him."
Now, after all of the deflecting and crediting others for his success, it's Self's turn to step into the spotlight and officially become a member of the Basketball Hall of Fame, which will happen shortly after 6:30 p.m. tonight from Symphony Hall just down the road from the Hall of Fame.
"No matter how you look at it, (with) the majority of the history of this game, going all the way back, there are roots through Springfield and Lawrence, Kansas," said Self, admitting that he has spent a lot of time lately thinking about his own connection to the storied history of basketball. "The reality of being inducted into the Hall started hitting today more so than it has. It's pretty cool."