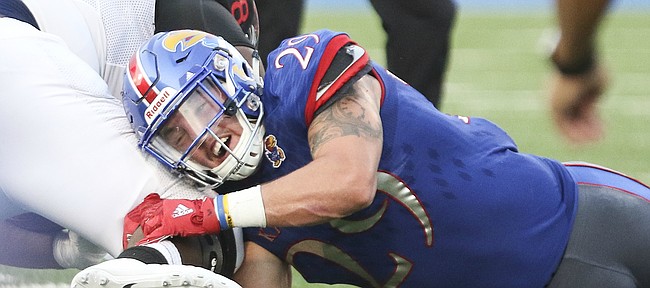 Saturday's experience was a special one for Lawrence native and Free State High graduate Joe Dineen, but it was far from the first time he'd set his eyes on the 2008 Kansas Orange Bowl squad.
"I went to the Orange Bowl when I was — uh, I can't remember how old I was — but no, I went," Dineen said after KU's win over Southeast Missouri State on Saturday. "And I went to the Fort Worth Bowl before that and the Insight Bowl after."
Dineen, a self-described Jayhawk fan growing up, had eyes on the program from an early age.
The Fort Worth Bowl took place in 2005. Dineen watched the Jayhawks blowout Houston, 42-13, just a few months before his 10th birthday.
He was 11 when he saw the Jayhawks beat Virginia Tech in the Orange Bowl, again in person, and 12 when he watched them top Minnesota, 42-21, in the Insight Bowl in Tempe, Ariz., later that year.
With all of that in mind, the weekend carried a little extra meaning.
"They're the standard," Dineen said. "They're what we look up to."
For good reason.
When KU coach David Beaty spoke of the former players who came back after the game, he singled out Nick Reid, who wasn't a member of the Orange Bowl team but played in the aforementioned Fort Worth Bowl.
Beaty spoke of Reid's toughness, calling upon a story from the 2003 season. In a game against North Carolina State, Reid tallied seven tackles and did so under some painful conditions.
"Nick Reid is a guy that was sitting on the bench with a screw coming out of his foot. I mean coming out of his foot. It wasn't like some talk. The screw was coming out," Beaty said. "And he played through that. That's a tough dude. And that's the example that they need to see of what true toughness is."
Such talk wasn't lost on Dineen, who recalled the highlights of the weekend as speaking with Reid after the 38-16 win over SEMO and getting some motivation on the front end from former KU cornerback and Orange Bowl MVP Aqib Talib.
Dineen was impressed with the group, speaking several times of how the 2007 team is the model for the program. He also agreed with a comment from former KU coach Mark Mangino earlier in the week, with regard to the swagger with which the former players carried themselves.
"You ever see Aqib walk into a room?" Dineen said. "That's a confident man right there. His play depicts everything that he's been doing. He's a stud."
And following a game in which he showed out in front of his role models, posting a team-high 15 tackles (11 solo, 2.5 TFLs, leading to the Big 12 naming him Defensive Player of the Week) in his return from a season-ending hamstring injury, Dineen showed no shortage of confidence.
Speaking with a smile that seldom left his face, the redshirt junior linebacker made it clear what he thinks of the current Kansas squad, as well as what he thinks of its potential.
"For (the Orange Bowl team) to come back, we wanted to show them, like, we're not the same team that we used to be. You know we're — we're good. We can compete," Dineen said. "We want to experience all the stuff that they got to experience. I think the group of guys that we have this year, if we keep working, I think that could be something we could get to."