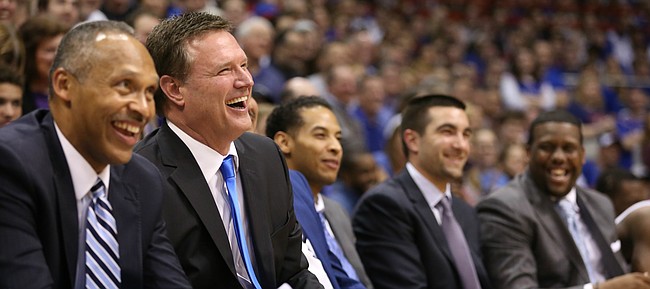 When Kansas basketball coach Bill Self is officially inducted into the Naismith Memorial Basketball Hall of Fame in Springfield, Mass., on Friday night, he will be joining a group of some of the biggest names and best coaches to ever blow a whistle or scribble X's and O's onto a clipboard.
And while Self admits to being humbled and overwhelmed by what he calls, "as good an individual honor as I'll receive in my lifetime," it's not the honor, induction or new title of "Hall of Famer" that has the KU coach most excited about this week's ceremony, slated for 6:30 p.m. Friday on NBATV.
"People get into it because of accolades or winning or whatnot, but the reason I'm in it is because of people," said Self of coaching in general while talking Tuesday about the experience of entering the Hall of Fame. "I haven't looked at this thinking, 'These are my favorite moments as a coach.' I've looked at it more like, 'Hey, I get a chance to see (former Oral Roberts player) Blake Moses, I get a chance to see Earl McClellan (ORU), I get a chance to see Sergio McClain (Illinois). I've looked at it more of the people and what they've done in my life to assist me more so than a big game or a big moment."
Self, of course, has had plenty of big moments as a head coach. From the national title in 2008 and two Final Fours at KU, to his nine trips to the Elite Eight and 623 career wins and counting, the soon-to-be Hall of Famer has enjoyed success at every stop during his career.
But the list of people with whom he has made meaningful and lasting relationships in the business is far longer than any rundown of his favorite shots, victories or memorable moments.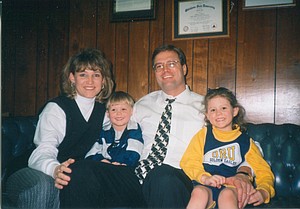 Included in that group is Self's family, all of whom will be making the trip to Massachusetts for his big night. But the list also features dozens of former players. Around 50 of them — roughly 30 Jayhawks — along with all but two or three members of Self's coaching staffs, also will be in Springfield this week to celebrate Self's induction.
In all, Self is expected to have around 120 people in his section on Friday night, a reality that the 15-year KU coach never once thought about when his coaching career began a little more than 30 years ago, when he jumped into the business as a graduate assistant under then-KU coach Larry Brown.
"Thirty years ago, I was dreaming, 'OK, where can I eat free in town and who I can give my two complimentary tickets to that would actually pay for them so I'd have some spending money,'" Self joked. "And that's the truth.... I never thought that this could happen."
Now that it has, or at least now that it's close, it's easier to see exactly what it all means to Self.
Up to this point, when asked about the Hall of Fame honor, Self often said he thought it might have meant more to others than it did to him. On Tuesday, in the Allen Fieldhouse media room, one day before leaving for Springfield, Self began singing a slightly different tune.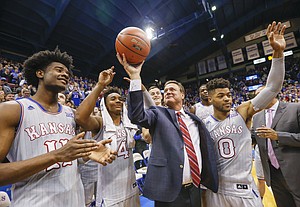 He equated his emotions this week to the feeling of anticipating winning a national championship and then the reality of what it felt like to actually win one, and said, bluntly, that the whole induction honor probably would sink in more fully when he was actually there and it was really happening.
"I've worked on (my) speech for a long time," said Self, who will be presented at the Hall of Fame by Brown. "And I think that I'll reflect (on) the magnitude of it and being in the presence (of) so many other people that have done so much more for our sport than I have. It's very humbling and something I'm very proud of."
Self also is proud of his roots and the good fortune of putting himself in the right places at the right times, knowingly or otherwise, throughout his career.
That, he said, had as much to do with his eye-popping success as any play call, time out or tough decision.
"When you're looking at Dean Smith or Adolph Rupp or Larry Brown or Jim Calhoun or Mike Krzyzewski or Roy Williams, to me, winning another championship or a streak or whatever, that kind of seems important but that's no bigger than what anybody else has done," Self said. "So I'm just humbled to be in the same fraternity of some guys that I feel like have done a heck of a lot more than what we have so far."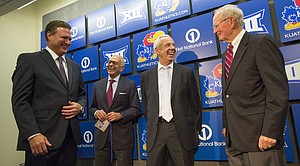 While those coaches, and a few others, all have achieved more or lasted longer than Self in the cut-throat business of college coaching, none of them have a streak like the 13 consecutive Big 12 Conference championships to their name.
That feat, which the Jayhawks will look to flip to 14 this winter, makes Self unique even in the who's-who context of the Naismith Hall of Fame.
But even that is not something Self chooses to point to as a reason he belongs in the Hall of Fame.
"I think the Big 12 streak, what it does is it symbolizes consistency and that's something that I'm proud of," Self said.
As for going into the Hall with that streak still alive and his passion for coaching still burning, Self, 54, said he understood and already appreciated why coaches often were inducted while they were still roaming the sidelines instead of having to wait five years beyond retirement like players do.
"I think it's maybe better for coaches if they're still active when they go in," Self explained. "I felt like, when they told me I was going in, that that meant I was probably on my last leg. And certainly I don't feel that way. As a coach, I thought, 'Well, wouldn't it mean more if I was retired? But the reality of it is, if you coach 'til 70.... It's probably a little premature, but I understand why they did it and I'm not gonna give it back. I'm proud of it."