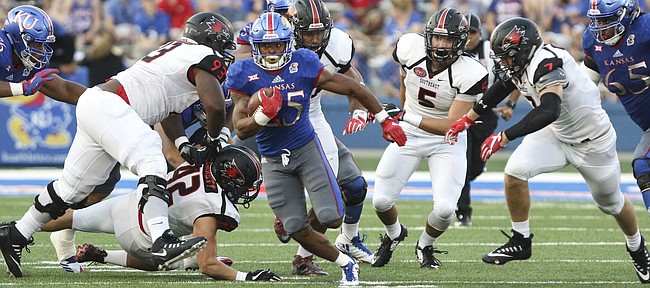 If a swath of the population that follows Kansas football left Labor Day weekend openly concerned about the Jayhawks' running game, head coach David Beaty didn't fall into that demographic.
"Well, you've got to call a run play to get any rushing yards," the third-year KU coach joked immediately following a 73-yard output against Southeast Missouri State, which by the end of the college football weekend ranked 107th among FBS teams.
To Beaty's point, the Redhawks' "double eagle" defensive formation often inspired KU offensive coordinator Doug Meacham to dial up another pass play for quarterback Peyton Bender, who threw the ball 37 times, compared to the 21 carries by Kansas running backs (25 total). SEMO's front kept the interior gaps covered and positioned its most talented defenders, outside linebackers Kendall Donnerson and Chad Meredith, close to the point of attack.
"I mean, they've got seven in the box just by pure alignment, whether they're one-high or two-high," Beaty explained. "You're outnumbered. You're going to have to run the football outside; they're not going to let you get in the A-gaps. It's very, very difficult to do."
As a result, KU averaged 2.9 yards a carry in its opener, with true freshman running back Dom Williams (10 carries, 41 yards and a touchdown) doing the bulk of the damage.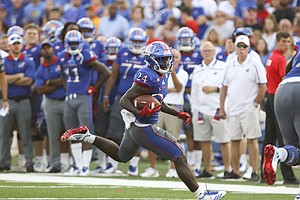 Junior Taylor Martin, who had to leave the game early due to an undisclosed injury, registered five carries for 17 yards. Outside of that, junior Deron Thompson ran twice for 15 yards, sophomore Khalil Herbert had one carry for four and former walk-on senior Reese Randall closed the fourth quarter with three rushes for 10 yards.
Asked Tuesday whether the running back by committee approach would stick or if Williams, a four-star recruit from McKinney, Texas, could emerge as the primary back anytime soon, Beaty said the Jayhawks (1-0) need "at least five" at that position, due to its physical nature.
"I think that Dom had some really, really good things that he did, but he's got some things that were freshman mistakes that kind of don't show up until you get in there and you really don't know," Beaty said. "But he did some really nice instinctual things the other night."
The viability of any running game, of course, depends considerably on the capacity of a team's offensive line. According to Beaty, KU's starting five up front — left tackle Hakeem Adeniji, left guard Jayson Rhodes, center Mesa Ribordy, right guard Chris Hughes and right tackle Antione Frazier — played well against SEMO.
"As far as the grade comes out, you know, we talk about whether they played good, bad or just kind of won a stalemate. I thought they played probably as well as we've had them play since we've been here," Beaty said, referencing the O-line struggles of his first two seasons as head coach. "I thought they did a nice job in the run game. I thought they did a really good job in protection. You know, we got hit a couple times, just a guy coming off an edge and had maybe Peyton hanging onto the ball just a little bit long. But for the most part, I thought protection was outstanding. They did a really nice job."
No rushing play in KU's season debut went farther than 11 yards — Williams and Thompson each had one.
This Saturday against Central Michigan (1-0) could look different for Kansas, though, with the Chippewas using a more traditional look up front, deploying four defensive linemen.
"You'll see a lot more edge rushers, which will tell us where we're at," Beaty said of the O-line, adding the unit's protection against SEMO had a lot to do with Bender's four-touchdown production.
KU's 364 passing yards ranked 17th nationally in the season's first weekend. It remains to be seen how much Meacham decides to balance out the Air Raid this season with rushing plays, and it could look drastically different on a weekly basis.
"We've got a bunch of guys back there that do a good job for us," Beaty said of the team's running backs. "Going into this next ball game with everybody healthy, I feel pretty good about that stable of backs."