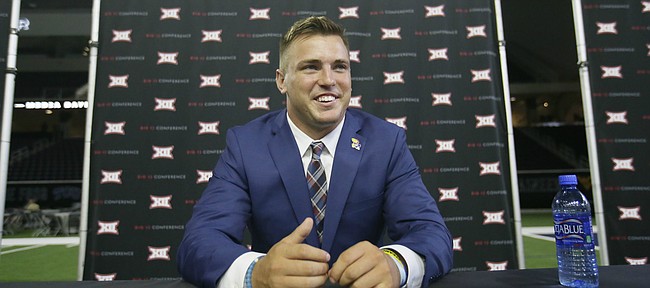 Joe Dineen watched the final nine games of the 2016 season from either the Kansas sideline or a comfortable couch back in Lawrence, after suffering a season-ending hamstring injury in the Jayhawks' third game, at Memphis.
Back on the field Saturday for the first time since, Dineen unleashed a game-high 15 total tackles.
"It felt good. A long time waiting," the redshirt junior linebacker said following the performance, which led to him winning the Big 12's Defensive Player of the Week honor. "And it was good to get out there and hit somebody who isn't a teammate."
Dineen, a Free State High graduate who grew up consuming KU football, tied a career high with 2.5 tackles for loss against Southeast Missouri State. His head coach, David Beaty, was asked Tuesday whether the linebacker's return played out ideally.
"You know, I think he'd probably tell you yes, but I wanted a couple of picks, and a couple more fumble recoveries would have been great," Beaty joked. "But he played great. He really did. He played well. He made a ton of plays. We've got to do a good job of helping him a little bit, because he won't come out of the game. He wants to play on every special team and all that kind of stuff, which he's good at all of them, but we've got to do a better job of picking and choosing how many of those plays he's going to play… so we can keep him fresh on defense and when we need him in certain situations."
Beaty added he couldn't be happier for the hometown captain, who earned his first conference award.
"I mean, if you build them, you build them like Joe Dineen," Beaty said.
Buzz for Year 3
Despite the 2-22 mark of his first two seasons as Kansas coach, Beaty said he sensed a renewed interest in the program in the months leading up to the season opener versus SEMO.
Following the Jayhawks' 38-16 victory, the coach hopes the team can both harness that and build upon it.
"The excitement surrounding our season has been phenomenal. There's been a buzz around town for a number of months now leading into that first game," Beaty said Monday on the Big 12 coaches media teleconference. "And then bringing back the Orange Bowl team from (2007) and enshrining Coach (Mark) Mangino and that team into the (KU) Hall of Fame, as well as putting Aqib Talib and Anthony Collins into the Ring of Honor, what a great group of folks that we had here."
Although the announced attendance figure was 32,134 for the big night, Beaty said Memorial Stadium looked like "almost a full house."
"And for them to be able to see a win in that first game, I think, was just an added bonus," Beaty said. "So it was a great weekend and we hope we can continue that momentum."
'You've got the job'
Although Beaty claimed ahead of his team's opener he would wait to announce a starting quarterback until he sent either Peyton Bender or Carter Stanley onto the field to face the SEMO defense, Bender said he learned Saturday morning following a team meeting the job was his.
"I didn't think too much of it," Bender said of the news. "I thought I had done everything that I could do and I was confident that they were going to choose me. It is nice to know that they have faith in me and they chose me to be the guy."
Bender passed for 364 yards, with four touchdowns — both totals the highest since Todd Reesing played QB for the Jayhawks, in 2009 — in his first game at Kansas.
While that much was news to Bender after the game, he attributed his statistical success to his teammates.
"They made great plays, like the one Chase (Harrell) made on that fade route that was incredible," Bender said of a one-handed TD snag from the redshirt sophomore. "We have a lot to improve on and we left a lot out there to be hones."