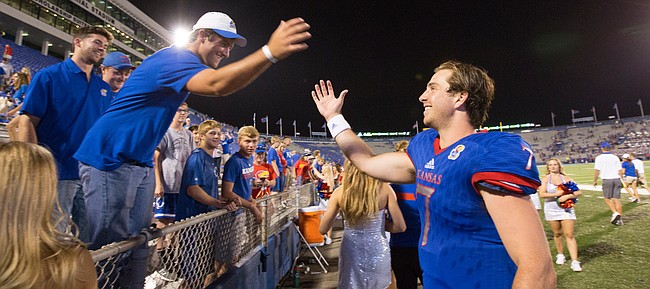 It was hardly a perfect game and he left plenty of room for improvement.
But the Week 1 debut by Kansas quarterback Peyton Bender certainly qualified as reason for optimism among the long-suffering Kansas football fan base.
From the time Bender committed to KU last November, through offseason conditioning, spring football and preseason camp, we heard plenty about the physical tools KU's coaches expected Bender to bring to the field.
On Saturday, we got to see, with our own eyes, the things they saw.
Quick release? Check. Strong arm? Check. Poise and confidence? Check. Check.
All were on display during Bender's first game as a Jayhawk and each played a big role in KU jumping out to a 1-0 record with a 38-16 win over Southeast Missouri State.
Photo Gallery
Kansas football v. Southeast Missouri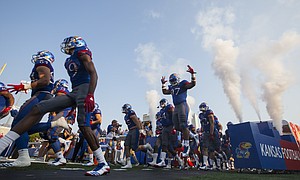 View a gallery of images from Saturday's game between the Jayhawks and Redhawks at Memorial Stadium.
In finishing with 364 yards and four touchdowns — with a 62 percent completion percentage — Bender became the first KU quarterback to achieve such marks since KU legend Todd Reesing hit both against Missouri back in 2009.
"He's a guy that we thought was going to be a very, very talented guy, and you could see glimpses of that tonight," KU coach David Beaty said of Bender after the victory.
Even with those numbers, however, there was a faction of KU fans who, get this, simply were not impressed. Maybe it was a case of those folks defaulting to the automated response about quarterback play around here during the past six or seven seasons. And, in some ways, their reaction is understandable. But instead of enjoying watching a guy do what Beaty most likes quarterbacks to do — "sling it" — a handful of Kansas football fans were and are still grumbling.
How high is the bar for QB play at KU that 14-of-20 passing for 202 yards and three touchdowns — in the first half! — does not at least make you smile for a while?
That's not to say Bender didn't miss a few throws or make a couple of bad reads. He did. And he will next week and every week he plays the position for the rest of his life. That's just what quarterbacks do, good ones, bad ones, veterans and rookies. Even that other guy named Peyton misfired a time or 20 during his Hall of Fame career. And Bender, already a veteran in some ways, is smart enough to know that the best way to get better as a quarterback is to take the bad with the good and keep moving forward.
"We have a lot to improve on and we left a lot out there to be honest," he said.
But for the most part, he was solid. Whether the throws were always exactly where they needed to be or not, he made quick decisions and ran the offense well.
The aspect of Bender's opener that I liked most, by far, was that the majority of his passes proved to be very catchable. Those throws were not merely in the right spots, but they also were thrown in a way that made for easy grabs. No balls were zipped too hard or got onto the KU receivers before they could get their hands up. None of his completions floated or wobbled and forced receivers to come out of their routes to adjust.
And those facts made life much more pleasant for the KU wideouts, offensive line, offensive coordinator Doug Meacham and Beaty.
Bender and the KU passing game have plenty of both good and bad days ahead. And there's no denying that things are only going to get harder from here.
But Saturday was the best first impression we've seen from a KU quarterback in a long while. Might as well enjoy it while it lasts.