With only five games remaining on the schedule in head coach David Beaty's third season leading the Kansas football program, the offense has reached a desolate state.
A week after putting up zero points, 106 yards and five first downs at Iowa State, the Jayhawks somehow regressed in a 43-0 shutout at TCU. The latest four quarters of mishaps featured only four first downs (two via Horned Frogs pass interference penalties) and a feeble 21 yards of total offense.
KU's longest drive at TCU came on its 13th and final possession, traveling all of 17 yards. The offense, seven days removed from finishing a single drive in ISU territory, couldn't even complete one series on the right side of the 50-yard line against the Horned Frogs.
Cole Moos punted 11 times — eight after three-and-outs — for Kansas and the only drives that didn't conclude with the ball leaving Moss' foot came on KU's final possession of each half.
Photo Gallery
Kansas football v. TCU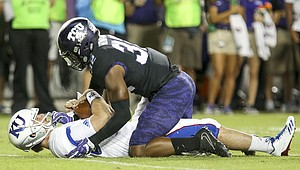 View a gallery of images from Saturday's game between the Jayhawks and Horned Frogs in Fort Worth.
"That production's not very good," Beaty said of the offense's numerous misfortunes, "and we've got to go back and take a look at what we're doing schematically, what we've got going on personnel wise. … We've got to find a few things that we can do well and then we've got to really, really practice so we can get good at them so we have something to go to and be able to create some offense for us. That's a challenge that rests on my shoulders. I've got to be able to get that done with my staff."
Another week of attempting to regroup awaits KU as it prepares for rival Kansas State's trip to Memorial Stadium. Considering that may feel very similar to what the team just went through coming off the 45-0 loss at Iowa State, sophomore starting tackle Hakeem Adeniji was asked whether it is more difficult to recover and prepare when the team is coming off such a potentially disheartening game.
"I don't think so," Adeniji said. "I think we've just got to be more in tune. We've just got to get better, you know?"
Many of KU's problems, Beaty thinks, can be traced to the offensive line, where the Jayhawks have missed starting center Mesa Ribordy in back-to-back weeks due to an undisclosed injury.
The offensive staff moved right tackle Zach Hannon to center at TCU, Adeniji moved from left to right tackle, and Clyde McCauley III started at left tackle for Adeniji. The TCU defense dominated, with 11 tackles for loss, four sacks, three quarterback hurries and a pass breakup.
"We've got some guys down and we're working to try and solve the issues," Beaty said of the team's situation on the O-line. "Mesa Ribordy is a guy who was kind of a stabilizing force for us. That center does so much for you. … He was definitely kind of the catalyst up front. But we've got other guys that are capable of doing that. We need them to continue to develop so we can do that. I really felt like we had enough to still move the football."
Against TCU at least, the Jayhawks (1-6 overall, 0-4 Big 12) certainly failed on that front and most others. While examining the defense's problems after it surrendered 475 yards, 22 first downs and five touchdown throws by Frogs quarterback Kenny Hill, Beaty felt as though Hill and company set the tone on their first possession. On third-and-four, Hill hit John Diarse for a 39-yard gain, setting up the first of six TD drives for the home team. TCU went on to convert eight of 15 third downs versus Kansas.
"We've got to make those guys go the hard way, the long way," Beaty said. "We can't be giving up big plays like that, and as we look at it right now — I'll have to look at the tape — but I think it's going to be more technique that you just have to be really, really precise when you're playing against really talented guys, and that (Hill) kid's talented."
For the second straight week, KU also surrendered a punt return touchdown. On KaVontae Turpin's 90-yard score in the third quarter, Beaty said the Jayhawks not only missed tackles, but also failed to recall the scouting report on the speedy, creative Turpin, whom the coach called "a spin guy."
"He's actually a lot stronger than you think. He's a little bitty old dude (5-foot-9, 153 pounds), but, man, he is dynamic. And he's a spinner. He gets out of a lot of tackles," Beaty added of Turpin. "He spun one time and nobody was even there. He gets out of a lot of stuff by doing that. You've got to keep your head up. You've got to take a proper angle to be able to get that guy down. There are so many things that happen with that open-field tackling that are so critical when you're playing. That guy's one of the most dynamic guys in the country, so you've got to play perfect with him when you get to the point of attack."
Beaty added members of KU's punt coverage team also "violated the halo with our feet from a running position."
"You've got to get in position," KU's coach added of the blown special teams coverage, "and you've got to be able to move sideways to get guys down … We'll take a look at it and see. … We had three chances to get him down and that was disappointing for sure."
There seems to be no shortage of regrettable outcomes for the team to address ahead of the Sunflower Showdown (2 p.m. Saturday, on FOX Sports 1) against Kansas State (3-4 overall, 1-3 Big 12).
---
More news and notes from Kansas vs. TCU