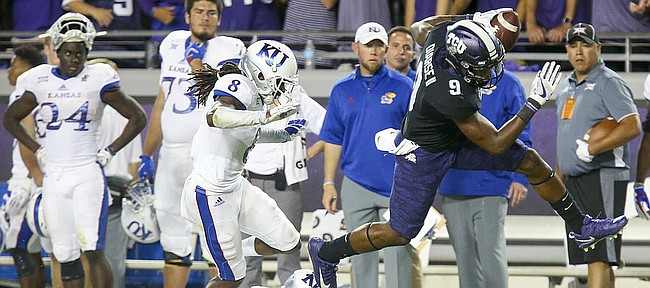 Fort Worth — One play can't capture the state of a football program. It doesn't work that way, except with Kansas football.
KU's first possession, second-and-8 from its 43, junior running back Taylor Martin took the handoff and ran into one of college football's most impenetrable walls, the Horned Frogs' defensive line. He was spun backwards and sprinted in the wrong direction. The men in purple followed Martin and the play went for a 12-yard loss.
The player sprinting in the wrong direction plays in a program doing the same. Kansas spent most of the rest of the night with its yardage total below zero, finishing with 21 total yards.
Just when you think KU football has bottomed out, the hole grows deeper.
Kansas football can run, but it cannot hide from the reality that more than at any point this century it has become a punch line for halftime analysts who start to tell jokes about the Jayhawks but can't finish them because they're laughing too hard.
Photo Gallery
Kansas football v. TCU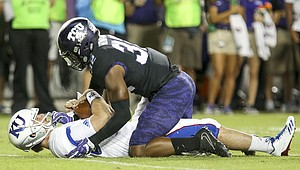 View a gallery of images from Saturday's game between the Jayhawks and Horned Frogs in Fort Worth.
According to Fox, Kansas was the biggest underdog in prime-time history and even at that KU (1-6) yet again made losers out of those who took the points. The Jayhawks are 1-5 vs. the spread, which reveals that the betting public can't quite wrap its dollars around just how far the Jayhawks have fallen and can't get up.
KU's top-division-tying 44th (Idaho State's 48-game streak did not come in FBS play) consecutive road loss featured what has become a common sight at KU losses, home and away. Most of the spectators had left by the time the fourth quarter arrived.
More than a rough weather forecast sent them home. Those who remained cheered when the public address announcer, with 12:49 left in the game, let them know, "There is significant weather coming. Both coaches have agreed to a running clock from this point forward."
The agony was shortened, but there will be no trimming the season. Five games remain. It has to get better than Saturday, but that doesn't mean it will be much easier to watch.
KU's first first down came on its first series, its next with 3:30 left.
Not long after the game came to a merciful end, KU offensive coordinator Doug Meacham, who left TCU to work for Beaty, sat on the third step of a stairwell near the visiting locker room, his forehead buried in one hand while the other held the final stat sheet. He stared at it so long it was if he was hoping the numbers would change.
The figures that stared back at him: Total yards: 21. Yards per play: 0.4. Net rushing yards: -25. And so on.
The 21 yards were the fewest by a team in a game pitting one FBS program against another in the 21st century. Then again, the century is only 17 years old.
This was not a one-week departure. Kansas has not scored in nine consecutive quarters. It had not been shut out in back-to-back games since the final two games of Bob Valesente's first season, 1986, and the season opener in 1987, a 167-0, three-game run.
KU's current three-week total: Opponents 153, Kansas 19.
The loss Beaty's overall record to 3-28, his Big 12 mark to 1-21. Nine of the conference losses have come by margins of 42 points or greater, which translates to 41 percent of his conference games.
— See what people were saying about the game during KUsports.com's live coverage.
---
More news and notes from Kansas vs. TCU