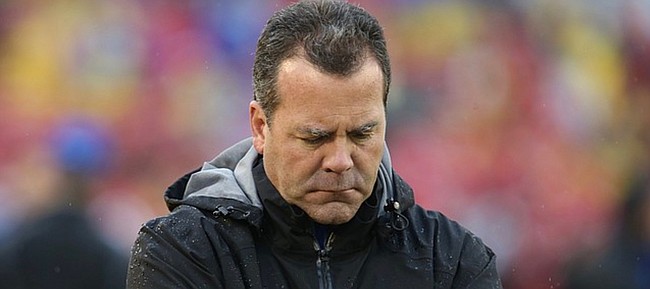 David Beaty has the second half of his third season to prove he has made progress with the Kansas football program, but D-Day comes earlier for the man making the call on Beaty's boss, athletic director Sheahon Zenger.
A generous estimate for that timetable is two weeks. Here's why: Kansas needs ample time to search for a new athletic director who then will make the call on Beaty at season's end. Zenger can't objectively do that because there can be no ending Beaty's tenure without first replacing Zenger, who can't be trusted again with hiring a football coach.
Zenger's contract calls for a $1.4 million buyout, Beaty's for $3.2 million.
Those who will have influence in selecting the next AD should be making calls already with the aim of putting together a preliminary list of potential successors, just in case.
The danger of leaving Zenger in place even if Beaty is brought back for a fourth year is that both men would be in win-now mode, not program-building mode. It would not be in Zenger's selfish interests to stop Beaty from recruiting a load of junior-college players, shoving all his chips in on next season and ignoring the future in hopes of staying in office.
Zenger's three football hires, Charlie Weis, interim Clint Bowen (eight games, all in Big 12) and Beaty, have combined to go 10-56 overall, 5-55 vs. FBS schools and 3-45 in the Big 12. As frightening as the Big 12 mark looks, it's actually not as embarrassing as a 2-10 record vs. other FBS schools, including a 1-4 mark vs. MAC members.
Numbers, even the combined score of 110-19 in losses to Texas Tech and Iowa State, can't quite capture the embarrassment of the past two weeks' performances, rife with sloppy, unforced turnovers.
And now this: Nebraska introduced Washington State's Bill Moos as its new AD on Sunday, a little salt for furious KU football fans given that Moos has an in with Mike Leach. If Leach isn't NU's next football coach, born winner and former Cornhuskers quarterback Scott Frost, who inherited a Central Florida program coming off an 0-12 record in 2015, went to a bowl game in 2016 and is off to a 5-0 start and ranked No. 20, certainly has the right credentials.
Nebraska had a head start on Kansas, but also showed an athletic director can be hired swiftly, but not so swiftly that KU can afford to wait more than two weeks at the most to put the wheels in motion.
Then again, it's always possible Kansas can reign over purple the next two weeks, at least give No. 4 TCU a game and defeat K-State for the first time since 2008, when Mark Mangino beat the Wildcats for the fourth time in five seasons.
The flip side of that two-week coin is that KU takes a Horned Flogging on prime-time TV (7 p.m. kickoff), followed by another one-sided loss to Bill Snyder. I shudder to imagine the mood of KU football fans should that happen.
These are tense times for KU Athletics.