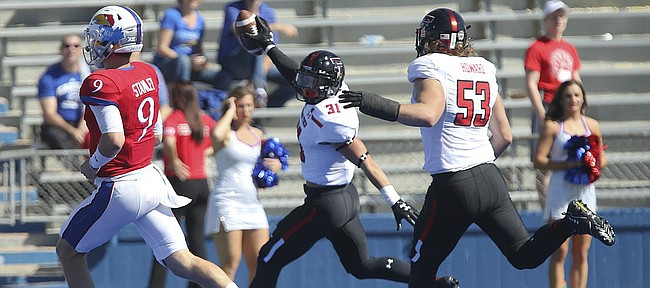 Fans of KU sports teams know the drill. When the basketball schedule comes out, they circle the few possible losses. When the football slate is released, they circle the possible upset victories.
Many circled Texas Tech on their football schedules and it was easy to understand why back in the offseason. After all, Tech would be coming off a game against a tough Oklahoma State squad and Kansas would have two weeks to prepare for the Red Raiders, thanks to the bye week.
In the ensuing months, many erasers were taken to those circles. So much has changed since the offseason perceptions because nothing has changed. Nothing has changed all decade. The names of the players and the coaches have changed. The results stay the same.
First-quarter blowouts in front of small crowds that shrink at the half and almost completely vanish by the end.
It's as if college football gods have cast a permanent spell on Kansas for firing old-school football coach Mark Mangino, who promised nothing and with the help of a Houdini of a quarterback named Todd Reesing delivered the program to the promised land for a brief Nirvana that vanished and not-at-all gradually.
Photo Gallery
Kansas football v. Texas Tech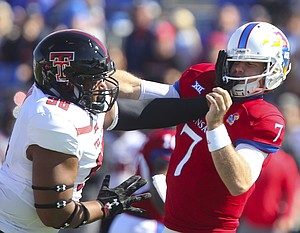 View a gallery of images from Saturday's game between the Jayhawks and Red Raiders at Memorial Stadium.
The Curse of the Mangino firing is so strong that the athletic department ought to think about hiring Theo Epstein to come kill it. Epstein managed to slay the Curse of the Bambino as Red Sox general manager and the Curse of the Billy Goat in the same role with the Cubs. This wouldn't scare him. Nothing throws the understated, brilliant curse-killer.
It was going to be different this year, which so often is what makes it the same script because offseasons bring hope.
A new quarterback, Air Raid-seasoned Peyton Bender, sparked much of the optimism. He could be on his way to becoming the old quarterback, a time-honored football tradition ever since Reesing hopped on his horse and rode it back to his hometown, Austin.
Bender and backup Carter Stanley alternated in Saturday's 65-19 loss to Texas Tech.
Jordan Webb and Quinn Mecham. Dayne Crist and Michael Cummings. Jake Heaps and Montell Cozart. And then Cozart and Ryan Willis. What do six of those seven have in common? They either transferred in or out of the KU football program. The lone exception, Cummings, had his career ended when a safety took him out at the knees in a spring game in which the QB was not allowed to be tackled. Put that in a script for a football movie "The Bad News Birds" and it would be edited out for lack of credibility.
Bender missed two open receivers in a row in the end zone and turned a touchdown into a field goal on his way to a 12-for-24, 146-yard passing day and threw a touchdown and an interception. It wasn't his best performance. Stanley completed 11 of 19 for 110 yards and threw one interception.
If anybody inside the program knows who's starting next Saturday's game in Ames, Iowa, nobody's saying. If anybody outside the program cares who's starting, nobody's saying.
A quarterback competition isn't a controversy unless enough people gripe about the coach's eventual choice.
By the time seven minutes and one second had been shaved off the game clock, Tech had a 21-0 lead, going all the way to the end zone on each of its first three possessions. Two of those TD's would have counted had the rules been two-hand touch. Or even one-finger touch.
Six calls were reviewed in the first quarter, which created suspicion that officials actually were huddling to see if any mercy rule could be found in an ancient rulebook that could be applied on an emergency basis to take the game behind the barn and put to rest before too much suffering was inflicted on the announced witness count of 21,050.
Video from this game will not be used to try to generate support for a $300 million stadium-renovation campaign. David Booth took care of $50 million, which leaves $250 million.
That shouldn't be a problem. If every spectator who stayed for the entire game Saturday had donated $1 million, the fundraising project would be just about finished. Not quite, but almost.
Next up is Iowa State, another circled game on the KU football schedule until the erasers went to work. Iowa State won in Norman, 38-31, Saturday.
In the worst of times, football fans in Ames show up in droves and bring the energy. They'll be ready to blast the Cyclones with love Saturday.
So the Jayhawks will have three forces working against them in Ames: 1) A team good enough to defeat the Sooners in Norman; 2) An energized crowd; 3) A penchant for getting in their own way. The Jayhawks have 13 turnovers, four vs. Tech.
Things are not getting better. They're getting worse.
— See what people were saying about the game during KUsports.com's live coverage.
---
More news and notes from Kansas vs. Texas Tech