Coming out of its bye week, the Kansas football team endured the same problems that it had prior to Saturday's 65-19 loss to Texas Tech at Memorial Stadium.
Once again, the Jayhawks struggled with turnovers and couldn't climb out of a mountain of a first-half hole. The Red Raiders (3-1, 1-1 Big 12) scored on their first three drives for a quick 21-0 lead and KU never recovered.
Peyton Bender and Carter Stanley split time at quarterback, the first extensive game time for Stanley this season. Bender completed 12-of-24 passes for 146 yards, one touchdown and one interception. Stanley, who played the entire second half, was 11 of 19 for 110 yards, one lost fumble and one interception.
Even the Kansas running game, which was so effective in a loss against West Virginia two weeks ago, didn't have much success against Tech's defense. Khalil Herbert ran for 65 yards on 10 attempts, while Taylor Martin had 32 yards on 14 carries.
Defensively, the Jayhawks (1-4, 0-2 Big 12) created a strong pass rush with three sacks and forced two turnovers. But it wasn't enough to hold off Tech's offense, which scored 30 unanswered points to end the game.
Tech quarterback Nic Shimonek completed 19 of 24 passes for 233 yards, two touchdowns and one interception. Running back Justin Stockton added 161 yards and one score, and Desmond Nisby scored four touchdowns on 93 rushing yards.
Photo Gallery
Kansas football v. Texas Tech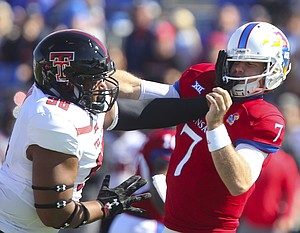 View a gallery of images from Saturday's game between the Jayhawks and Red Raiders at Memorial Stadium.
Here's a quick look back at some of the action:
• The game turned when: At the beginning of the second half, KU's offense scored nine unanswered points with a field goal and a two-yard touchdown run from Taylor Martin. After Dorance Armstrong forced and recovered a fumble, the Jayhawks were hoping to cut into their 35-19 deficit.
Two plays into the ensuing drive, Chase Harrell caught a four-yard pass, fumbled when he was hit and the ball was returned to the end zone by Texas Tech linebacker Justus Parker, giving the Red Raiders a 23-point advantage. KU's offense didn't score again for the remainder of the afternoon.
• Offensive highlight: Following punts on its first three drives, the Jayhawks received great field position at the end of the first half after Khalil Herbert partially blocked a punt.
Trailing by three touchdowns, Bender dropped back on 3rd-and-10 from the 18-yard line and tossed a fade pass to his right. Senior receiver Jeremiah Booker out jumped the defensive cornerback, kept his back foot inbounds and held onto possession with his right arm while he fell backward onto the turf for a touchdown.
• Defensive highlight: After recording three sacks in the first four games, the Jayhawks doubled their total with three sacks against Texas Tech's offensive line. Dorance Armstrong, Josh Ehambe and Daniel Wise each took down TTU quarterback Shimonek once, forcing punts on all three of those drives.
• Key stat: Points off turnovers. Following the bye week, the Jayhawks placed a lot of emphasis on winning the turnover battle. The defense did its part, creating a pair of turnovers, but KU's offense could only turn them into three points. Mike Lee grabbed an interception and Armstrong forced a fumble and recovered it in one motion.
On the other side of the field, Texas Tech punished the Jayhawks for each turnover, scoring 23 points off of KU's four turnovers. Bender and Stanley both threw interceptions. Stanley fumbled on a backward pass and Harrell had a fumble that was returned for a score.
• Up next: Kansas will head on the road for the second time this season, traveling to play Iowa State at 11 a.m. Saturday at Jack Trice Stadium. KU will attempt to end a 42-game road losing streak, which dates back to 2009.
HOW THEY SCORED
FIRST QUARTER
11:43— Justin Stockton 13 run. Michael Barden kick. Nine-play drive for 75 yards, in 3:17. (TT 7, KU 0.)
8:34 — Desmond Nisby 47 run. Barden kick. Three-play drive for 55 yards, in 0:50. (TT 14, KU 0.)
4:59 — Quan Shorts 37 pass from Nic Shimonek. Barden kick. Three-play drive for 58 yards, in 1:05. (TT 21, KU 0.)
0:19 — Jeremiah Booker 18 pass from Peyton Bender. Gabriel Rui kick. Six-play drive for 28 yards, in 1:53. (TT 21, KU 7.)
SECOND QUARTER
13:06 — Nisby 8 run. Barden kick. Three-play drive for 21 yards, in 0:38. (TT 28, KU 7.)
5:16 — Nisby 1 run. Barden kick. Nine-play drive for 53 yards, in 3:25. (TT 35, KU 7).
0:14 — Rui 21 field goal. Five-play drive for 42 yards, in 0:31. (TT 35, KU 10.)
THIRD QUARTER
11:07 — Rui 41 field goal. Ten-play drive for 42 yards, in 3:53. (TT 35, KU 13.)
5:49 — Taylor Martin 2 run. Cole Moos run failed. Seven-play drive for 74 yards, in 2:39. (TT 35, KU 19.)
3:44 — Justus Parker 20 fumble recovery. Barden kick. (TT 42, KU 19.)
1:30 — Keke Coutee 40 pass from Shimonek. Matthew Cluck kick failed. Two-play drive for 60 yards, in 0:20. (TT 48, KU 19.)
FOURTH QUARTER
12:23 — Nisby 15 run. Cluck kick. Five-play drive for 58 yards, in 2:00. (TT 55, KU 19.)
8:37 — Cluck 26 field goal. Five-play drive for 13 yards, in 2:41. (TT 58, KU 19.)
3:52 —Derrick Willies 32 pass from McLane Carter. Cluck kick. Seven-play driver 68 yards, in 3:13. (TT 65, KU 19.)
— See what people were saying about the game during KUsports.com's live coverage.
---
More news and notes from Kansas vs. Texas Tech