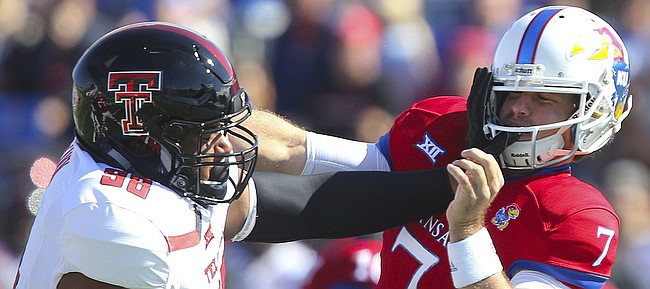 Here we go again.
The Kansas football program is back to using two quarterbacks and claiming neither as the clear-cut starter in the wake of a 65-19 loss to Texas Tech.
A mid-game shift away from the norm at QB provided KU with little more than a different personnel look Saturday at Memorial Stadium, in front of an announced crowd of 21,050.
Backup Carter Stanley, after showing some promise in the first half in spot relief of Peyton Bender, became the Jayhawks' new No. 1 QB for the second half. The lineup change didn't come close to propelling KU out of yet another massive hole, though.
The hope, head coach David Beaty said following KU's lowest offensive outputs of the season — both on the scoreboard and in total yardage, with 368 — was that redshirt sophomore Stanley could invigorate the offense enough to climb out of a 35-10 halftime hole.
"Peyton looked like he was struggling a little bit with his command," Beaty said, "and Carter looked like when he was in there he made a couple decent throws, and we felt like he gave us the best chance at that point."
Photo Gallery
Kansas football v. Texas Tech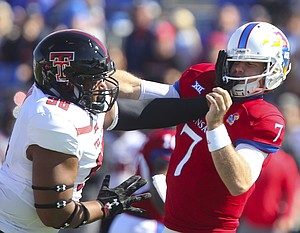 View a gallery of images from Saturday's game between the Jayhawks and Red Raiders at Memorial Stadium.
Although Stanley (11-for-19 passing, 110 yards, one interception, no touchdowns) directed KU to back-to-back scoring drives to open the third quarter, cutting Tech's lead to 16 at one point, three of the next four Kansas possessions fell flat, culminating with giveaways.
On Stanley's fifth completion of the third quarter, Tech sophomore nickelback Justus Parker ripped the ball away from KU sophomore wideout Chase Harrell and proceeded to run 20 yards to the end zone for a defensive touchdown.
When Kansas got the ball right back, after picking up a pair of first downs, Parker struck again with an interception of another Stanley throw.
It took all of two plays for Tech quarterback Nic Shimonek (19-for-24, 233 yards, two touchdowns, one interception) to capitalize with the Red Raiders' seventh of eighth offensive scores, a 40-yard deep ball for Keke Coutee (eight catches, 87 yards).
The afternoon tasted mostly bitter for Stanley after playing far more than he had since starting the final three games of his redshirt freshman season, in 2016.
"I was super-excited. I was told in the locker room at halftime that I was going to get my shot," Stanley said. "And we came out that first drive, we got a field goal — that was unfortunate. Would've loved to have six points right there. Second possession we come right back, score a touchdown. We were getting rolling. And then that next one was where they get that fumble for a touchdown, so that was unfortunate."
Podcast episode
After a 65-19 home loss to Texas Tech on Saturday, Kansas football coach David Beaty discussed the problems on both sides of the ball, using quarterback Carter Stanley throughout the second half and why he doesn't describe himself as disappointed following the defeat.
Once again, turnovers plagued KU. Although sophomore safety Mike Lee made his second interception of the season against Texas Tech (4-1 overall, 1-1 Big 12) and junior defensive end Dorance Armstrong Jr. tackled running back Desmond Nisby while ripping the ball away for a forced fumble and recovery in the third quarter, the KU offense lost possession four times, bringing the team's season total to 13 giveaways.
Stanley, who said he is "100 percent" recovered from a break in his right hand, lost a fumble in the second half. Earlier, Bender made a bad read on a short pass over the middle, allowing linebacker Dakota Allen to easily pluck it out of the air.
"Every time we would kind of swing that momentum," Beaty said, "something would happen that would take it away from us, and that's the mark of a good team, you know, when you can maintain it, or you take it back," he added of how the Red Raiders ran away with the victory.
"They came up here, and they played a great game, put a bunch of yards up (603 total; 313 rushing, Tech's most since 2012), a lot of points, did a pretty good job defensively, and I take my hat off to them," Beaty said. "They deserved what they got. They came up here and outplayed us, and they beat us. They out-coached us, they outplayed us, the whole shebang."
A mostly fruitless first half of offense put KU in a 28-point hole by the second quarter. Although the Jayhawks averaged 4.7 yards per snap — 41 of their 183 yards came on a Bender pass to Steven Sims Jr. (five receptions, 102 yards) in the final minute before intermission — no drive in the first 30 minutes of game play lasted longer than six plays.
KU's Air Raid often looked feeble. After contributing five catches and 55 yards, fifth-year senior tight end Ben Johnson gave his theory on the off-putting results.
"It's execution, you know. We really haven't been able to execute offensively and I feel like we haven't played a smooth offensive game this year yet," Johnson said. "So it's frustrating and I feel like there's a lot we could show the fans and everybody, like how (coordinator Doug) Meacham's offense actually runs and how smooth it actually operates."
Bender completed 12 of 24 passes for 146 yards, before getting benched for the remainder of the blowout. He rarely looked like he was in a flow, as Kansas inserted Stanley for numerous early snaps.
In a first half with scarce memorable plays for the offense, Stanley completed two of three passes for nine yards and also rushed three times for 19 yards. Meanwhile, sophomore running back Khalil Herbert only carried the ball five times for a net total of one yard.
"You know, honestly, I don't think we played as good at the quarterback position today as we have maybe over the past few days," Beaty responded, when asked what led to the lack of offensive rhythm in the first half. "We weren't quite as accurate, timing wasn't quite as good. I don't know what caused that. We'll have to look at the film and see it, but quarterback play is so important to the efficiency of your offense. Those guys (Bender and Stanley) are, they've shown that they're very capable of doing it, so we will get back to the drawing board tomorrow and get them back on track as we go to this next one."
Before things fell apart, the plan was to feature Bender and mix in Stanley.
"I thought it was fine," Bender said of a two-QB approach. "It was kind of the game plan we went in with. We thought we could get Carter in there in some good formations that gave him a chance to succeed, and we practiced it so I was ready for it. I had my mind ready for it."
After a pair of goal-line passes to close the second quarter fell incomplete for Bender, though, he spent the remainder of KU's fourth consecutive loss watching from the sideline.
"I was ready to go back in but that's not my call," Bender said. "The coaches are going to do what they think is best for the team and today that was going with Carter. I'm not discouraged by it. I think maybe it'll make me work a little bit harder this week to make sure I can put myself in the best position to succeed."
At this point at least, no one knows who will start at QB for Kansas (1-4, 0-2) next week, when the Jayhawks travel to Iowa State.
Said Beaty: "We'll have to watch the tape. I mean, it's going to be a competition, so we'll see."
Bender said he had "no clue" which quarterback will start at ISU (3-2, 1-1), which upset Oklahoma on the road Saturday.
"Haven't discussed it with the coaches at all," Bender shared, immediately following the loss, "but I'm just going to keep doing the same things I've been doing all year this week in practice."
Added Stanley: "I don't think it's going to change anything for me or Peyton. I think we bring it every week in practice. I think we have to bounce back for sure, so it might be amplified, but I think we just have to do our normal thing and bring it everyday in practice."
— See what people were saying about the game during KUsports.com's live coverage.
---
More news and notes from Kansas vs. Texas Tech