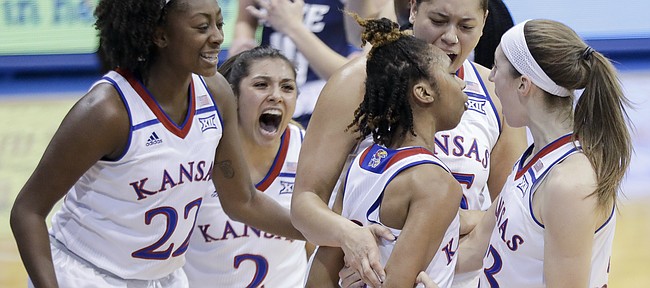 Rice coach Tina Langley's box score was all marked up as she came to the postgame press conference.
The rebounding totals were circled in black permanent marker, as were the five turnovers committed by guard Erica Ogwumike. On the KU side, the names of three players — KU's top three scorers — were underlined, while the point totals of each also carried a mark.
On paper, there wasn't much that separated the two teams. Their rebounding totals differed by one. Their shooting totals varied by a single percentage point. Yet it was KU who came up with key steals, rebounds and baskets to hold off the Owls in a 73-65 win.
"This isn't a game we would've won last year," said KU coach Brandon Schneider. "I don't think we had the toughness and the togetherness to take a few blows and then come back from it."
The word choice in Schneider's answer was not accidental.
The third-year KU coach has preached the motto of "tough and together" in building the KU program. Asked in the press conference if his team started to look frustrated during a late Rice run, Schneider instead opted for the word "fragmented" — the literal definition of such referring to something breaking into pieces.
Once ahead by as many as 14 points, KU watched as Rice (5-1) went on a 15-3 run. Kopatich showed signs of frustration after being called for an offensive foul on a coin-flip play and then picking up another foul on the defensive end. She slapped the ball into the ground with her right hand, still without a point in the second half.
Later, after a KU possession broke down and a Micaela Wilson 3-pointer missed, center Chelsea Lott skied for an offensive rebound and fell to the ground after being tripped by a Rice defender. The referee's whistle blew, first prompting a celebration from many of the 1,546 in attendance before she pointed the other way.
The entire KU bench was in disbelief. Kopatich sprinted over to the referee for an explanation. Eventually, the KU lead was cut to two.
"I thought we rallied," said Schneider. "When we started to fragment, we rallied back together."
Certainly at least one player — a newcomer, no less — got the message.
While junior-college transfer Brianna Osorio scored 13 points, including a pair of late 3-pointers, her biggest plays in the second half had little to do with her own offense.
"She's a really high IQ player, knows when those moments are there that, 'Hey it's time for me to step up and make a play,' " Schneider said. "That's not something you can teach."
After watching Rice forward Nicole Iademarco hit six of seven shots in the first half, Schneider changed up the gameplan and put Osorio on her. Despite being at a listed five-inch height disadvantage, Osorio held her own, not only contributing to Iademarco's 0-for-7 second half shooting performance, but also keeping her off the glass and at one point even sealing her off for what was at the time an important defensive board.
"I don't really think about it," Osorio said. "If I see an open shot I shoot it. And if I see a rebound, I'mma go get it."
As for the other key plays, Osorio came up with two important steals down the stretch. With just over four minutes to play, she ripped the ball away from a Rice player and knocked the ball off of her as she fell out of bounds.
Later, with KU ahead by 6 and less than 40 seconds remaining, she played the passing lanes, coming up with a steal and starting a fast break the other way.
"That steal was a big one even though I missed (the layup)," Osorio said.
"But we got it back for her," Kopatich interjected.
"Yeah," Osorio agreed with a smile.
Osorio finished the game with 13 points, 3 assists, 3 steals and 0 turnovers. Kopatich (18 points, four assists) led the team in scoring in a game-high 39 minutes, while Christalah Lyons added 15 points on just seven field goal attempts.
The win, Kopatich said, was a clear sign KU is tougher and more together than it was the last two years. Schneider had a similar viewpoint, noting KU's improved chemistry contributed to both the victory and perfect 5-0 start to the season.
"I'm really happy that we had a game where we took the lead, had a team come back and fight and really get within striking distance," Schneider said, "and see our guys have a little bit left in the tank to maybe throw one more punch to come out on top."