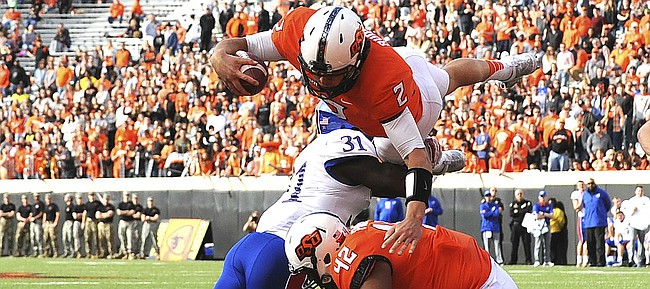 Stillwater, Okla. — A predominantly agonizing Kansas football season, so often defined by shortcomings or downright inept play, reached a fitting close Saturday afternoon at Boone Pickens Stadium.
No. 18 Oklahoma State, just like the 10 previous KU opponents, booted the Jayhawks off the field in defeat.
Also suitable for the circumstances, the eternal upbeat tone of third-year head coach David Beaty didn't falter following a 58-17 drubbing. As so often has been the case after the 33 Kansas losses in his three seasons leading the program, Beaty refused to dive into any negative feelings following his team's just completed 1-11 season.
Minutes after Kansas athletic director Sheahon Zenger, through a released statement, backed Beaty as the man to continue to lead the program's unceasing rebuild, the Kansas coach balked when challenged to present one aspect of the year that he found disappointing.
"Man, I'm a super-positive guy. So I spend very little time thinking about things I don't control. I spend — my wife probably would shoot me — but I'm just not very good with whining. I'm about fixing. … I'm a fixer and that's probably not the best thing for me sometimes. But I don't have time. My time is to move forward and I'm dealing with the next minute," Beaty said. "There's a lot of things that didn't necessarily go our way, but my mind is figuring out how to fix it right now. Some of it is development. Some of it is recruiting. … And we've still got a great challenge, because kids are looking at certain things, right?"
Subsequent to KU's sixth Big 12 loss of at least 29 points on the year, some Jayhawks who have endured the on-field mishaps presented more straightforward responses at the close of a 2017 campaign they expected to play out differently.
Starting left tackle Hakeem Adeniji pointed to "missed opportunities" and failing to get things done on offense, in wake of KU scoring 17 points against an OSU team that surrendered at least 39 each of the previous four weeks.
"There's just points here and there through the season where we have a chance to turn things around and it just seems like something always went against you right when you needed it to go right," Adeniji offered.
Case in point, when the perennial road underdogs desperately needed a positive opening to the third quarter, already trailing 34-10, the Jayhawks' offense backfired instead. An already sputtering unit made matters worse with its lone turnover of the blowout, a Peyton Bender pass intercepted in KU territory on the third snap of the second half. The team's unexpected starting quarterback — a knee injury sidelined Carter Stanley — targeted senior tight end Ben Johnson on the play, but Johnson had two defenders hot on his cleats, and linebacker Chad Whitener easily snagged the costly mistake with Johnson having no recourse.
"You always want to start fast out of a half, but just kind of unfortunate," Bender said after completing 17 of 32 passes for 172 yards, with two touchdowns, caught by Evan Fairs and Steven Sims Jr., and the pick. "Tried to make a play on Ben before that, which would've been a big play, but just couldn't connect on it. And then the play after that's an interception. It's a huge momentum swing right there that we can't have happen if we want to get back into that game."
Appropriately enough, given how KU's season played out, OSU buried the Big 12's worst program on the very next snap. Senior Cowboys quarterback Mason Rudolph (31-for-43 passing, 438 yards, two TDs) tossed the ball skyward, putting it out in front of fellow senior James Washington, whose 12th TD reception of the season allowed OSU to go up 41-10 a minute into the second half.
Though Bender and KU's offense added another TD later in the third quarter, when a 41-yard drive concluded with Sims fighting his way across the goal line on a two-yard screen play, OSU responded with an eight-play drive capped by Rudolph's fourth total touchdown, pushing the heavy favorite's cushion to 48-17. The Cowboys (9-3 overall, 6-3 Big 12) out-gained Kansas (1-11, 0-9) 661-241 in total yardage.
It took the reeling Jayhawks the entire first half to find any semblance of a rhythm, as they went three-and-out on five of their first six series, with Bender making his first start since the 21-yard shutout debacle at TCU, on Oct. 21. Redshirt sophomore quarterback Stanley had started the four games since, before KU went back to junior transfer Bender in the finale because Stanley's knee was in bad enough shape to limit him as a threat.
Rudolph, who connected with receivers Washington, Dillon Stoner and Marcell Ateman enough — 16 receptions between them — for each to put up more than 100 yards, opened the game with a seven-play drive for 74 yards as the Cowboys asserted themselves early, with Rudolph keeping the ball on a goal-line run and beating an ill Dorance Armstrong Jr. to the edge for six points.
After back-to-back touchdown-less possessions, the Cowboys got back into the end zone early in the second quarter with a 12-yard rushing TD by Justice Hill, capping a quick, 75-yard drive that extended the lead to 17-3.
That seemed to rouse OSU from its first-quarter slumber. Once Kansas went three-and-out for the third time in its first four possessions, the Cowboys delivered a quick-strike response. On the second snap of the ensuing series, Rudolph connected with Stoner on an intermediate throw toward the left sideline. The 6-foot Stoner proceeded to burn DeAnte Ford in a 76-yard foot race to the end zone, setting the stage for the Cowboys' rout with a 24-3 advantage.
Redshirt junior KU linebacker Joe Dineen, who along with sophomore cornerback Hasan Defense, posted a team-best nine total tackles, said if someone had told him before the season began it would play out this way, he would have called that person "a liar."
"I wouldn't go into this season expecting to have the record we had," Dineen admitted, "but that's the way it went. There's nothing we can do about it right now. We've just got to get back, get ready to go and play ball."
Added redshirt junior defensive tackle Daniel Wise: "I would've said the same thing. Obviously coming into the season nobody would think we're going to lose. We go into each game, each day with a winning mentality. Obviously we didn't have the outcome we wanted, but we're going to keep fighting, keep moving forward."
A lengthy offseason awaits the Jayhawks, now 3-33 in Beaty's third season, with only one victory over a Big 12 or FBS opponent to show for their troubles.
Asked to assess the 2017 season minutes after it officially ended, Beaty replied: "The best way for me to say it is if you sit here in this chair and you don't prepare yourself and expect to win every game, then why are you here? I truly expect to win every game we play in — every single one of them."
KU's coach went on to say the program's players follow his prompts.
"They're going to feed off what you see, what you feel and they're very smart. They're like dogs; they know. I mean, they know. If you don't believe, they feel it and they see it," Beaty said. "They know without a doubt that I expect to win every dad-gum game we play in. So winning is a premium in college football — there's no doubt about it. There's different situations out there and we are in the process of one."
Beaty also stated his pride for KU's coaching staff and the roster, while adding he is "so fired up" to be at Kansas moving forward, with "the people that run" the university.
"Because they have the best of the university in mind," Beaty said, "and I love that. It's a great time to be at KU."
---
More news and notes from Kansas vs. Oklahoma State