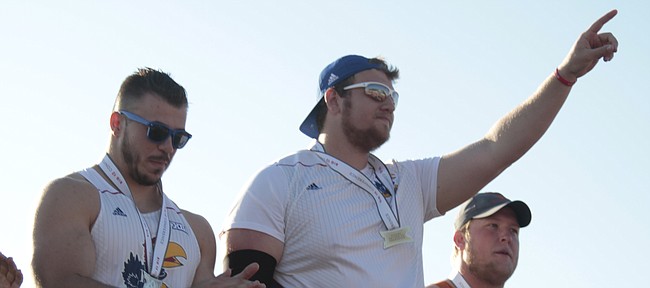 Kansas senior Mitch Cooper did not have a great feeling going into his third throw of the discus in the Big 12 Championships on Sunday at Rock Chalk Park, but his uneasiness turned into jubilation in a matter of seconds.
Much to Cooper's chagrin, the wind had temporarily died down in the closing seconds before the Burpengary, Queensland, Australia native had to make his third attempt. Cooper stayed true to his technique, though, and let it fly.
The KU senior watched his throw veer toward the right foul line before it quickly kicked back to the left, and more importantly forward, to give him a mark of 209 feet, 11 inches — which set a new Big 12 and Rock Chalk Park record.
"That wasn't really the plan. That was a bit far," said Cooper, who now has the second best throw in the NCAA this season. "That was a bit ridiculous, but the wind gusted at the right time, picked it up and pulled it left. I was pretty lucky on that one, but that's part of the sport — just playing with the wind."
Cooper and Nicolai Ceban went one-two in the discus, and Brandon Lombardino followed in fifth to help the KU men's squad finish second in the team standings to Texas. The Jayhawks posted a total of 143 points, while the Longhorns won the meet with a score of 153.50.
Cooper was thrilled to see Ceban have a bounce-back performance after fouling on all three attempts in the shot put on Saturday to miss finals. While Cooper said Ceban still wasn't pleased with his top mark in the discus, he did what he needed to do to help the No. 14-ranked Jayhawks be Big 12 runners-up.
"All of us have days like Nicolai did yesterday when it doesn't quite go to plan and you have to refocus and get the job done. That's exactly what Nicolai did today," Cooper said. "His first throw wasn't the best, and he had a bit of an issue finding it. But he found it, he threw what he needed to throw and got the job done. At a championship like this where points are everything, that's all you can ask."
After Cooper and Ceban stood side-by-side on the awards podium, the KU senior still admitted that what he had accomplished didn't quite feel real.
"It's huge. I don't think it's really hit home yet," Cooper said. "I knew it and I was excited about it, but you don't really think about how big that actually is until later. You always want to throw better and almost 64 (meters), that's crazy. Sixty-five on some days seems so far away, but when you come out and throw and just don't think about it, it just happens."
The record-breaking performance was even more special because his two biggest fans were there to witness it.
"I just want to thank my parents for coming," Mitch said of mother, Cleone Cooper, and father, Garth Cooper. "I had a great day and it made for a great Mother's Day."
Cooper's first-place finish was one of three for the KU men on Sunday. Strymar Livingston paced the Jayhawks on the track with a winning time of 1:48.77 in the 800 meters. Livingston was seeded fifth going into the final, but shaved more than two seconds off of his preliminary time.
The other gold medal for the Jayhawks went to sophomore pole vaulter Hussain Al Hizam, who also set a Big 12 record with a clearance of 5.56 meters.
"I feel grateful. I'm happy that I was able to contribute with the team," Al Hizam said. "We have pretty tough competition with the Texas guy (Nicholas Meaders) and the Texas Tech guy (Drew McMichael) and that Oklahoma guy (Everette Favor). We pulled it together, and it feels great."
Rather than push the bar up to just above his personal-best height of 5.60 meters, the Jubail, Saudi Arabia native elected to go for a different feat after he was the only vaulter remaining.
"The goal is to qualify for the World Championships. We would take a rest, obviously. The next big goal would be to win the Asian Games, which would be in 2018 in Korea with my country."
While Al Hizam missed all three attempts at 5.70 meters, he gained some confidence from each jump.
"I felt pretty good at the bar, and then the power that I put earlier in the jumps had an effect," Al Hizam said. "I was kind of tired at the last two jumps, so that's one of the reasons I didn't make the bar. Hopefully in the next couple of meets, we can pull it over and make that bar."
Lokedi picks up second event title to lead KU women
After posting a winning time of 33:43.28 in the 10,000 meters on Friday night, Kansas junior Sharon Lokedi came back for more on Sunday in the 5,000 meters.
Lokedi was unsure at first if she had what it took to garner another gold medal, but once she mustered up the confidence, she let the adrenaline of the Rock Chalk Park crowd do the rest.
"Everybody is here to cheer for you. Just go trust yourself and do it. I kept telling myself, 'Sharon, you can do it. Sharon, you can do it,'" Lokedi said. "My coach was there. All of my teammates were there. I was like, 'I'm just going to do it because I'm home and everything is possible. It was that trust that I had in myself, my coach and everybody."
The KU junior made her move with a mile to go, and coasted to a first-place time of 16:15.26.
The Eldoret, Kenya paced the Kansas women to a fifth-place finish, as the Jayhawks scored 84 points. Kansas State won it with 133.
Big 12 track and field meet
Sunday at Rock Chalk Park
Day Three of Three
Men's team scores — 1. Texas, 153.50; 2. Kansas, 143; 3. Texas Tech, 110; 4. Oklahoma, 96; 5. Baylor, 79; 6. Oklahoma State, 7. Iowa State, 56; 7. TCU, 53; 9. Kansas State, 52.50.
Kansas results
Pole vault — 1. Hussain Alhizam, 18-02.75; T-4. Paulo Benavides, 17-03; T-4. Jake Albright, 17-03; 7. Dylan Poirier, 17-03; Nick Maestretti, NH.
Discus — 1. Mitchell Cooper, 209-11; 2. Nicolai Ceban, 190-02; 5. Brandon Lombardino, 180-01; 9. Kenny Boyer, 165-06.
Triple jump — 3. Barden Adams, 53-05.50; 7. Ezekiel Welch, 50-01.25.
4x100 relay — 3. Quentin Dancer, Ivan Henry, Alex Wilson, Tre Daniels, 40.77.
400 — 5. Ivan Henry, 46.74; 7. Tre Daniels, 47.95.
800 — 1. Strymar Livingston, 1:48.77; 5. Bryce Hoppel, 1:52.33.
400 hurdles — 5. Alex Wilson, 53.09; 7. Cody Johnson, 53.32.
200 — 4. Ivan Henry, 20.59.
5,000 — 6. Michael Melgares, 14:29.76; 7. Dylan Hodgson, 14:36.55; 12. Chris Melgares, 14:43.86; 16. Jacob Morgan, 14:49.69; 26. Bryce Richards, 15:33.24; 28. Ben Burchstead, 15:58.09.
4x400 relay — 5. Ivan Henry, Marcus Davis, Strymar Livingston, Tre Daniels, 3:08.13.
Women's team scores — 1. Kansas State, 133; 2. Texas, 128.50; 3. Baylor, 123; 4. Oklahoma, 121; 5. Kansas, 84; 6. Texas Tech, 64; 7. Iowa State, 55; 8. Oklahoma State, 48; 9. TCU, 36; 10. West Viriginia, 26.50.
Kansas results
High jump — 4. LaTyria Jefferson, 5-09.25; 12. Grace Pickell, 5-04.25.
4x100 relay — 7. Tianna Valentine, Sydney Conley, Jedah Caldwell, Nicole Montgomery, 45.49.
1,500 — 8. Malika Baker, 6:24.54.
400 — 6. Mariah Kuykendoll, 54.34; 8. Nicole Montgomery, 55.09.
100 — 2. Sydney Conley, 11.27.
5,000 — 1. Sharon Lokedi, 16:15.26; 16. Riley Cooney, 17:21.83; 17. Alaina Schroeder, 17:22.47; 26. Courtney Coppinger, 17:46.95; 27. Nashia Baker, 17:49.74; 29. Emily Downey, 17:58.82; Malika Baker, DNS.
4x400 relay — 5. Mariah Kuykendoll, Whitney Adams, Adriana Newell, Nicole Montgomery, 3:35.45.