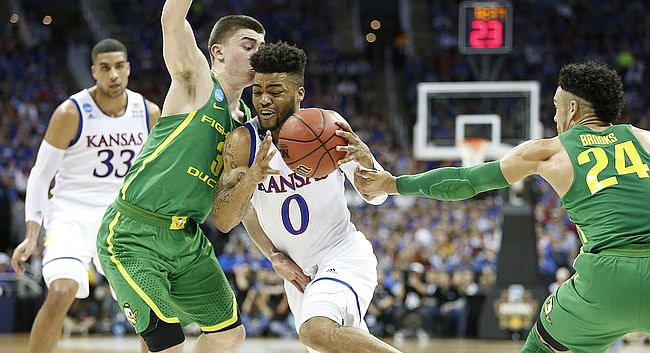 Frank Mason became on Thursday the 51st college basketball player named Player of the Year by the Associated Press, which has handed out the award 57 times.
A check of the records shows that the first 50 recipients all went on to play in the NBA with varying degrees of success.
All 50 were NBA first-round draft choices and 19 were chosen with the first overall selection. And get this: no AP POY has fallen past the 20th selection of the first round.
Sure, the emergence of the one-and-done player skews that history a bit since they tend to gobble up most of the early spots in the draft and push upperclassmen down the line. Still, it seems strange that everybody, including those who do mock drafts, assumes Mason has no shot at going in the first round.
Give me a compelling reason why Mason should become the first such honoree to drop out of the first round.
The first and only answer would be his size. If he becomes the first to win the award and not earn a first-round spot, it won't be the only fact that makes him unique among the group of 51. He also is the first AP POY who does not stand at least 6-feet tall. Marquette's Butch Lee in 1977 and St. Joseph's Jameer Nelson in 2004 both were listed at 6-0.
Knee troubles shortened Lee's NBA career to 97 games, but Nelson is in his 13th NBA season and has started 37 games for the Denver Nuggets. He was chosen 20th by the Orlando Magic in 2004 and has had a better career than most of the players chosen in the first round that year.
Yogi Ferrell, a 6-foot rookie guard out of Indiana, was bypassed in both rounds and has made 22 starts for the Dallas Mavericks. Michigan's Trey Burke, AP's top player in 2013, is 6-1 and was selected ninth in the 2013 draft by the Utah Jazz. He's in his fourth NBA season and first with the Washington Wizards.
Mason has a few things going for him. He didn't lead his team in scoring until this season, so he's not going to freak out and start taking bad shots when playing with better scorers, the way some one-and-done players do. His work ethic will ensure he never stops striving to improve. Plus, he brings savvy that enabled him to keep his man from posting him up and to score at the rim against size.
And his confidence is such that he's fearless. Whereas some in his situation might look around them and wonder if they're good enough to make the adjustment, Mason has no such doubts. He figures he will figure out a way to get on the court because he always has.