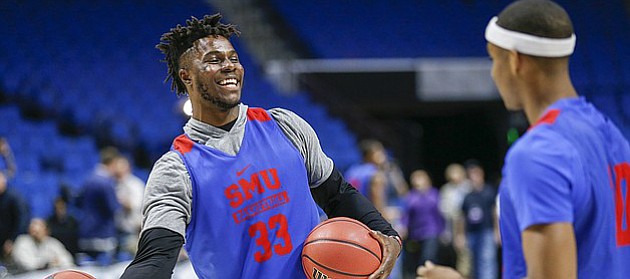 Tulsa, Okla. — SMU junior forward Semi Ojeleye played a full season and six games of another for Duke, playing home games at charming, historic Cameron Indoor Stadium.
Even so, he didn't hesitate in naming another building as the best in college basketball.
Ojeleye, then a student at Ottawa High, sat behind the Kansas bench on an unofficial visit and watched Kansas roar back from behind in its final game against Missouri.
"Man, it was loud," Ojeleye said of Allen Fieldhouse. "It's a special place. I don't think there's anywhere like it in college basketball, to be honest."
Ojeleye, who said he grew up rooting for the Jayhawks, had a chance to make Allen Fieldhouse his home court not once, but twice. Each time, he made his decision based on what he believed to be the best fit; not based on where his heart was before he became a college basketball player.
A 6-foot-7, 235-pound forward averaging 18.9 points and 6.8 rebounds for SMU, Ojeleye signed with Duke out of high school and transferred at the semester of his sophomore season (2014-15). He could have become eligible to play beginning with the second semester of the 2015-16 season, but because SMU had been banned from the NCAA tournament, he decided to sit out the entire season and give himself two full seasons at SMU.
He was recruited to SMU by Larry Brown and played for a season and a half, until Brown resigned last summer and was replaced by his assistant, Tim Jankovich, former assistant to Bill Self at Kansas.
In Duke's Mike Krzyzewski and Brown, Ojeleye played for two of the biggest five or 10 names in basketball coaching history.
Which coach has the bigger ego?
"Man, uh, shoot," Ojeleye answered. "It might be tied. Two pretty big egos either way, so I think once it gets that big, you kind of have to stop measuring."
As he answered questions about both coaches, it became evident he enjoyed the experience of playing more for Brown than for Coach K, although he didn't come right out and say that.
Ojeleye totaled just 143 minutes during his Duke career.
"As I look back, I can't really tell if it was me or if it was the school," Ojeleye said. "I definitely wasn't as ready as I could have been, should have been, but that's in the past now."
He tried the blue-blood route and it didn't work out, which might have hurt Kansas' chances of landing him as a transfer.
"My confidence was definitely shaken," Ojeleye said. "I'm thinking maybe I can't play at this level, maybe I'm not high-profile enough. Things were kind of bouncing around in my head ... Coach Brown came around and that's the main reason I went to SMU. That really helped to build my confidence back up. The other schools I passed up on, maybe it would have worked out there, but who knows?"
Ojeleye credits Brown with restoring his confidence, through "a daily belief, a daily interest in me, play by play. Stopping practice, 'You can do this better, you can do that better.' I think if you take it the wrong way, you're thinking: 'He's in my head all the time.' But when I'd sit down and talk to him face to face, he's just telling me, 'I think you can do this. I think you can play well at this level and even beyond.' It was just a consistency in coaching me."
Ojeleye summed up Brown in one word: "Genius."
He followed it with more words.
"Just the way that he sees literally everything on the court," Ojeleye said. "In practice, we'd get mad because he would stop plays just because he saw eight things that nobody else saw, so you thought you got away with something, but you didn't. That eye that he has for the game; the only thing that can teach you that is experience."
He contrasted Brown's style with Krzyzewski's.
"Coach K is a great motivator," Ojeleye said. "He is more, I'd probably say, big-picture than coach Brown is. I think coach Brown, he loved to be really detailed on each guy. Coach K, I think I got washed up in the success of the program and some of the big-name guys who were already there. Maybe I would have had a different relationship if my play was better, but I think he kind of had bigger things to worry about than where I was at the time."
Where Ojeleye is now after three semesters on the bench and three more as a practice-only player is in the East region of the NCAA tournament, leading the No. 6 seed Mustangs against No. 11 Southern Cal for a 2:10 p.m. tipoff today at BOK Center, 190 miles from the place he still calls home.
"Always, until the day I die," Ojeleye said. "I'm born and raised, and no matter where I go, I'll always be from Ottawa, Kansas. I love it."